| | |
| --- | --- |
| Huggins: "Clemson family is crazy and I want to be there" | |
---
| | |
| --- | --- |
| Friday, December 12, 2014 1:32 PM | |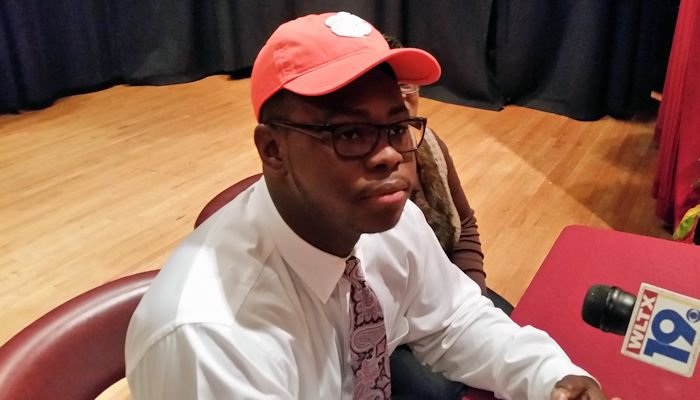 ORANGEBURG – Huggins is a Tiger.
The Clemson coaching staff picked up one of the biggest remaining pieces of the 2015 recruiting class Friday morning when 4-star DL Albert Huggins

Albert Huggins
Defensive End
6-3, 280
Orangeburg, SC
ESPN:


View Full Profile of Orangeburg (SC) Orangeburg-Wilkinson picked Clemson over Georgia.
In a ceremony at his school, Huggins had two hats on the table in front of him – one Bulldog hat and one Tiger hat. Huggins picked up the Clemson as cheers erupted from friends, families and students.
"This is a pretty good moment for me. First I would like to start off by giving honor to my leader, God, and say a special thanks to my mom and my dad," Huggins said. "My mentor, Coach (Tommy) Brown,. I would also like to thank my family and my teammates and the coaching staff. I am very appreciative and I thank you all. I thank the universities for giving me a chance to go to a special college. I am blessed to have such wonderful, supportive people in my life. I am thankful for this opportunity, and I am looking forward to starting my career at Clemson."
Huggins said that Clemson's family environment was one of the main reasons for him picking the Tigers.
"That's one of the main reasons, but it's education, too," Huggins said. "The family that Clemson has is crazy and I want to be there. Just knowing Coach (Dabo) Swinney and Coach (Marion) Hobby and all of the coaching staff. It's a real good opportunity to fit in and start. I thought that was good for me."
Georgia's coaches had the last chance at an in-home visit with Huggins and met the state's top-rated player at school Thursday. Following a short visit, Huggins informed the coaches that there was no need for a home visit.
"I guess they say it's the last word and you put everything on the table. It was just my decision on whether to jump on it or not," he said.
Huggins visited Georgia late last month, said at one point Georgia had the lead for his services. However, the –in-home visit with Swinney last week swung the pendulum in Clemson's favor.
"At one point (Georgia had the lead), but I went with my heart," Huggins said. "Probably the in-home visit is when Clemson took the lead. It wasn't really what I've learned, but I had some questions answered that I really needed to get answered and he answered them for me the way I wanted."
The chance to play right away and to take snaps at defensive end were top questions Huggins wanted answered.
"Coach Hobby wants me to play defensive end. I want to make sure I play defensive end," he said. "If you want me to play defensive tackle, then it is what it is. But I really want to play defensive end right now. I bring physicality, speed and focus. Leadership. A pass rusher. Anything is possible."
He then said that he sees what Hobby was able to accomplish with All-American Vic Beasley and wants the same opportunity.
"Vic Beasley is a great guy and when I grow up I want to be like him. Or even better," Huggins said. "He's a great guy and I can see where Coach Hobby took the time out to mold him. I can see myself being molded like that and being a great player, going to the NFL and getting my degree."
Throughout the recruiting process, there were reports that Huggins' father wanted him at Georgia while his mother wanted him at Clemson. Huggins told TigerNet that wasn't necessarily the case.
"They support me wherever I go. They didn't have any favorites and they were going to support me wherever I went," Huggins said. "That's the way it is and I am glad they did that. That was a good feeling, and I felt comfortable with whatever decision I made."
Very excited to add @Im_The_Hulk to the Clemson Family today. He will represent Clemson very well on & off the field pic.twitter.com/nzlmTzEeML

— Coach Jeff Scott (@coach_jeffscott) December 13, 2014
It is going to be a lot of fun watching our new student-athlete @Im_The_Hulk play @ClemsonFB @ClemsonTigers pic.twitter.com/D9Vn4v9Yyo

— Jim Clements (@ClemsonPrez) December 13, 2014
It's a GREAT day to be a Clemson Tiger! Welcome to the #ClemsonFamily, Albert! #ALLIN pic.twitter.com/mAYBaA85Kd

— Clemson Football (@ClemsonFB) December 12, 2014