| | |
| --- | --- |
| Howard to start against the Bulldogs in Athens | |
---
| | |
| --- | --- |
| Saturday, August 23, 2014 6:30 PM | |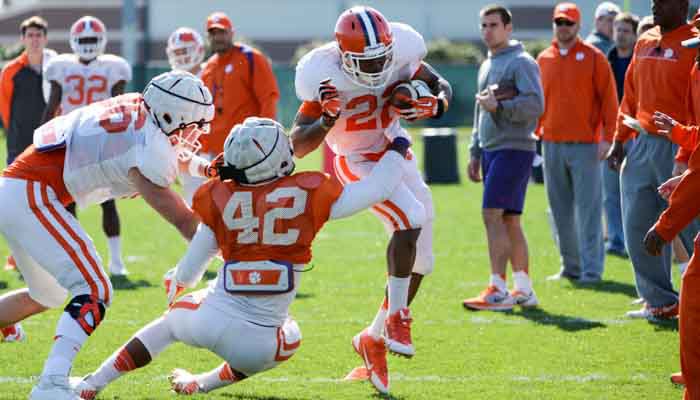 CLEMSON – D.J. Howard

D.J. Howard
RS Sr. Running Back
#22 6-0, 205
Lincoln, AL
View Full Profile is set to start the season opener in Athens.
Howard, a senior out of Lincoln (AL) High School, has two starts while playing 442 snaps over 36 games in his first three seasons. Next Saturday in Athens, he will make start number three, according to head coach Dabo Swinney

Dabo Swinney
Head Coach
View Full Profile , who also cautioned that all of the running backs are going to play.
"D.J. Howard will start for us," Swinney said after Friday's Beanie Bowl, "but they're all going to play."
Howard, the Tigers' active leader with 581 rushing yards and five touchdowns in 133 carries, told TigerNet that is doesn't matter to him which player starts – it will take a total team effort.
"It doesn't really mean that much to me. I know I can't do it alone" he said. "I am going to need those guys. They have to prepare like they are going to be the starter, because it only takes one play. We have learned that from Zac this week."
Brooks tore a ligament in his foot during practice Tuesday, and Howard said he wasn't aware of the severity of the injury at first glance.
"When I first saw it happen, it was kind of surreal. It was like he had just rolled his ankle or something," Howard said. "But come to find out it was more serious than that. It still kind of feels surreal to me, but I understand that we have to move forward. I have to have a positive attitude and keep my arms around him. We are going to need him - he can't do anything for us physically, but we are going to need his positive attitude to come along with us."
Brooks will be out for the season, and Swinney said Thursday that freshman Adam Choice

Adam Choice
Fr. Running Back
#26 5-10, 211
Thomasville, GA
View Full Profile will play this season. Howard said that while he isn't sure of how Choice will be used, it's all hands on deck under offensive coordinator Chad Morris

Chad Morris
Offensive Coordinator / QBs
View Full Profile .
"I am not really sure of the plan that Coach Swinney and Coach Morris have for those guys, but we are going to need more than one back in this system," he said. "Everybody has to prepare to be that guy, because you never know when your time is going to come. We all bring different things to the table."
Howard said he won't let the news that he is going to start change how he prepares.
"I am working as if I am going to be the starter, but however the chips fall let them fall," he said. "I am going to keep on doing what I do best, which is work hard and keep the other guys motivated. I am going to keep them motivated and bring them along with me. "
The coaches have said that this camp has been the best of Howard's career, and he agreed.
"I believe it has. It's been by far my best camp," he said. "There have been a lot of growing pains, like understanding that I have to take care of my body more. I have to watch what I eat, have to work out more, have to sleep better. It's just growing pains."