| | |
| --- | --- |
| How will Venables replace his seniors? By getting young players plenty of work | |
---
| | |
| --- | --- |
| Sunday, December 28, 2014 8:01 AM | |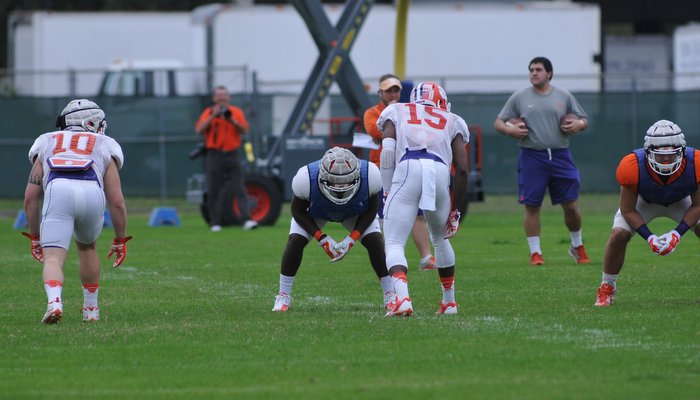 ORLANDO, FL – The extra 15 practice sessions that bowl teams earn usually provide coaches the chance to take a look at the younger players who have either red-shirted or not received a lot of playing time, and this year has been no different for Clemson.
It's also been necessary, because defensive coordinator Brent Venables

Brent Venables
Def. Coordinator / Linebackers
View Full Profile loses eight starters from a senior-laden lineup that helped the Tigers finish the regular season as the nation's top-ranked defense. Following Friday's practice, Venables told TigerNet that losing so many good players hurts, but he thinks those seniors have developed a strong defensive foundation.
But it's also depressing.
"That's depressing, that's what that is. Very depressing. I'm just so proud of the guys," Venables said outside of the Citrus Bowl. "The guys have built a real strong culture here as a football program, certainly, but a culture of toughness, discipline, humility, accountability. Just great leaders and great ambassadors for this program. It's just so different because there are so many of them. It's not just a couple of guys that are the face of it. There are a bunch of them that have taken great ownership and invested a great deal in this program and are selfless along the way. You really are just proud to go out on the field with them one last time."
Venables said that he has been pleased with the physical nature of the younger players.
"I think it's been pretty physical. I like the group of young guys that are practicing," he said. "There are a bunch of them. They like to run around and hit and that's always a good thing. The physicality part won't be a problem. There is a bunch of good young talent that we're going to keep bringing along. We're going to have to count on a bunch of them here really quick."
Replacing eight starters is a tall task, and Venables said he has had an eye on the future for an extended period of time.
"Coaches are always a week ahead or a year ahead or the next group of recruits. Always. As you're continuing to nourish the guys that you have on your team and trying to find out what they can and can't do as soon as you can before it's too late," he said. "As you continue to make decision in recruiting - whether it's pre-January or looking to finish up this class or looking ahead to the 2016 class, those are all things you need to make sure you've dotted your I's and crossed your T's. I'm excited about the youth that we have."
But can the Tigers expect to continue their defensive success despite the loss of so many key players? Venables says yes, and points to the fact that so many of the players that will depended be upon next season have earned significant snaps the past couple of seasons.
"To me, we're different than a lot of teams. We play a ton of guys," he said. "With all of those great players, you look at all of the young guys that have played across the board. It starts in the front seven with Carlos Watkins

Carlos Watkins
RS So. Defensive Tackle
#94 6-3, 294
Mooresboro, NC
View Full Profile and D.J. Reader
D.J. Reader
Jr. Defensive Tackle
#48 6-2, 322
Greensboro, NC
View Full Profile and Kevin Dodd

Kevin Dodd
RS So. Defensive End
#98 6-5, 275
Taylors, SC
View Full Profile . Then you've got Ben Boulware

Ben Boulware
So. Outside Linebacker
#10 5-11, 235
Anderson, SC
View Full Profile , B.J. Goodson

B.J. Goodson
RS Jr. Linebacker
#44 6-1, 240
Lamar, SC
View Full Profile , Korrin Wiggins

Korrin Wiggins
So. Defensive Back
#12 5-11, 190
Durham, NC
View Full Profile , Travis Blanks

Travis Blanks
Jr. Safety
#11 6-0, 210
Tallahassee, FL
View Full Profile and Dorian O'Daniel

Dorian O'Daniel
RS Fr. Linebacker
#6 6-1, 217
Olney, MD
View Full Profile . Those are all very good players that have played significant snaps that we know a lot about. Then you're going to have sprinkle around them in the secondary. Garry Peters

Garry Peters
RS Sr. Cornerback
#26 6-0, 194
Conyers, GA
View Full Profile has had a strong year and Robert Smith

Robert Smith
Sr. Safety
#27 5-11, 211
St. George, SC
View Full Profile has been terrific but at cornerback there's been a bunch of young guys that have played there.
" MacKensie Alexander

MacKensie Alexander
RS Fr. Cornerback
#2 5-11, 190
Immokalee, FL
View Full Profile is just a freshman and Cordrea Tankersley

Cordrea Tankersley
So. Defensive Back
#25 6-1, 195
Beech Island, SC
View Full Profile . Adrian Baker

Adrian Baker
RS Fr. Cornerback
#21 5-11, 184
Hallandale, FL
View Full Profile has played. We've got Marcus Edmond

Marcus Edmond
RS Fr. Cornerback
#29 5-11, 170
Hopkins, SC
View Full Profile and T.J. Green

T.J. Green
So. Safety
#15 6-3, 205
Sylacauga, AL
View Full Profile and Jadar Johnson

Jadar Johnson
So. Defensive Back
#18 6-1, 207
Orangeburg, SC
View Full Profile and Jayron Kearse

Jayron Kearse
So. Safety
#20 6-4, 215
Fort Myers, FL
View Full Profile . To me, those are all veterans that played when the game has been on the line and been a big part of that defense being number one in the nation. We're losing a bunch of good ones and I'm not downplaying that, not one bit but to me the biggest the void that you have to fill is the leadership and the toughness and the willingness to work and the humility. You're just praying that these guys really paid attention because that's the magic. You've got talented guys and some guys may not play again when they're done but the best thing about them is that they're humble and they loved to go to work. A lot of teams have really good players and you still have to coach them and develop them."

Tags:
Garry Peters
,
Robert Smith
,
B.J. Goodson
,
Travis Blanks
,
Kevin Dodd
,
Carlos Watkins
,
Cordrea Tankersley
,
D.J. Reader
,
Ben Boulware
,
Marcus Edmond
,
Mackensie Alexander
,
Jayron Kearse
,
Dorian O'Daniel
,
Jadar Johnson
,
Korrin Wiggins
,
Adrian Baker
,
T.J. Green
,
Brent Venables