| | |
| --- | --- |
| How does Clemson compare to Stanford? David Olson breaks it down | |
---
| | |
| --- | --- |
| Sunday, August 10, 2014 10:43 PM | |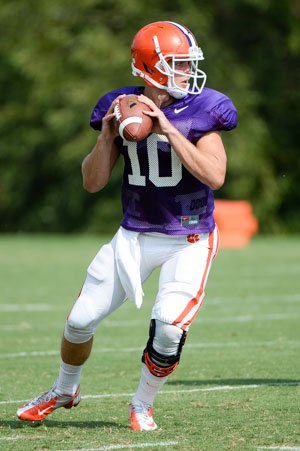 CLEMSON - Graduate student and first-year Clemson quarterback David Olson

David Olson
Gr. Quarterback
#10 6-3, 220
Lexington, SC
View Full Profile is no stranger to big-time football.
Olson hails from Lexington (SC) and graduated from Irmo, but spent the first four years of his collegiate career with the Stanford Cardinal – a program from 2010 to 2013 that was a mainstay in the Top 10, won at least 11 games each season and played in four BCS bowl games – two Rose Bowls, a Fiesta Bowl and an Orange Bowl.
Olson graduated from Stanford in the spring and decided to spend the final year of his eligibility closer to home as a Tiger.
While there are obvious schematic differences between the Cardinal and the Tigers, Olson said that the two programs are more alike than people might think.
"There is a lot of speed here at the skill positions and even on the defensive line," Olson told TigerNet recently. "That's not something you can train. There is a lot of talent on this team and as you saw out there, the defense is really fast. We have some great playmakers on the outside with some speed, too."
Clemson runs more of a spread offense while Stanford runs more of a pro-style offense, but Clemson's ability to take advantage of match ups is what really separates the two programs.
"Scheme-wise on offense, here we take our one-on-one match ups more often," Olson said. "At Stanford, it's more of that pro-style where we check to the correct play where we can read it out. Here, Coach (Chad) Morris will either check us into a different play or we will keep the same play and take our one-on-one match ups giving our receivers a chance to make a play."
Olson said that while he was prepared for Clemson's tempo, the pace of the practice is something that takes getting used to. He then said he thinks the pace compares to the pace that Oregon – a rival of Stanford's – runs in the Pac-12.
"It wasn't surprising, but it's certainly different," Olson said. "I was expecting it, so it wasn't surprising. It takes getting used to. I wasn't at Oregon's practice, so I don't know if their practice was like it is here, but practice is certainly faster than anything I've ever been a part of. I think the offense is probably about the same pace as Oregon's, maybe even faster."
Defensively, the Tigers have a different type of player on the line and at linebacker.
"Our defense at Stanford was a 3-4 scheme, so we would have three interior linemen - big guys - and then our four linebackers," Olson said. "The two outside guys were tall and long. We really formed that wall up front and that was the focus. Here, I haven't been interacting with our defense at a close level. Our secondary is called the, 'No Fly Zone.' We have a lot of speed out there and they have great hands. I think they are adjusted to playing these fast offenses - fast tempos."
Off the field, Olson has a similar routine to what he had during the summer and fall and Stanford.
"There's not any free time during camp, so camps are pretty much the same," he said. "During the summer, it was a little different living off camps and driving to and from being kind of far away from the campus. During camp, we're here all of the time. We're in the building. We're napping in the locker room. It's been pretty similar so far."
He's also fitting in well with his teammates, and even becoming a team leader in the three short months that he's been a Clemson Tiger.
"At first, any new setting, you have to get comfortable with the guys and they have to get comfortable with you," he said. "I gave that some time. I was myself. They seem to take a liking to me and I like all of the guys here. I was able to come out of my shell a little more quickly. I feel like I can lead these guys in the same that I was a leader at Stanford. That's just a part of the game of football."
Once the season gets started, Olson is looking forward to one thing – getting on the field and playing in front of the home crowd.
"I can't wait. The most exciting 25 seconds in college football," he said. "I'm looking forward to getting on the field and playing in front of these fans because they are great. My teammates have been great so far, so I'd like to get on the field and make some great plays and get my guys the ball."