| | |
| --- | --- |
| How bad do YOU want Clemson-FSU tickets? Some students camping out 13 days | |
---
| | |
| --- | --- |
| Thursday, October 10, 2013 4:07 PM | |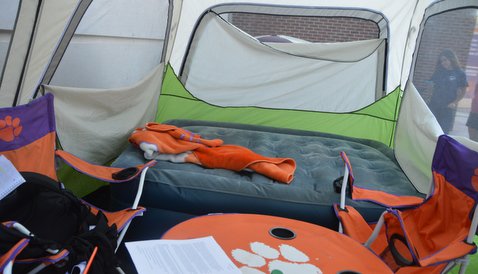 CLEMSON – Camping out for football tickets to big games has always been a tradition at Clemson University, but this year's student body is taking it to a whole new level.
If you drive around Memorial Stadium, you will see tents lining the sidewalk from the IPTAY office all the way to the Hill. With Florida State coming to down next week, that doesn't seem out of the ordinary, but the amount of time the students have spent camping is extraordinary.
Clemson's Tent City has been alive and active for 14 days.
Senior Colin Mitchell from Elk Grove, California, and 14 of his friends man the first tent in line and they have been set up since the conclusion of the Wake Forest game.
What would possess students to spend this much time in a tent?
Mitchell told TigerNet that the only way to experience Death Valley is from the front row- something he learned after camping out for 11 days for the Georgia game earlier this year.
"It's always a good experience to sit on the front row," Mitchell said. "We've done it a couple of times. We actually did it for the Georgia game and that was really cool. The other thing is that we lived in Cope three years ago and we saw all of the people doing this then and that's when we started with it. Last time – for the Georgia game – we had a grill the night before the ticket distribution just to kind of celebrate that we've done all of this work."
However, it's not all about the ticket location for some students.
Zachary Richardson, a freshman from North Augusta said that the chance to see his third-ranked Tigers take on a top-ten Florida State team will be well worth the time spent in the tent.
"It's a big game. We're excited to see our Tigers," Richardson told TigerNet. "It's also really exciting to see FSU play because they are such a highly competitive team too."
Freshman Alex Errington from Greensboro, North Carolina and a group of 40 of her hall mates from Bennett Hall are second in line and have also been camping since the night of the Wake Forest game.
However, Errington said that their planning began long before the Wake Forest game because as freshmen they didn't want to miss any of their classes.
"I don't think anyone from our group has missed any classes because we have a giant excel worksheet with all of our schedules so that we all know when people can do it," Errington told TigerNet. "We designed the schedule before we started camping out. Before the Wake Forest game, we had it all planned out and who was coming out here at what times."
Camping out for tickets certainly isn't just a Clemson phenomenon, but according to Travis Furbee, Director of IPTAY Annual Fund, people from across the country have taken notice of the way the Tigers do things.
"It's unbelievable to spend this much time waiting on tickets to a huge game," Furbee told TigerNet. It shows what Clemson is all about. I get calls from other parts of the country asking, 'Is it true that students are camping out for a week or two?' it's not just within Clemson, it's regional and national exposure as well. It's incredible."