| | |
| --- | --- |
| Hood: Offensive coaching changes happened at the right time for the Tigers | |
---
| | |
| --- | --- |
| Wednesday, December 3, 2014 7:01 AM | |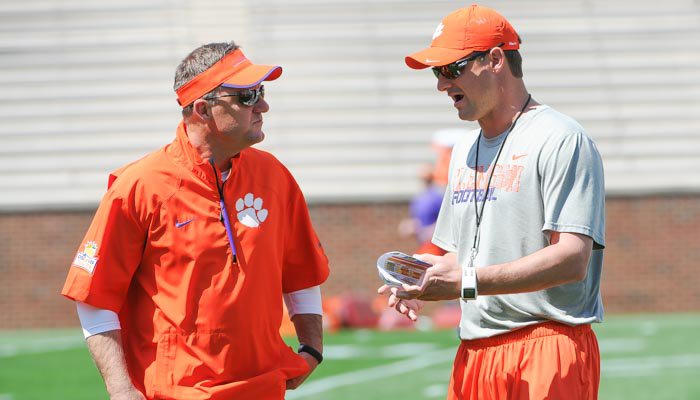 The news broke late last week that offensive coordinator Chad Morris

Chad Morris
Offensive Coordinator / QBs
View Full Profile was likely headed to SMU to take over the program, and the knee-jerk reaction by many on the Clemson side of things was to think that it couldn't have come at a worse time with the South Carolina game looming on the horizon.
The South Carolina game is in the rear view mirror now, and as I sat back and thought about the timing of the move I came to the conclusion that this came at a perfect time for the Clemson program. Allow me to explain…..
When Chad Morris arrived on Clemson's campus all the way back in 2011, he was already on his way out the door. Morris was and is ambitious, and despite the love that you may have for Clemson and Death Valley and your Tigers, the Clemson job was merely a steppingstone for Morris. He wanted to be a head coach, made no bones about it, and his entire body of work at Clemson was used to try and find that next job.
As I was told once by a staffer – Morris' feet may be in Clemson, but his eyes are always looking at Texas. Morris is from the Lone Star state – I grew up there, too – and he was never shy about admitting his love of the state and his desire to return home.
As a result, head coach Dabo Swinney

Dabo Swinney
Head Coach
View Full Profile and the players have had to deal with rumors involving Morris and other jobs and was a big reason that Swinney lobbied for Morris to get the big raise to $1.3 million, at that time making him the highest-paid assistant in college football. Despite the raise, Morris was always looking outward and Swinney, the players and recruits all had to deal with the specter of Morris leaving. He promised quarterback Deshaun Watson

Deshaun Watson
Fr. Quarterback
#4 6-3, 204
Gainesville, GA
View Full Profile he would be at Clemson for all of Watson's years, but even Watson's coaches at Gainesville cautioned the then-high school phenom to not believe that promise.
Now, this isn't about bashing Morris. Quite the contrary - the man has goals and he used Clemson as a means to an end to meet one of those goals – getting back to Texas as a head coach. It happens every day in sports and in college football, and a man can't be blamed for chasing his dreams.
However, that gets me to my point – the timing for Morris to leave was just about perfect. Clemson has a bevy of talented prospects coming in next season and Watson returning. Clemson's offense – with what Swinney considers will be a rebuilt offensive line and playmakers all over the field – should be back to its normal ways. The defense will be in rebuilding mode, but the Tigers still should be favored in most of their game and another 10-win season isn't out of the realm of possibility.
A lot of media members – and some NFL-types I have talked to – look at Clemson's roster and the talent coming on board and believe that the Tigers are built to make a run at a national championship in 2016. Watson will be in his third year, the offensive linemen will be hitting their stride, there are enough playmakers to survive injury and the defense will have a year for many of the younger players to find their footing.
If you're Swinney, what you wouldn't want is to close out next season knowing that you have a chance at something really special but also having the chance that your offensive coordinator would be leaving and you would have to change course in mid-stream. Better to get that done now and work out the wrinkles next season. Yes, the Tigers may have to deal with Brent Venables

Brent Venables
Def. Coordinator / Linebackers
View Full Profile leaving at some point, but you cross that bridge when you come to it.
Gaining some staff stability may have been what Swinney had in mind when he announced Tuesday that Jeff Scott

Jeff Scott
Asst. Coach (WR) / Recruiting Coord.
View Full Profile and Tony Elliott

Tony Elliott
Assistant Coach / Running Backs
View Full Profile would be co-offensive coordinators. Both are great recruiters and from all accounts are good coaches, but both are Clemson graduates who played for the Tigers and therefore are more likely to have loyalty when it comes to other job openings. Keeping those two on staff will create the known stability that he has been looking for.
There really isn't a good or perfect time for a coach to leave – unless it's performance related – but this might have happened at the right time for Clemson.