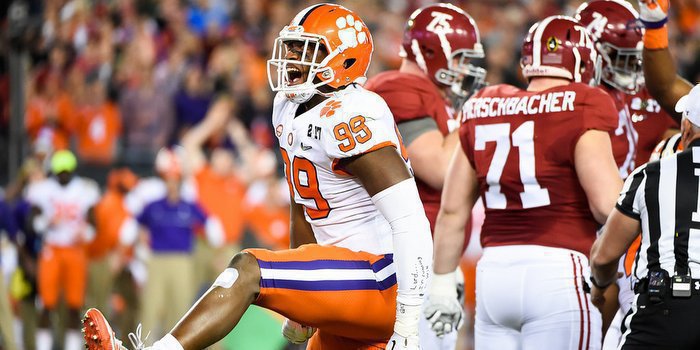 | | |
| --- | --- |
| Hobby knew Cle Missile would rocket to the top | |
---
Clelin Ferrell surprised a lot of people in 2016, especially with his play in the Fiesta Bowl, but Marion Hobby had come to expect it from the talented redshirt freshman.
Entering last season, the storylines were about defensive coordinator Brent Venables once again replacing defensive ends Shaq Lawson and Kevin Dodd, both of whom were selected early on in the NFL Draft. Little did the media and fans know that Ferrell was biding his time and waiting in the wings.
Hobby – who is now the defensive line coach for the Jacksonville Jaguars – told TigerNet before the National Championship that he knew the player known as Cle Missile was a star in the making from the first time he saw him.
"I don't know if he was unknown because we were heavy on him. I remember we loved him on tape as a sophomore, but we hadn't really met him," Hobby told TigerNet in Tampa. "When he and his mother came down for the spring game going into his senior year, we just thought, 'Whoa!' You sit down with him and meet her. I was talking a little ball with him and seeing his upside and his ability. He was high on our board from day one."
Ferrell tore his ACL before his senior season at Benedictine High School and redshirted his freshman season – a decision Hobby said was one of the more difficult he's had to make in his career.
"He had a chance to play. It was the toughest call for me to make," Hobby said. "I told him straight him up. I said, 'Clelin, man, we might have to play you, but I want to redshirt you.' He looked at me and said, 'Well, it's your call coach.' I told him, 'It ain't my call because it's what's best for Clemson, but I'm really struggling with it.' He asked me what he should do and I told him to keep working because he was going to travel with us as an emergency guy. I told him not to start pouting on the sideline or anything because I wanted to redshirt him."
However, just like any other challenge, Ferrell faced it head on and used his first season at Clemson to improve his game, get bigger, faster, and stronger and excel on the practice field. Hobby said Ferrell possess the right traits to be a star even on scout team.
"His work ethic. His football IQ. His want to. He took advantage of his redshirt. Some guys don't take advantage of their redshirt," Hobby said. "They go in there and pout and don't want to be on the scout team because I'm a 4-star. He got in the weight room, went to the scout team and won scout team player of the week numerous times. His work habits. Having him in meetings. We were just throwing him in the fire some. We would give him the game plan and then put him out there on the scout team, and I go to him and say, 'Clelin, go right here.' We only caught him one time that he didn't know what to do and I got on him. From that point on, he owned it. He's very conscientious."
Ferrell earned Defensive Rookie of the Year honors at the Clemson awards banquet after accruing 50 tackles, 12.5 tackles for loss, six sacks, and 24 quarterback pressures in 15 games, but it wasn't until his MVP performance against Ohio State where he had three tackles for loss and sack that the country started taking notice.
Hobby said that Ferrell knew the stakes in the Fiesta Bowl and was excited for his opportunity to shine.
"I think so. The funny thing about it is that when that whistle blows and you start hitting and running around, you don't hear the fans," he said. "It turns silent out there. It's just a different level. It's kind of like running. Once you start, you're tired, but once you get going, it's like, 'Oh, I'm good.' It's kind of the same thing. He's excited about playing. He's played well this year. He was confident going into the game and knew he had a big time challenge playing against Ohio State."
Despite the impressive numbers Ferrell put up last season, Hobby said the 6-5, 265-pounder is just getting started.
"Oh yeah. You have to remember that he's still a baby," he said. "He's still a baby - a young man - in the football world. He's a two-year college guy. He'll have another year in the weight room this summer. He likes the weight room. He likes to work. He's got good leadership qualities. The sky is the limit."

Upgrade Your Account
Unlock premium boards and exclusive features (e.g. ad-free) by upgrading your account today.
Upgrade Now