| | |
| --- | --- |
| Heisman hype won't be a distraction for Deshaun Watson | |
---
| | |
| --- | --- |
| Monday, November 9, 2015 5:46 PM | |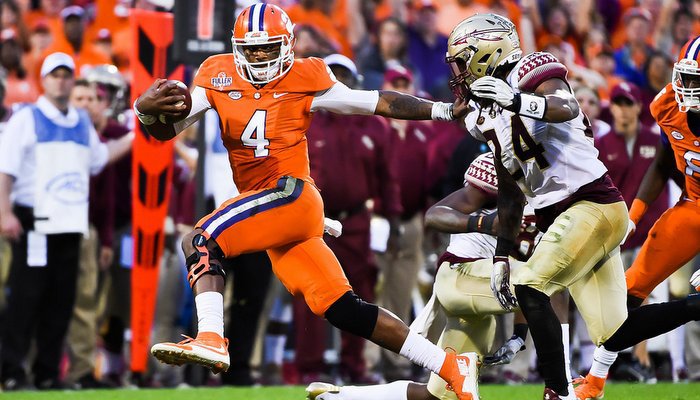 CLEMSON – The Heisman Trophy will be handed out on December 12th in New York and it's not out of the realm of possibility that Clemson quarterback Deshaun Watson could be there for the presentation.
Clemson's offense didn't get off to the best start this season and Watson's Heisman talk disappeared. Following Clemson's win over Notre Dame in October, however, Watson has been nothing short of electric. His rise has coincided with Clemson's push to the top of the College Football Rankings, and Watson's name is now squarely back in the Heisman conversation.
Early Monday, Sports Illustrated said Watson claimed its top spot in the Heisman rankings after frontrunners Leonard Fournette of LSU and Trevone Boykin of TCU struggled in losses.
Watson accounted for 404 yards of offense, including a career-high 107 rushing yards, and also set career-highs with completions (28) and attempts (42) in a 23-13 victory over Florida St. last Saturday, clinching the ACC Atlantic Division title for the undefeated Tigers.
Watson has saved his best for last – over the last five games Watson is 114-for-162 for 1508 yards, 12 touchdowns and just three interceptions through the air. Watson has rushed for 493 yards this season but has 38 carries for 259 yards (6.82 ypc) in the last three games while leading the Clemson offense to 137 points in those three contests.
Watson sat down with the Clemson media Monday morning to discuss this Saturday's game at Syracuse and to recap the win over Florida St., and he was surprised to learn he had moved into the conversation as a Heisman frontrunner.
It won't be a distraction, however, and Watson vowed to stay the course, saying he doesn't look for his name to pop up in the Heisman conversation.
"It won't be a distraction for me. I'm just going to continue to be myself and be a team player and keep doing what I'm doing," Watson said. "It's a great honor. There is still a lot of ball to play, and I still have to prove myself. We'll see what happens in December. I never really look at it. I don't ever go looking for it. Right now, it is what it is. I just have to keep doing what I'm doing and see what happens in December."
Co-offensive coordinator Tony Elliott said he thinks Watson is the best quarterback in the country, but won't sit down to discuss college football's most prestigious award with his sophomore quarterback.
"In terms of me, I'm not going to discuss that with him, but I believe he is the best quarterback in the country," Elliott said Monday. "The best quarterback and one of the best players in the country. So, if that warrants that he is in that discussion, then so be it. I believe in Deshaun. I think he's earned the opportunity if he's going to be talked about, but I won't bring it up to him. I won't discuss it because our focus is let's go win games. If we go win games and are productive on offense then however it shakes out, we'll get what we earn."
Watson said he is just enjoying his team's success and the 9-0 start to the season while embracing the fact he gets to play quarterback at Clemson.
"I enjoy it of course. I embrace the position that we are in and we celebrate what we work for," Watson said. "It's hard to get to this point in the season and be 9-0 and do the things that we did. I just make sure I stay focused and make sure that is not the main priority. It's cool to see the students, the teachers and all of the fans excited about what is going on and it brings joy to this campus. It's just one big family."
Watson proved he wasn't perfect late in the first half Saturday. The Tigers faced a third down inside the Florida St. ten yard line, and with over 30 seconds left on the clock Watson spiked the ball instead of running a play, earning the ire of head coach Dabo Swinney.
"It was a learning lesson. Throughout the season, I've been growing up each and every game and getting better - becoming more of a leader," Watson said. Not every play is going to be pretty. I'm going to make mistakes. If we play Clemson ball we can't be stopped. It doesn't matter what age you are or what year you are in, you're going to make a mistake. It's hard to be perfect. "
The Gainesville, Ga., native shrugged off the spike and an inconsistent first half to lead the Tigers to the come-from-behind win over the Seminoles, and he said he used the lessons he learned in high school.
"Snap and clear. My quarterback coach in high school, Coach Tyler Perry, that was our motto," Watson said. "After every play, clear out your mind and move onto the next one. After the spike, Coach Swinney and I had a conversation, trying to figure out what happened, and he said, 'Just let it go. We have the second half. People aren't going to remember that first half, they are going to remember what happened in the second half and the result.' I am not going to let one mistake ruin me."
The Tigers end the regular season against three teams with losing records, but Watson said the team's hype – or the hype of a certain trophy – won't ruin what Clemson has started.
"Regardless if we are the underdogs or if people put us on top, we're still going to have the same mentality and still work the same and prepare the same way and play Clemson ball," he said. "We continue to do what we do, and Coach Swinney does a great job in preparing us and making sure we have that mentality - prepare each and every week the same and we won't have any problems."