| | |
| --- | --- |
| Heisman Trophy Diary: The weekend starts with Awards Show | |
---
| | |
| --- | --- |
| Friday, December 11, 2015 12:01 PM | |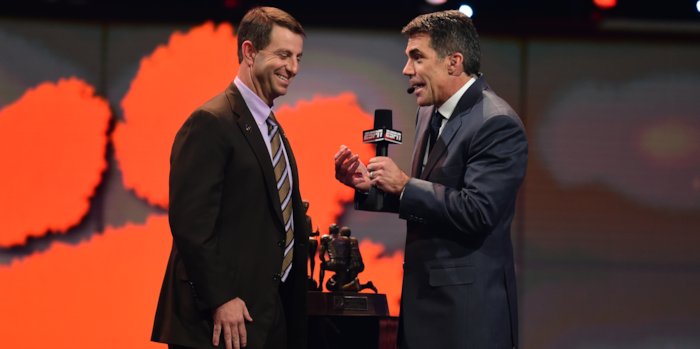 Deshaun Watson brings home Clemson's first Heisman Trophy.

This will be the shortest of the diary entries – hey we gotta catch some shut eye – but hopefully we can give you an idea of what Thursday night was like.

THURSDAY AFTERNOON AND EVENING

I picked Nikki up in Clemson at 1:30 and we managed to grab a quick bite in Seneca before heading down I-85 towards Atlanta. We needed to check into the media station by 4:30, and I knew with Atlanta's traffic history we would be pushing it even if there weren't any wrecks.

There were wrecks. Everywhere.

The Garmin told us to go around the most serious of the accidents – which looked like it would be a delay of over an hour – and we went through Gainesville, the home of Watson. I told Nikki it was fitting that we went through an edge of Gainesville while heading down to see Watson win an award.

We got into that nasty afternoon traffic in downtown, but still managed to pull up at the doors of the Hall of Fame at 4:32. Not bad considering the re-routing.

Outside we went through the usual bag checks, and once inside were told we had to wait so we could be escorted to our assigned station. It was – and this was a first for me – a media pod. We were put together in groups and escorted around so we wouldn't get in the way of the production preparation.

We were escorted into the room where the press conference featuring the four playoff coaches – Dabo Swinney, Bob Stoops, Nick Saban and Mark Dantonio – was going to be held. At the front of the room was the National Championship Trophy – yes I took a pic with it – and a table for the four coaches.

I promptly ran into a metal box and sliced open my leg, and as the blood began to pour into my sock we heard that the coaches were on their way. I ran into the hallway to see if I could find a restroom to wipe down the leg and ran into Stoops and Swinney. Stoops remembered me from the bowl game last year – he knew I was one of the guys always around taking pictures – and said a quick hello before the two coaches delved into conversation. Those conversations are above my pay grade, so I cleaned up the leg and waited on the press conference to start.

As you would expect, most of the questions were for the two Cotton Bowl coaches – Saban and Dantonio – and their relationship and work history. Par for the course when dealing with the national media. Once that press conference was over we were once again escorted to a place where we picked up media credentials and then we were taken to a work room. At the front of this work room was a dais, and we were told that all of the award winners would be brought to us as soon as they won the award. They would do a quick TV spot for ESPN and then would be brought upstairs. I sat down at the table – we were really packed in – and someone knocked a Coke over onto my laptop. Said laptop now seems to have died fighting and I writing this on my tablet. The joys of writing, right?

Prior to the start of the show, we were handed a sheet with the winners' names on them and told to not publicize or tweet anything until they were actually announced on air. So, we knew beforehand that Watson would win the Davey O'Brien and not the Maxwell. Watson was immediately brought upstairs and we had a 10 minute photo and video opportunity, and once he left I went outside the packed room to work.

I had to work around coaches and players moving in and out of the room and even ESPN's Sam Ponder. Talk about distractions!

Swinney then came upstairs, we did more photos and videos and packed up to leave. Except we couldn't, because we would tread on the red carpet. We had to wait for the show to end before heading out to the car.

Final thoughts – the Hall of Fame is amazing. I need to go back when I'm not working and take it all in. But despite the fact that we were "working" it was nice to look up and see Barry Switzer and Steve Spurrier and Kirk Herbstreit and the different movers and shakers in college football. Work? Maybe, but also a lot of fun.

Next up – a flight to New York in the wee hours of the morning and a 3 p.m. press conference with Deshaun at the Marriott Marquis in Manhattan.