| | |
| --- | --- |
| Happy Thanksgiving, Clemson Style | |
---
| | |
| --- | --- |
| Thursday, November 27, 2014 4:01 PM | |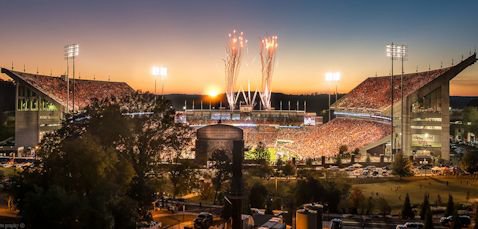 Deshaun Watson

Deshaun Watson
Fr. Quarterback
#4 6-3, 204
Gainesville, GA
View Full Profile , and it happened in the same year we said goodbye to Tajh Boyd

Tajh Boyd
Quarterback (2009 - 2013)
#10 6-1, 225
Hampton, VA
View Full Profile and Sammy Watkins

Sammy Watkins
Wide Receiver (2011 - 2013)
#2 6-1, 205
Fort Myers, FL
View Full Profile . Getting to cover Boyd and Watkins was a distinct pleasure, and being able to see every single one of their games in person was something I will never forget. My greatest memory? The show that Sammy put on in the Orange Bowl in January, and seeing the faces of those two young men in the tunnel outside of the locker rooms after the game. Every time a special player leaves, you wonder when that next special kid is going to walk through the door. He did, and his name is Deshaun. Injuries have marred his freshman season, but this kid is going to be good. Really good. Unlike Sammy and C.J., don't wait until the end of his career to appreciate this special talent.

Add in other special talents like Tyshon Dye

Tyshon Dye
RS Fr. Running Back
#23 5-11, 214
Elberton, GA
View Full Profile , MacKensie Alexander

MacKensie Alexander
RS Fr. Cornerback
#2 5-11, 190
Immokalee, FL
View Full Profile and Artavis Scott

Artavis Scott
Fr. Wide Receiver
#3 5-11, 190
Oldsmar, FL
View Full Profile and a bevy of linemen and playmakers that will come in this January, the future is bright.
*For the chance to see a dominant defense patrolling Death Valley once again. It's been a long time since Clemson fans have seen a defense this dominant, and the Tigers head into the regular season finale ranked number one nationally. That front seven – as we've said all along – is legit. I've seen them do big things against good running teams in Florida St., Boston College and Georgia Tech. Do they have another great week in them? I think they do…..I've seen more tackles for loss over the last two seasons than I probably saw in the previous four or five. This group is just fun to watch, and it's fun to watch Brent Venables

Brent Venables
Def. Coordinator / Linebackers
View Full Profile coach those guys up.
*That I got to see Grady Jarrett

Grady Jarrett
Sr. Defensive Tackle
#50 6-1, 290
Conyers, GA
View Full Profile play. Seeing this young man mature and turn into an elite level player over the last four seasons has been fun to watch. No. 50 isn't usually the player the fans go to the games to see, but I tend to watch him on every snap. He's good, and since the end of last season he's been unblockable. The fact that he occupies two and sometimes three blockers means that Stephone Anthony

Stephone Anthony
Sr. Linebacker
#42 6-2, 244
Polkton, NC
View Full Profile and the other linebackers are free to make plays. Take time Saturday to watch 50 do work…you won't be disappointed.
*For the chance to see another game in Death Valley Saturday. Every game is special, and I can't believe that fans stayed away last week or gave tickets away because they didn't like a certain player or the coaches' decisions. Seeing a game at Clemson goes beyond those petty things, and we wait during the longer winter months and the heat of summer for those special chances to see the Tigers run down the hill. Saturday is the last time this year. The next time we get to see that on a real game day (not the spring game)? 280 days. Show up and be loud and leave it all in the stands. The next time the stadium hosts a real game – on Sept. 5th, 2015 against Wofford – there will be a new press box, an oculus and several improvements.
*That this is the last season of Littlejohn as we know it. Littlejohn is old and tired and really doesn't have the same wow factor as the facilities as other schools in the ACC. Clemson doesn't have the storied tradition of Duke, which plays in a band box called Cameron Indoor Stadium, so having something to recruit to is at a premium right now. In the new-look ACC, it would be nice for the Tigers to be able to compete across the board in all sports, not just football.
*Finally, I am thankful for all of the readers of TigerNet. Without you, we don't get to do what we do. Enjoy your families and friends today, but before you do just know that we thank you for being readers and for your support. Happy Thanksgiving, and here is a toast to what I hope is the beginning of a fun five weeks or so.