| | |
| --- | --- |
| Halloween in Carter-Finley? Just another game between Tigers and Wolfpack | |
---
| | |
| --- | --- |
| Wednesday, May 27, 2015 8:27 AM | |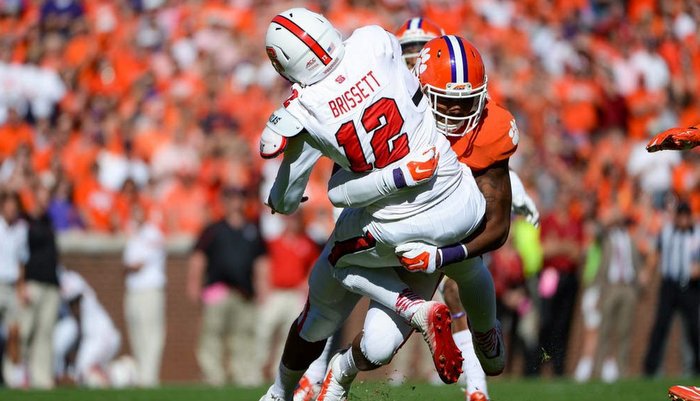 It comes as a surprise each year when I pick up the game notes prior to Clemson's annual game against North Carolina St. and see the domination the Tigers have had in the series since the 2004 season. The day before Halloween that season, the Tigers broke a two-game losing streak to the Wolfpack with a 36-20 victory at home in Death Valley, setting off a string of seven consecutive wins in the series.
The Pack broke that streak with a dominating 37-13 victory over a ranked Clemson team in Raleigh in 2011, but Clemson has scored 129 points in winning each of the last three. That includes a 41-0 old fashioned woodshed beating in Death Valley last season in which quarterback Jacoby Brissett was a miserable 4-for-18 for 35 yards and a quarterback rating of 2.1.
For whatever reason, however, it seems like the Tigers always struggle in Raleigh and the teams will renew acquaintances on Halloween this season. Will Carter-Finley Stadium be a haunted house for a promising Clemson football team? Or can the Tigers provide the chills and thrills over N.C. State?
The Pack might even be ranked coming into the game thanks to a soft – and by soft we mean really soft - early non-conference schedule. The Pack opens up with home games against Troy and Eastern Kentucky, and road trips to Old Dominion and South Alabama. They then slip into conference play with a home game against Louisville and a road trip to Lane Stadium in Blacksburg against Virginia Tech. An open date is followed by a trip to Winston-Salem and Wake Forest and then it will be Halloween and Clemson.
But that out of conference schedule? That's FCS Eastern Kentucky, second-year FBS Old Dominion, No. 124 Troy and No. 91 South Alabama. Head coach Dave Doeren must think he's in the SEC with that cupcake schedule.
The Wolfpack improved by five victories in Doeren's second season in Raleigh, and Brissett is back after passing for 2,606 yards and 23 scores last year. The senior helped the offense score at least 30 points in each of its last three games. However, he will be missing top receivers Bo Hines and Marquez Valdes-Scantling after both decided to transfer.
The running back duo of Shadrach Thornton and Matt Dayes should be one of the best in the ACC, but the defense allowed that 31.3 points per game last season lost some playmakers in the trenches. Will they have enough to make a run at the top of the conference teams like Clemson, Florida St. and Louisville?
Doeren thinks so, and told the media after spring practice that he thinks his players have finally learned how to prepare.
"It was a good spring. We got a lot accomplished," Doeren said. "I was really pleased with how hard our guys practiced and put the momentum from the end of our season, winning four of the last five games, and entered the off-season with a lot of good energy, good confidence. Guys learned, as a young team, the do's and don'ts of preparation, I think, and saw the results in how we played at the end of the year. It was fun to be the head coach here this spring. There was just a lot of competition at various positions."
Doeren also liked what he saw out of Brissett and rising sophomore Jalan McClendon.
"Yeah, they looked great. Both of them can make every throw. They're very competitive," he said. "Jalan is going through kind of a learning curve we saw Jacoby in two springs ago, how to manage the clock and how to take care of the huddle, and when we want to go fast, how to operate. He's got tremendous leadership skills, very competitive and super coachable. It's fun watching him progress through the spring. And Jacoby on the other side of it has just turned into such a great manager of what we do and very consistent, doesn't have a lot of change in his personality, good play, bad play. Just keeps playing, and excited to have both those guys in the quarterback room.
"Jacoby is our starting quarterback, there's no doubt. He's a senior. He played his butt off as a junior, excited for him. But also excited to have a guy as good as Jalan behind him. You can look at Ohio State and see how important your next quarterback is, and for them, the next and the next. We're not going to enter the season with a controversy or anything like that. We're just excited about the quality of both of our guys, and we hope that we can get Jalan some great minutes and get him ready to be the guy in it case that would happen."
The defense may not have put up stellar numbers in 2014, but Doeren hopes that experience will pay dividends this season.
"If we counted the other day, there's nine different guys in our secondary, if you include our nickels, that played for us last year -- three linebackers, five or six defensive linemen. So excited, even though we're young, we're experienced," Doeren said. "Experienced sophomore teams, experienced junior class, probably the biggest question mark going into the fall will just be the production at the kicker and punter position because we lost such veteran players there, two four-year starters. So the kids here competed hard this spring and was impressed with them, but it's going to be about game day for that position."