| | |
| --- | --- |
| HS Coach: Humble superstar Watson doesn't flinch | |
---
| | |
| --- | --- |
| Wednesday, September 24, 2014 11:27 AM | |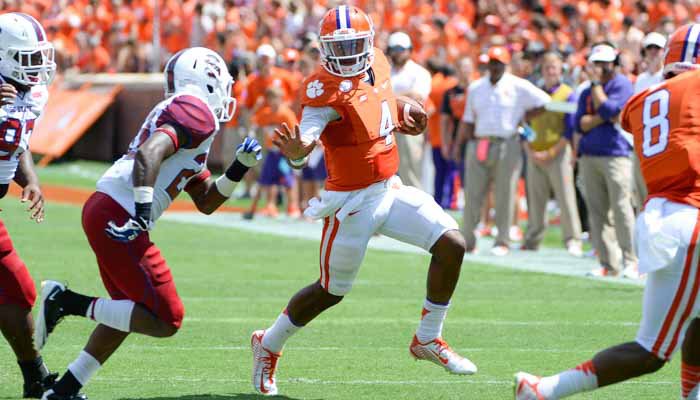 Gainesville High School head coach Bruce Miller took time to travel back to the school Saturday to watch Friday night game film with his assistant coaches, but once the early part of the afternoon arrived Miller headed back home for an appointment with his easy chair and several hours of college football.
Except it wasn't easy. Miller had two former Gainesville Red Elephant quarterbacks playing in high-profile games Saturday – redshirt senior Blake Sims quarterbacked the Alabama Crimson Tide to a 42-21 win over Florida and freshman Deshaun Watson

Deshaun Watson
Fr. Quarterback
#4 6-3, 204
Gainesville, GA
View Full Profile quarterbacked Clemson in a 23-17 overtime loss at top-ranked Florida St.
Miller told TigerNet this week that it was nerve-wracking.
"It was like being a nervous parent. I can't even enjoy college football anymore because of those two," Miller said laughing. "I sit there nervous as everything. If they even come close to making a mistake, I scream. But it's fun. It is challenging. The other day I was able to catch both games. I have one playing quarterback for Alabama and one playing quarterback for Clemson. Blake fumbled the other day and I said, 'oh no, Saban is going to get him out.' You just sit there and enjoy a game and feel blessed that you were able to coach those two."
Sims won the starting quarterback job at Alabama late in camp, beating out Florida St. transfer Jacob Coker. Against Florida he was 23-for-33 for 445 yards, four touchdowns and one interception; while rushing eight times for 39 yards.
Watson earned the right to start this week's game against North Carolina by completing 19-of-28 passes for 266 yards, and for the season is 29-for-41 for 479 yards and four touchdowns.
Watson and Sims never played together at Gainesville – Watson took over for a graduated Sims as a freshman and never relinquished his hold on the starting job.
"They made me look like a real good coach, and I tried to not mess them up," Miller said of the duo. "They were both so athletic. And Deshaun had such a great mind for the game, and Blake was such a great athlete. If Blake got in the open field you weren't going to catch him. And Deshaun was just the complete quarterback. Blake has made himself a quarterback at Alabama. Coming out of high school, I wasn't sure if he would play quarterback, defensive back or receiver. "
Miller said he knew that once Watson got a chance – much like in high school – Watson would take it and never look back.
"Yes I did. I didn't know when it would happen, but I knew if he got a chance the kid doesn't flinch," he said. "I think I've seen him upset two times in his life. He is just as cool and calm as he was Saturday night against Florida St. That is just him, and that is how he does things. He is so even keeled and so quiet you don't even know he is there."
I asked Miller what one thing stood out to him about Watson, and he said that with Watson it's all about team.
"He is all about team. Always has been and always will be. It is never about Deshaun," Miller said. "Never was in high school. Last year in the state semifinals he hurt his knee with about eight minutes to go in the game - now most kids that had what he had and had signed and were going in early and would leave in about two weeks to go to college would have said, 'I am hurt and I am not going to go back in.' He came up to me with about five minutes left to play and said, 'Coach I am ready to go back in.' That is just him. He is just a special kid all the way around."
He then said that he trusted head coach Dabo Swinney

Dabo Swinney
Head Coach
View Full Profile and offensive coordinator Chad Morris

Chad Morris
Offensive Coordinator / QBs
View Full Profile to make the right decision concerning Watson.
"I had all the confidence in the world in Coach Swinney and Coach Morris," he said. "I knew they would do what was right by Deshaun and if he wasn't ready they wouldn't throw him in there."
That led to Saturday's breakout performance, and Miller said Watson does things he's seen countless times before.
"He makes some moves I have seen before. That throw he made in the Georgia game? I have seen that five or six times in his high school career," Miller said. "He just has an understanding about the position, and an anticipation that is uncanny. I am not sure he couldn't pick up some golf clubs and go out and shoot par."
Miller finished by calling Watson a "humble superstar."
"It will never be about Deshaun, as long as he is there. If there is a record to be broken, he couldn't care less as long as he is winning," he said. "In high school, it wasn't about him. I am just glad he was on my team. It was never about him and it won't be. That's just the way he is. We go to the Byrnes 7-on-7 tournament prior to his senior year, and of course that is Clemson country. People were bringing their babies out there to have their pictures taken with him, and he just didn't let it bother him. He is just gracious enough to have his picture taken and never thinks that it is getting old. I have seen him numerous, numerous times stop for a family and have his picture taken with him."