| | |
| --- | --- |
| Guillermo thinks the offensive line has enough fight to be successful | |
---
| | |
| --- | --- |
| Monday, August 11, 2014 6:19 PM | |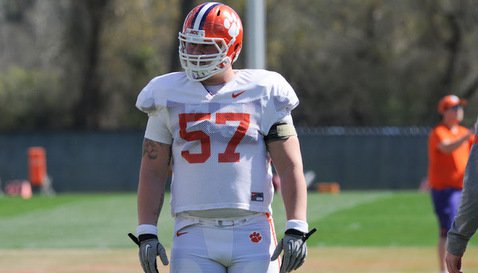 CLEMSON – Jay Guillermo

Jay Guillermo
RS So. Center
#57 6-3, 314
Maryville, TN
View Full Profile hears the whispers and understands the questions that surround the offensive line heading into the season.
The offensive line faces a host of questions heading into the opener against Georgia in just 19 days - who are the best five? Who is going to play left guard? Will the tackles hold up against talented defensive ends? Are they big enough to sustain a power running game?
However, Guillermo says there is one question that doesn't need to be addressed - are his teammates ready to fight for one another?
"We worked all summer," Guillermo told TigerNet after Monday's morning session of practice. "We put in the hours. We're working now. We've got good chemistry with our quarterbacks, our whole offense. Our offensive line hangs out all of the time and we want to fight for each other. I think that's a big thing that we want to fight for each other and the man beside us."
Add in the fact that offensive coordinator Chad Morris

Chad Morris
Offensive Coordinator / QBs
View Full Profile is preaching every day that nobody expects this year's offense to do anything worthwhile, and that no one in the media or outside the fan base knows a single player's name and this has the potential to be a salty bunch that lines up between the hedges in a little over two weeks.
"That's the way he [Morris] has to coach," Guillermo said. "It gets us fired up. We don't want to be told, 'Oh, you're not good,' by all of these media people. The fact of the matter is that we take it as no one does know our name and that's how we see it. That's how we're going to play and prove people wrong."
By the time the ball is spotted, this group of offensive linemen will have had the best training possible, going up against a "freakish" defensive line that has players like Vic Beasley

Vic Beasley
RS Sr. Defensive End
#3 6-2, 236
Adairsville, GA
View Full Profile , Shaq Lawson

Shaq Lawson
So. Defensive End
#90 6-3, 269
Central, SC
View Full Profile , Grady Jarrett

Grady Jarrett
Sr. Defensive Tackle
#50 6-1, 290
Conyers, GA
View Full Profile and DeShawn Williams

DeShawn Williams
Sr. Defensive Tackle
#99 6-1, 292
Central, SC
View Full Profile .
"It's great for our offensive line. Those guys are freaks," Guillermo said. "We're three people deep at each position on the defensive line and they're just so good. It really encourages us. Sometimes we may get a little frustrated, but at the same time, it encourages us, because we're going against one of the top defensive lines in the country."
However, going up against that level of player on the first, second and third team every day in practice can get a little frustrating for a relatively young and inexperienced offensive line.
"We always want to do the best that we can and we're always striving to be the best, so whenever you miss a block or you just get beat, it's going to frustrate you," he said. "You just can't let that go to your head and keep a cool head and keep going."
The Maryville (TN) native is playing both guard and center as all of the offensive lineman have been cross-training at various positions trying to find the best five, but their success and failure must be measured differently than any other position on the field.
"We've done a good bit of mixing and matching," he said. "We've put guys here and there just trying to get the best five out there. You just have to measure success as we go out there and we do what we're supposed to do. We execute our assignments right. We protect our quarterback. We protect our running backs."
At the end of the day, though, the only thing that matters is winning.
"We have the personnel to do whatever we need to do to win games, whether that's grind it out 15 plays or pop a couple of passes and get it down field," he said. "To us, it doesn't really matter, we just want to do whatever we have to in order to win."