| | |
| --- | --- |
| Guillermo the center of attention after first career start | |
---
| | |
| --- | --- |
| Thursday, September 11, 2014 7:01 AM | |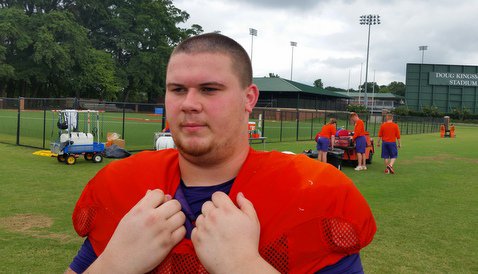 CLEMSON – Jay Guillermo

Jay Guillermo
RS So. Center
#57 6-3, 314
Maryville, TN
View Full Profile knew by Wednesday of last week that he had a pretty good chance of starting at center against South Carolina St., taking all of the reps with the first and second teams during practice.
Clemson head coach Dabo Swinney

Dabo Swinney
Head Coach
View Full Profile and line coach Robbie Caldwell

Robbie Caldwell
Assistant Coach / Offensive Line
View Full Profile confirmed the news that his first career start at Clemson was in the works.
"Ryan (Norton) had gotten a little sick, and I was taking the first and second team reps," Guillermo told the media this week. "In the middle of practice, it started getting pretty tough and Coach Swinney pulled me to the side and he said, 'Don't worry. Keep grinding. It is going to pay off.' And then you know, I got the start. I was talking to Coach Caldwell the next day, and he confirmed the start."
Guillermo was rated as the No. 1 center in the nation as a senior at Tennessee's Maryville High, and he helped lead the Rebels to a 15-0 finish and state title his final season. However, Guillermo redshirted in 2012 after enrolling in January, and played just 182 snaps over eight games last season.
"Jay was a little immature when he came to Clemson, and I don't think he really understood what he was going to have to do to be a great player and compete at this level," Swinney said earlier this week. "We could see him starting to emerge in the spring. He's taken much more ownership of the system."
Swinney said that Guillermo deserved Saturday's start, and Guillermo said he was pleased with the way he performed.
"I played well, and graded out very high," Guillermo said. "I was happy with that, with it being my first start. I felt like in the first series I was a little too cautious, trying not to make any mistakes. But after I got the first couple of hits out of the way, I sort of let it loose."
Guillermo's grandfather is Ron Greene, a former offensive lineman who went on to coach Burns High near Gastonia, North Carolina for more than 30 seasons, and is considered to be one of the nation's most accomplished offensive line coaches. Greene spent time at former head coach Danny Ford

Danny Ford
Former Head Coach
View Full Profile 's camps during the summer, and that love for Clemson led to Guillermo becoming a Tiger.
Once he learned he was going to start, Guillermo called Greene with the news.
"He was the first one I called," Guillermo said. "He told me 'the door's open, this is your opportunity, go make the best of it and go play your tail off and see how it works out.'"
Greene and Guillermo then spoke after the game.
"He told me to not let my high be too high or my low too low, and to go watch film and take criticism," Guillermo said. "He thought I played well, but he said it's never as good as it seems or as bad it seems until you go watch film."
Swinney didn't elaborate on whether Guillermo would start the team's next game at Florida St., but did say he was pleased with the way Guillermo has blossomed.
"Jay's another one of those young guys who we've known all the talent and potential was there," Swinney said. "It's just been a matter of him putting it all together and having the confidence that goes with it. He's gotten very serious about being a really good player. He got his first start, and now we'll see where we go from here."
Guillermo said he doesn't expect a starting position to be handed to him, but vowed to continue working hard to earn the coaches' trust.
"It's whatever Coach Swinney thinks I should get," Guillermo said. "I don't really have any expectations. I just want to go out and work and earn my way on the playing field."