| | |
| --- | --- |
| Guillermo says offensive line passed test against Tide | |
---
| | |
| --- | --- |
| Wednesday, January 13, 2016 8:01 AM | |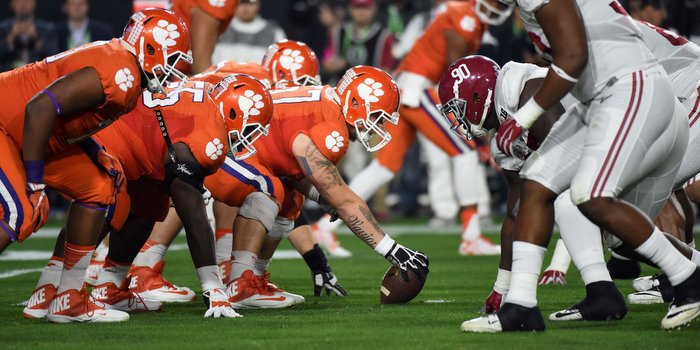 GLENDALE, AZ – Alabama had the top defense in the nation, and Clemson's offensive line knew it was facing a difficult test against the Crimson Tide in the national championship game Monday night.
Despite a 45-40 loss, center Jay Guillermo thinks his unit passed that test.
"This game 100 percent was the kind of fight that we had," Guillermo said. "Nobody said we were going to be able to block them, and 550-something yards later, look what we did. I know it's a cliché. We didn't win on the scoreboard, but we definitely won with our heart and how we kept fighting and fighting."
Clemson finished with 550 yards, 405 passing from quarterback Deshaun Watson and 145 rushing on 38 carries.
Guillermo pointed to the leadership of the offensive line's seniors (Joe Gore, Ryan Norton and Eric Mac Lain) as a key.
"That's a testament to this team and the leadership and the great job that Joe and Ryan and Eric have done on this offensive line," Guillermo said. "We've got something to keep our head up, and I think we proved to people that we deserved to be here.
"It is tough; it's always tough being that close and coming down to the end, but that's just how the game of football works."
Guillermo will return for the 2016 season as a senior, and the offensive line also will return starters Tyrone Crowder at guard and Mitch Hyatt at tackle.
"We've got the talent; we've just got to have the want to," Guillermo said. "This kind of put a fire in everyone's belly, kind of like that loss last season to Florida State. We feel like we did a really good job and played well enough to win, and we just didn't. I think that has put a fire in everyone's stomach, and I'm just really, really excited for the offseason."
Daniel Shirley is the sports editor of The Telegraph in Macon, Ga., and co-host of The Morning Show on FoxSports 1670 AM. Follow him on Twitter at @DM_Shirley and read his blog at macon.com/peachsports.