| | |
| --- | --- |
| Guillermo, a Tiger fan since birth, taking advantage of opportunity | |
---
| | |
| --- | --- |
| Monday, April 7, 2014 12:28 AM | |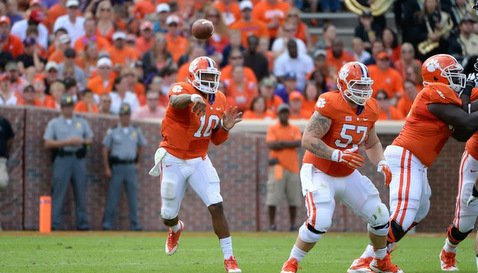 CLEMSON – The history of college football is filled with stories about quarterbacks who were the sons of coaches, and how being a coach's kid made them into a better football player. But what if you were the grandson of a decorated high school coach, and you played on the offensive line?
Welcome to the world of Clemson lineman Jay Guillermo

Jay Guillermo
RS So. Center
#57 6-2, 290
Maryville, TN
View Full Profile . The rising sophomore committed to Clemson early in the recruiting process despite rated as the No. 1 center in the nation according to ESPN, and part of that was because his grandfather – Ron Greene – took him to Clemson games when he was little. That love continued to grow, and Guillermo became a Tiger.
Greene was the head coach at Burns High School in North Carolina, and he coached the Bulldogs from 1984 till 2007. In those 23 years Greene won 174 games. His teams went to the postseason 13 seasons and brought home the 1994 State 3A High School Football Championship. The stadium at Burns was named after Greene in 2009.
Greene was recruited by Clemson out of high school, and later worked with former Clemson head coach Danny Ford

Danny Ford
Former Head Coach
View Full Profile at high school camps on the Clemson campus. Greene became a big admirer of the Clemson program, setting the stage for the Tigers to pick up his grandson.
These days, Guillermo is fighting for a starting spot on the line, and he knows he can turn to Greene for help.
"He has been here a couple of times," Guillermo said of Greene. "He really helps a lot. He will stay after practice and we look at film together because we have the Ipads. We look at film and he will critique my technique and everything. He is a huge help because he has been around football for 40 years, and that doesn't include him playing."
Guillermo spent last season playing behind starting center Ryan Norton

Ryan Norton
RS Jr. Offensive Line
#58 6-3, 270
Simpsonville, SC
View Full Profile , playing 182 snaps in eight games. This spring, he is not only battling Norton for the starting spot in the middle, he is also seeing time at both guard spots as the coaches endeavor to get the five best players on the field.
Guillermo he said he is doing whatever it takes to get on the field.
"I'm just becoming more of a leader. More of vocal leader, and I'm jumping in there whenever they need me," he said. "They've had me going at guard – both left and right – and overall I am just learning the entire offensive line. Still more reps at center than guard."
He was asked the difference between Norton and himself, and while he noted two differences, he said the competition all along the line has been fun to be a part of.
"I am a little bit bigger. He knows the offense a little bit better," Guillermo said. "I guess it is who knows the position better, really. The competition is awesome. We are out there fighting against each other every day. It really is just a big competition. There is about ten of us fighting our butts off every day to get better and make each other better, but we all want that top spot."
He then said that he knows what he has to work on, and that has been a priority this spring.
"I would have to say my hands – sometimes I let guys get into my chest," he said. "I need to use my hands with more consistency. I want to get to where I am not even aware of having to use them and I just do it naturally."
The fact that he is fighting for a starting spot and hopes to make an impact on the team he has always loved makes it even more special.
"I've always been a Clemson Tiger, and I've always bled orange and purple," he said with a smile. "That just makes all of this even better."