---
| | |
| --- | --- |
| Friday, January 10, 2014 11:18 AM | |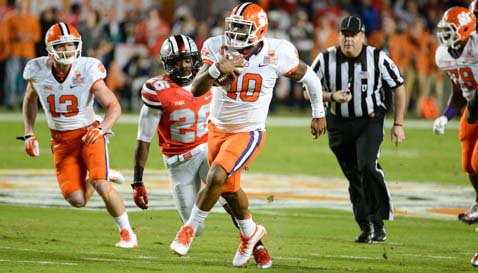 I've always loved the movie Groundhog Day with Bill Murray, and it's fitting that Murray's son is a student at Clemson and that Murray himself is something of a Clemson fan.
In case you haven't seen the movie, Murray plays a TV weatherman who goes on an assignment covering the annual Groundhog Day event in Punxsutawney, finds himself in a time loop, repeating the same day again and again.
Football season is a busy time for me – I am constantly in motion from the end of July until after the bowl game – and it's really only after the bowl game has finished that I can sit back and reflect on a season and what it might or might not mean.
We were driving home from Miami last weekend, and everybody in my car was asleep, so as the boring miles up Interstate 95 clicked by, I started thinking about the season and the accomplishments of the 2013 Clemson football team.
It was while going through those reflections that I realized that 2013 was almost a replay of 2012, and that 2014 could be yet another repeat. For all of the success that this program has had, if there is to be true growth and improvement, the cycle of Groundhog Day has to be broken.
Now, this is not an indictment of any kind. I think the program is headed in the right direction, and I get to see first-hand how hard these coaches and players work, and the time they put in. I also think this is the best staff Clemson has had in a long time, and for the first time in a while there looks like there won't be any staff turnover, which is huge.
It would take two extra pages to list all of the accomplishments of the program over the last two seasons, but a short list includes: back-to-back 11 win seasons for the first time in program history; a BCS and Orange Bowl win; a dramatic win in the Chick-fil-A Bowl; wins over traditional powers like Georgia, Auburn, LSU and Ohio St.; the Tigers have also been a consistent presence in the polls; heck, Clemson hasn't lost a conference game to anyone not named Florida St. since November of 2011, and has just two conference losses over the last two seasons.
However, it was those trends that got me to thinking about Groundhog Day.
In 2012, the Tigers started off with a season-opening win on national television over an SEC team when they defeated Auburn. The Tigers steadily rose in the polls, moving up to No. 10, before facing Florida St. in what was essentially the Atlantic Division title game. The Seminoles won 49-37, and the Tigers were left to regroup.
That's exactly what they did, winning seven in a row and jumping back to No. 11 in the rankings before losing the regular season finale against South Carolina. What followed was a month of questions, followed by a thrilling bowl win over LSU in the Chick-fil-A Bowl.
The 2013 season started off with a season-opening win, on national television, over an SEC team in Georgia. Expectations were flying high, and the Tigers jumped up to No. 5 in the polls before losing to – in spectacular fashion – Florida St. in yet another game that was effectively the ACC Atlantic title game.
Once again, the Tigers had to regroup, and they did just that, winning four in a row and rising back to No. 6 in the national rankings. What followed was a loss to – yep, you guessed it – a loss to South Carolina in the regular season finale. Another month went by, and the Tigers ended the season with a thrilling bowl win over another national power in Ohio St., gaining momentum heading into the offseason.
The 2014 campaign starts off with a traditional SEC power – Georgia – in what will more than likely be a nationally televised game. The Tigers' real first ACC test will be Florida St., and the final real test will be against South Carolina. Once again, the Tigers will have three must-win games on the schedule. I get it – all games are must-wins – but these games hold extra incentive. The first one is against an SEC power, the second is essentially for the right to play in the ACC Championship Game, and the third one is for bragging rights in the state.
The Tigers have back-to-back 11-win seasons and the bowl wins, but for this program to see real growth and improvement, Groundhog Day has to end, and it has to end for the better. Keep up the success against everybody else, but find a way to go 2-1 in those three games instead of 1-2, and Groundhog Day will officially be over.