| | |
| --- | --- |
| Great Scott: Artavis hyped to play Canes | |
---
| | |
| --- | --- |
| Monday, October 19, 2015 7:01 AM | |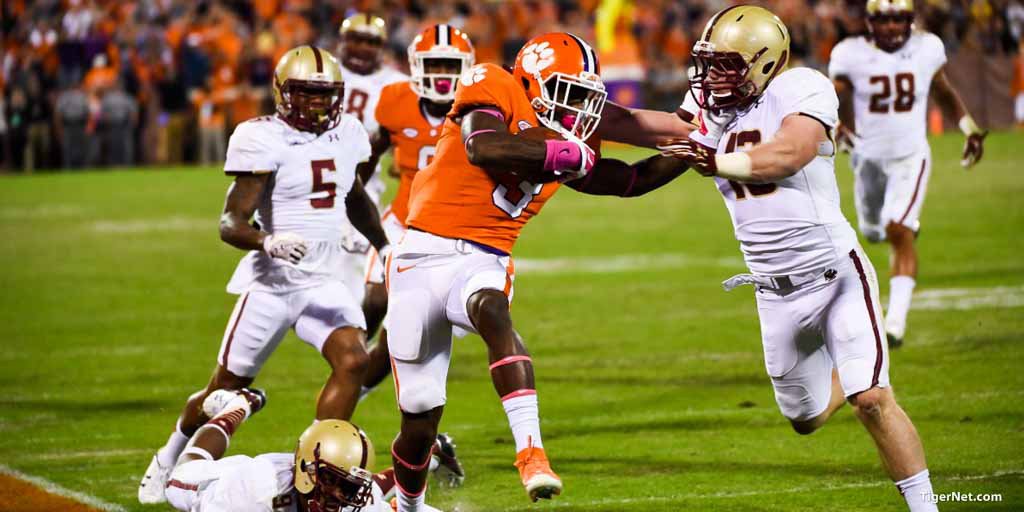 CLEMSON – The Miami Hurricanes were Artavis Scott

Artavis Scott
So. Wide Receiver
#3 5-10, 191
Oldsmar, FL
View Full Profile 's favorite team growing up, and he admitted Saturday night that he still considers them one of his favorite teams and pulls for them. Except for when they play Clemson.
Scott grew up in Clearwater, Fla., a four-hour drive from Miami's campus in Coral Gables. He grew up loving the swag and attitude of those Hurricane teams, and he will get a chance to take the field against Miami next Saturday when the Tigers travel to Miami for a key conference matchup.
It's a contest the sophomore has been looking forward to, and he said he hopes the Canes come out talking.
"I can't wait. Miami was my favorite school growing up, and it's going to be a great opportunity to go out there and play and just have fun," Scott told TigerNet after Saturday's game. "If they want to talk, that's the game. I love that stuff. It's going to be an amazing game, and I can't wait to play. Yeah. I've been waiting. As soon as I saw it, I was hyped about it. I told my mom that we get to play Miami this year. She knows that was my favorite team. I can't wait for it."
He was quick to name his favorite Miami players.
"There were a few of them. Clinton Portis was great. Willis McGahee," Scott said. "I loved watching all of those players. It's just something that I grew up on. I loved the old team. It was just fun. Sean Taylor was the man. There were a lot of players that I liked on that team. I didn't have a specific player. I just liked to watch them play and the swagger they brought. You've got to know about them. You couldn't like them at that time. That's still one of my favorite teams. Even though we play them - I'm always going to go for Clemson no matter what - but I still like Miami."
Scott had 10 catches for 164 yards against Boston College Saturday night, including a 51-yard touchown reception from quarterback Deshaun Watson

Deshaun Watson
So. Quarterback
#4 6-2, 207
Gainesville, GA
View Full Profile . However, Scott was already talking about the Canes after the game and said he has friends who will be on the opposing sideline Saturday.
"It's going to be fun. We've just been playing around," Scott said of the Miami players. "We were talking about it the other day, and it was like, 'We're about to come down there and play you guys.' It's going to be great. We're going to have fun with it. We're going to obviously go out there and compete, but we're also going to have fun."
Scott was asked if the Canes finished second to the Tigers in the recruiting battle, and he said no, saying Clemson was really his only choice.
"I just didn't want to stay home. I love my Florida schools, obviously, but I just knew being me and growing up as I man that Clemson was the best place for me playing under Coach Swinney," Scott said. "I love how he takes control of everything. He loves God, and he's a God fearing man and I love that. It was big for me to have the opportunity to come here, and I knew that I would be able to play."
The last time Clemson played in Miami was the 2014 Orange Bowl against Ohio St., but Scott was still in high school when that game was played, and Saturday will be his first visit to Sun Life Stadium.
"To be honest, I've never been to Miami, so it's going to be a first," he said. "It's what we have to do. We just go out there and handle business on the road. We know we can win at home, and it's great to go somewhere else and take our game to them and win."
Scott concluded the interview by saying he wouldn't carry any extra emotion into the game.
"That stuff doesn't matter to me. They put on their pants just like I do," he said. "It doesn't really matter. I know what they're about. We're just going in there and having fun. I like it. It's going to be great for us, and I can't wait to play."