| | |
| --- | --- |
| Grayson Trio thriving at Clemson even if the names have changed | |
---
| | |
| --- | --- |
| Thursday, March 12, 2015 2:01 PM | |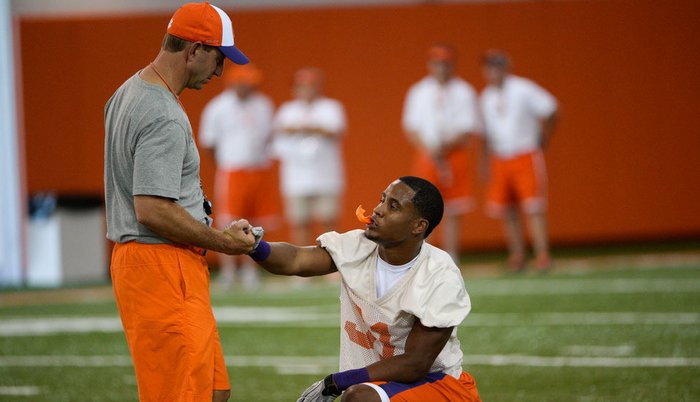 CLEMSON – The Grayson Trio is indeed thriving at Clemson, although the members of the group have changed. And Clemson is better for that change.
We wrote back in 2012 that the Clemson coaching staff was chasing – and hoping to land – the Grayson Trio out of Loganville (GA) Grayson High School. That group included the nation's No. 1 prospect in defensive lineman Robert Nkemdiche, defensive back David Kamara and running back Wayne Gallman

Wayne Gallman
RS So. Running Back
#9 6-1, 205
Loganville, GA
View Full Profile .
Nkemdiche was considered to be the crown jewel of that trio, a rare combination of size and speed and athletic ability. Kamara, Nkemdiche's best friend, was rated as the No. 85 corner in the nation according to ESPN and many wondered if Kamara's offer was an attempt to lure Nkemdiche.
And then there was Gallman. Gallman was highly-rated by several scouting services, but with fans being fans and having the ability to fuss, they looked at his rushing totals at Grayson and groused. The complaint was that Gallman's offer was either as another tip of the cap to Nkemdiche or head coach Dabo Swinney

Dabo Swinney
Head Coach
View Full Profile giving the offer as a favor to his former college teammate, Grayson head coach Mickey Conn.
Clemson failed to land Nkemdichie, who wound up at Ole Miss, and his best friend Kamara followed him to Oxford. In two years at Ole Miss, despite the great start and the hype, Nkemdiche has tallied 69 tackles and just four sacks, underwhelming numbers for the most part. Kamara announced recently that he was transferring from Ole Miss and he landed at Tennessee St. University in Nashville.
And then there was Gallman – Gallman redshirted his first season on campus and earned limited carries through the first part of the season. However, he came on late and ran for 610 yards in the final seven games of the season. His three 100-yard games came in the final six, including 191 yards in a 35-17 victory over South Carolina in November. In the final six games, he averaged 5.2 yards per carry and entered spring practice atop the Clemson depth chart. Not bad for a player that many – not the coaches or people who had watched him play – considered a throw-in.
After Gallman, however, the story takes a strange but interesting turn. Clemson had offered – albeit late – another Grayson prospect that year in defensive back Ryan Carter

Ryan Carter
RS So. Cornerback
#31 5-9, 180
Grayson, GA
View Full Profile . Carter was a friend of Nkemdiche's, and although Nkemdiche was probably only trying to help he didn't do Carter any favors that July when he told the Atlanta Journal-Constitution what would happen if Clemson offered Carter.
"Clemson said they like Ryan a lot and that he's at the top of their board. Yes, sir, if Clemson offers Ryan, it would seal the deal," Nkemdiche told the AJC. "There's no ifs, ands or buts about it. David and Ryan, those guys are like family. They are like brothers to me. I'm close to them. We've had success playing football together and I don't want to change it."
Carter didn't get an offer from Clemson until much later – after an official visit a few weeks before National Signing Day – but signed with Clemson along with Gallman while Kamara and Nkemdiche took their talents to the SEC. Carter's offer – much like Gallman – drew the ire of the message board pundits who wondered what Swinney was doing.
And then along came Nick Schuessler

Nick Schuessler
RS Jr. Quarterback
#12 6-3, 195
Grayson, GA
View Full Profile . Schuessler was a year ahead of the original Grayson Trio and Carter at Grayson and wound up signing with Mississippi St. Schuessler was also good friends with Nkemdiche, who spent time living with Schuessler and his parents when his own parents were out of town. However, Schuessler quickly figured out that Miss. St. wasn't the place for him and began looking around for another school. He landed at Clemson, enrolled as a walk-on and ran the scout team before finally landing a scholarship and earning snaps last season in relief of the injured Deshaun Watson

Deshaun Watson
So. Quarterback
#4 6-2, 205
Gainesville, GA
View Full Profile and the struggling Cole Stoudt

Cole Stoudt
Quarterback (2011 - 2014)
#18 6-4, 225
Dublin, OH
View Full Profile .
Following Wednesday's practice, Swinney praised the members of the Grayson Trio, but it wasn't the same Trio that captivated the World Wide Web in 2012 – it was the unlikely combination of Schuessler, Gallman and Carter.
Swinney has already said that Gallman has what it takes to be a major contributor.
"Everybody knows what Gallman can do, and he's just going to get better," Swinney said. "He's already better. He's 212 pounds, looks great, fast and explosive."
Schuessler earned praise from Swinney Wednesday night and appears to have a solid grasp on the number two spot behind Deshaun Watson.
"I can't say enough good things about Nick Schuessler," Swinney said. "This is one of those practices that you wish that everybody got to see. It was pretty impressive. He has had six outstanding days of football practice. It's great to see the light come on for guys. He has done an outstanding job of leading. He's made some big time throws. Just playing with a sense of urgency that I have not seen from Nick Schuessler since he's been here. He's playing with a confidence that I have not seen since he's been here. As a result of that, he's playing faster and more decisive and accurate. Really encouraged with Nick."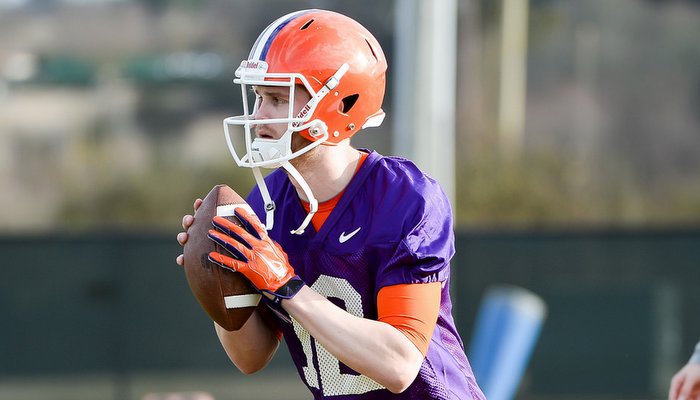 As for Carter, both Swinney and defensive coordinator Brent Venables

Brent Venables
Def. Coordinator / Linebackers
View Full Profile said that Carter has impressed in camp and right now is in the lead for the cornerback spot opposite Mackensie Alexander

Mackensie Alexander
RS So. Cornerback
#2 5-10, 190
Immokalee, FL
View Full Profile .
"I'm really pleased with Ryan Carter and what he's done," Swinney said. "I think he's really stepped up these last six days."
The Grayson Trio is alive and well at Clemson. Only the names have changed, and right now it appears Clemson got the better end of the deal.