| | |
| --- | --- |
| Grady Jarrett still feels the sting of Georgia jilt | |
---
| | |
| --- | --- |
| Tuesday, August 19, 2014 8:48 AM | |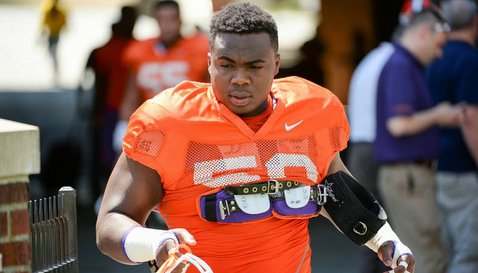 CLEMSON – Grady Jarrett

Grady Jarrett
Sr. Defensive Tackle
#50 6-1, 290
Conyers, GA
View Full Profile grew up and played high school football less than an hour from the University of Georgia campus, earning accolade after accolade at Rockdale County High School in Conyers, right under the noses of the Bulldog coaching staff.
The son of former Atlanta Falcon standout Jesse Tuggle, Jarrett grew up calling former Baltimore Ravens linebacker Ray Lewis "Uncle Ray" and set the tone for his future by accumulating 101 tackles, 31.5 tackles for loss and nine sacks as a senior. Jarrett had 198 tackles, 63 tackles for loss and 27.5 sacks over his last two years at Rockdale, but Georgia never offered a 6-1 defensive tackle that didn't fit the mold of an SEC defensive lineman.
Jarrett's only other offers – in addition to Clemson - were Buffalo, Mississippi State, and Western Kentucky, so it really isn't all that surprising that Georgia didn't offer. Since then, Jarrett has gone on to earn an All-ACC Honorable Mention selection last season, and was named to the conference's preseason first team last month.
But don't think Jarrett has forgotten that the Bulldogs didn't offer, and he gets his second chance at the Bulldogs on August 30th when the Tigers travel down the interstate to take on Georgia in the second game of a home-and-home series.
Last season at Clemson, Jarrett had eight tackles, a half tackle for loss and a team-high three quarterback pressures in 46 snaps in Clemson's 38-35 season opening win over the Bulldogs. Jarrett did all of that with a torn labrum in his left shoulder, an injury he suffered in the week leading up to the game.
The injury didn't stop him, and the knowledge that Georgia didn't want him fuels his desire even more. Jarrett even mentioned that despite growing up in the shadow of Sanford Stadium, he's only been in the stadium once and that wasn't even for a game.
As a result, Jarrett said Monday that he can't wait to line up across from Georgia a final time.
"This is one of those things, I am going to really enjoy playing in Georgia," Jarrett said after Clemson's practice. "You know, those boys, they didn't want me down there. I haven't forgotten about it."
Jarrett was reminded that he played well against his home state team last season, but he shook his head and said he still had more to prove.
"I have some more work to do. I'm not done with it. I am looking forward to it," Jarrett said.
When asked if the slight by Georgia bothered him, Jarrett quickly said no. "I am where I want be. I am where I want to be. I try to be the same player every week," Jarrett said with a smile."
Jarrett said that Clemson's defense is ready to hit someone wearing a different colored helmet.
"We are about to that point where we want to start `tightening up on the stuff we learned in camp and paying attention to the details. But yeah, we are ready to start game-planning and preparing for somebody else," Jarrett said. "I feel like we are seeing the light at the end of the tunnel, and we are ready to start honing in on everything we learned in camp and sharpening everything. We are ready to get on the field with somebody."
That somebody happens to be Georgia, and Jarrett said it hasn't escaped his attention that the first game of his senior season will take place not far from home.
"It is so exciting. It is crazy that this time has come. But you know it's going to come - you're a senior and it's your last go-round," he said. "It's something I have been preparing for since the end of last season. I feel like I am very prepared, but it's almost surreal. It's your senior year and the last game I get to play against Georgia. I feel like it is going to be a really good year."