| | |
| --- | --- |
| Graduation Day - The NFL Draft had its ups and downs for Clemson players | |
---
| | |
| --- | --- |
| Sunday, May 11, 2014 3:20 PM | |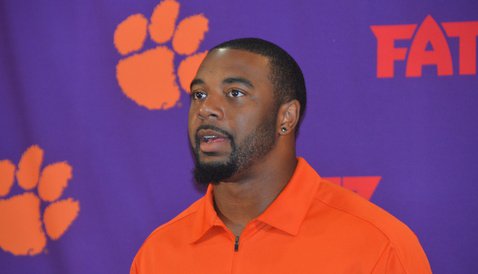 This past weekend was Graduation Day in more ways than one for many Clemson students; actual graduation ceremonies were held and thousands of students proudly received their degrees. On the opposite side of the ledger, several former football players had a graduation day of sorts as they begin their transition from the college game to the professional level.
The NFL Draft – as everybody knows – was held this past weekend, a draft that from a Clemson perspective was highlighted by the Buffalo Bills trading up and choosing Sammy Watkins

Sammy Watkins
Wide Receiver (2011 - 2013)
#2 6-1, 205
Fort Myers, FL
View Full Profile with the fourth overall pick in the first round.
I won't get into the Watkins pick here – everybody knows what he can do and it will be exciting to see if the Bills can rebuild with so many Clemson players to watch – but I do have one comment to make about Watkins. There are many, many times when a young player, who no longer has the discipline of a college coach or program and finally has a little money, will do things that make you shake your head. It actually looks bad on the program, and we saw a few instances of that this past weekend. However, Watkins represented Clemson in a classy and mature way during the entire process, and wearing his orange tie and tiger paw pin were nice touches.
We're gonna miss that young man.
Martavis Bryant

Martavis Bryant
Wide Receiver (2011 - 2013)
#1 6-5, 200
Calhoun Falls, SC
View Full Profile , Pittsburgh Steelers
Bryant and the Steelers seem to be the perfect match, and I liked the fact that Steelers quarterback Ben Roethlisberger called Bryant shortly after the Anderson native was drafted. Steelers wide receivers coach Richard Mann said he thinks Bryant will be a perfect replacement for departed wide receiver Jericho Cotchery.
Mann said that one thing the Steelers will need Bryant to learn is how to be a force in the running game – as in downfield blocking for the Pittsburgh running game. He also said that the Steelers plan to take advantage of Bryant's size inside the red zone.
A lot of times everybody knows where the ball is going to go and there's nothing they can do about it if you have a mismatch," Mann said. "That's what we think we have here with the reach that he has, the wingspan. We feel like we can get some cheap touchdowns down there."
Brandon Thomas

Brandon Thomas
Offensive Line (2009 - 2013)
#63 6-3, 305
Spartanburg, SC
View Full Profile , San Francisco 49ers
This seems to be another perfect spot. Thomas, rehabbing from a torn ACL, can sit back and learn this season and he doesn't have to do it with a losing franchise, the kind that signs and cuts players with abandon. The other good part of this is that the head trainer for the Niners – Jeff Ferguson – is a Clemson guy. Ferguson earned his bachelor's degree in 1993 at Clemson and got his start in college athletic training as a student athletic trainer at Clemson from 1989 to 1993. Thomas told me on the phone Saturday that he and Ferguson have already spoken about the rehab process.
It seems like such a short time ago that we talked to Dabo Swinney

Dabo Swinney
Head Coach
View Full Profile about the enigma that was Brandon Thomas. Swinney would tell us that when Thomas matured and "got it" he was going to be a heck of a player. And there were times – such as after the game at South Carolina in 2012 – when I wondered if his confidence would be shaken. To his credit, he matured and turned himself into a force. Now, there are a couple of younger players on Clemson's offensive line who need to follow Thomas' lead….
Tajh Boyd

Tajh Boyd
Quarterback (2009 - 2013)
#10 6-1, 225
Hampton, VA
View Full Profile , New York Jets
Early Saturday, I got a text from a friend who is a judge in the lower part of the state telling me that Rex Ryan loved Tajh Boyd and that the Jets would pick up the former Tiger signal caller late in the day. Talk about prophetic. As the draft went on and on and on, my phone started blowing up as people wanted to know what was happening with Boyd and why he wasn't being picked.
I can list those reasons here, but it doesn't matter anymore as Boyd found a home with the Jets. Personally, I think this looks like a good move for New York. They had four picks in that round – compensatory picks – and they were playing (to be cliché) with house money at that point. Ryan understands that Boyd is one of those "good citizens" that teams are always looking for, and he has tremendous leadership abilities. Add in some NFL coaching, and Boyd might actually flourish under the bright lights of the big city.
The parts of his game that scared away some of those NFL scouts – locking onto receivers and letting things snowball after a bad play – can be worked on without the pressure of starting. I'm not sold on Geno Smith as a long-term answer as a starting quarterback in the league, and Michael Vick is on the backside of his career. This just seems to be a great situation for Tajh.
Bashaud Breeland

Bashaud Breeland
(2010 - 2013)
#17 6-0, 195
Allendale, SC
View Full Profile , Washington Redskins
I was kind of shocked when Breeland told us he was going to declare for the NFL Draft back in January. I really thought another year would do Breeland wonders, but he has an infant daughter and took the gamble that he would be picked high enough to make the gamble worthwhile. He won that gamble in a big way as he was taken in the third round by the Washington Redskins. Too often the NFL Draft isn't a fair process – kids will get their paperwork in December from the league and it says they are a second or third round projection, they leave and then never get picked. Heck, two South Carolina players found out about that this year.
However, Breeland and Bryant made it work, and while you can say that both might have benefitted from another year in college all you have to do is look at Boyd to see that isn't always the case.