| | |
| --- | --- |
| Gore soared, fell and hopes to rise again | |
---
| | |
| --- | --- |
| Tuesday, March 31, 2015 3:50 PM | |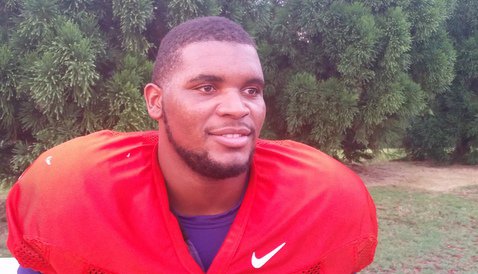 CLEMSON – Prior to the start of the 2014 season Clemson head coach Dabo Swinney

Dabo Swinney
Head Coach
View Full Profile raved about the progress of right tackle Joe Gore

Joe Gore
RS Sr. Offensive Tackle
#73 6-5, 290
Lake Waccamaw, NC
View Full Profile , saying that the redshirt junior out of Lake Waccamaw, N.C., had "soared" above the rest of the offensive linemen in fall camp.
Gore then started the opener at Georgia and each of the season's first three games before giving way to senior Kalon Davis

Kalon Davis
Offensive Guard (2010 - 2014)
#67 6-5, 340
Chester, SC
View Full Profile , who moved from left guard to the right tackle spot but still managed 26 snaps against North Carolina in Sept. 26th. And while certain media outlets who thrive on criticism threw every name in the book at Gore, he was battling an illness that would cost him a month of the season.
"I felt the pains for maybe two weeks, but I thought maybe I had eaten something bad or something like that. It eventually became unbearable - I couldn't even eat or drink," Gore said after Monday's practice. "So I went to see (trainer) Danny (Poole) and he took x-rays because they thought it might be something else. It wasn't any of the first three things they thought it was. It turned out that my appendix was so swollen it was pushing everything over. They were like, 'You have to get it done now.' So they admitted me right then."
It left Gore as a bystander, something he didn't like.
"The day before I had surgery I was going to practice, and they told me I couldn't. So I asked, 'Why am I out here if I am not going to practice?' They told me I had to be out there and I could barely stand. So I asked them if I was just going to stand out there and do nothing? So they told me to just watch. So you have to prepare yourself for anything that can happen. One moment you can be full stride and about to run for a touchdown and then tear your ACL. Anything can happen at any moment."
Gore admits that being sick for a few weeks before the surgery and then playing sparingly took a toll on his body and mental state.
"I had the emergency surgery and that kind of took its toll on me," he said. "I was out for maybe five games after that."
Gore returned to play against Syracuse in late October, but played just 50 snaps the rest of the season after Davis settled in at right tackle. What followed was a lot of soul searching and a lot of weight gain as he struggled to put it all into perspective.
"I never ruled out anything that can happen. You have to prepare yourself for anything, and I am always going to keep fighting no matter what it is," he said. I am just getting myself back focused and get my weight up and get everything going so I can be the right tackle. I went from 295 pounds to like 272. I lost a lot of strength, too, because I really couldn't do anything afterwards. My goal for camp is 305."