| | |
| --- | --- |
| "Goofy" defense having fun competing against each other | |
---
| | |
| --- | --- |
| Sunday, November 2, 2014 3:21 PM | |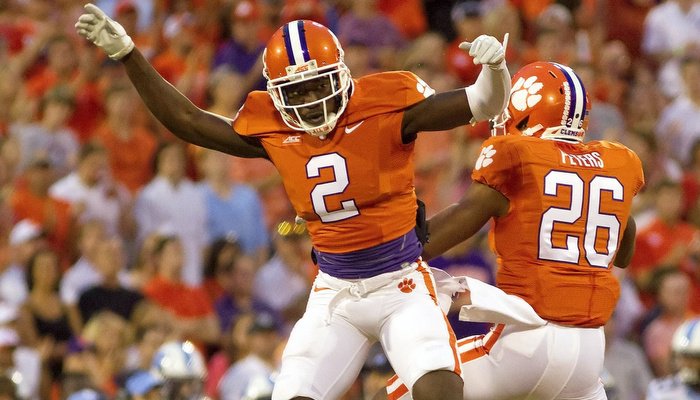 CLEMSON – Clemson's defense didn't play this past weekend, but still managed to rise up in the national rankings in total defense in leapfrogging both Louisville and Stanford after both gave up 500-plus yards in losses.
Garry Peters

Garry Peters
RS Sr. Cornerback
#26 6-0, 194
Conyers, GA
View Full Profile says the goofy guys on the Tiger defense won't care – they only compete against themselves.
Clemson is at or near the top nationally in several defensive categories, and the senior cornerback out of Georgia said the high level of play can be traced to how much fun the team is having on and off the field.
And it's because of how much they compete against each other. In everything.
"Y'all don't always hear what's behind the scenes, but in the locker room we talk about who really got the tackle for loss on a play, because there are three or four guys around the ball on a play or on one tackle," Peters said. "We argue about the production points, and who really got the strip on the one play where we got the fumble. But that's really fun, because it shows we aren't playing to our opponent's standard but to our own standard. We all want to be great on the field at one time."
Defensive coordinator Brent Venables

Brent Venables
Def. Coordinator / Linebackers
View Full Profile said he his group was "dysfunctional" following the win over Syracuse last week – saying they were in the locker room arguing over who did what – and Peters acknowledged he and defensive tackle Grady Jarrett

Grady Jarrett
Sr. Defensive Tackle
#50 6-1, 290
Conyers, GA
View Full Profile were having a good-natured verbal battle.
"Even in the locker room I was getting on Grady because I felt like when I tipped the ball in the air I felt like he was trying to catch the pick as well as me, and I kind of feel like he knocked me off track a little bit to catch the pick, and I was nagging him a little bit," Peters said. "But that's just how we are as a unit - we are close and growing even closer."
He then said the entire group is "goofy."
"I promise you we are goofy off the field," Peters said. "Even when you see a big old linebacker like Steph ( Stephone Anthony

Stephone Anthony
Sr. Linebacker
#42 6-2, 244
Polkton, NC
View Full Profile ) who is a monster on the field, he looks like he is terrifying but he isn't anything but a teddy bear to me. Don't tell him I said that."
Safety Robert Smith

Robert Smith
Sr. Safety
#27 5-11, 211
St. George, SC
View Full Profile said he saw senior linebacker Stephone Anthony and sophomore defensive back Korrin Wiggins

Korrin Wiggins
So. Defensive Back
#12 5-11, 190
Durham, NC
View Full Profile arguing over a fumble.
"Stephone got a fumble and Korrin was saying he was the one who caused it," Smith said. "Against N.C. State, you see a fumble and there were five Clemson players trying to get to the ball and no N.C. State players. That is who we are. We are just having fun out there. We don't panic."
Peters said the entire group participates in mass text messages.
"Sometimes we are all in a group text message, and someone may text and say we have moved up to fourth or third or fifth or wherever we are that week. But our guys are never satisfied, because then you will get another text that will follow right behind that saying that's not good enough," he said. "Our rush defense might be better than our pass defense, but we want to be better than them. It all goes back to competing with ourselves. We compete with ourselves to be the best."
Peters said the one moment that will stick out in his mind from this season is the fumble that was recovered for a touchdown against Louisville.
"The one moment that we still talk about is the Louisville game, where I stripped the quarterback on the corner blitz, and Tavaris Barnes

Tavaris Barnes
RS Sr. Defensive End
#9 6-4, 273
Jacksonville, FL
View Full Profile picked up the fumble and he ran across into the endzone," Peters said. "And somehow, Grady came up with the ball at the end. They still argue about that, about who got the touchdown. And Tavaris may stand up and take a bow about the touchdown he scored, and Grady will have a sour look on his face because they argue about who had the touchdown. It's just fun to see these competing guys against ourselves."