| | |
| --- | --- |
| Goodson and Boulware: The Dynamic Duo | |
---
| | |
| --- | --- |
| Thursday, November 12, 2015 1:01 PM | |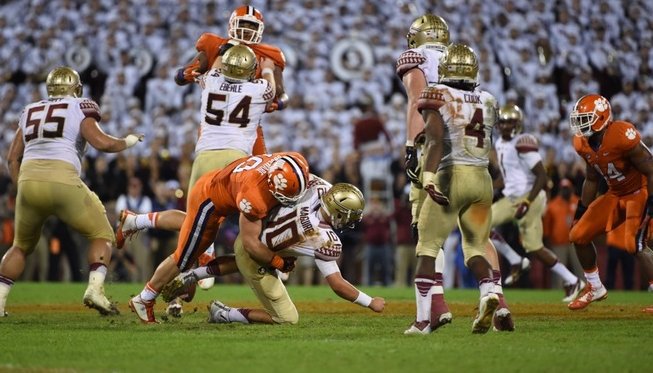 Ben Boulware and B.J. Goodson teamed up for the play that sealed Clemson's win over Florida State on Saturday, but that should not be a surprise.
They have been working well together throughout the season from their linebacker spots.
With the Tigers leading by 10 points late against the Seminoles, Boulware forced a fumble, and Goodson was right there to gain control of the ball.
Clemson took over with 2:15 left and ran out the clock on its 23-13 win to improve to 9-0 and clinch the ACC Atlantic Division title, while snapping a three-game losing streak to Florida State.
"I was really pleased, with the exception of just a couple of runs, pretty much after the game what we thought were misfits," defensive coordinator Brent Venables said about his overall defense's play against the Seminoles. "I really liked how competitive … it was a great game, a lot of really good plays in the game. That game challenged you in a lot of different ways physically, mentally, maturity and leadership.
"Any time that you can test your mettle that way, I just believe it makes you better, stronger, wiser. We had a ton of plays to teach and correct off of that I really believe will help us here down the end of the season."
The strong play began with Boulware and Goodson, who were tasked with slowing down Florida State running back Dalvin Cook. After Cook put the Seminoles up early with a strong start, Boulware and Goodson picked up their play and finished strong.
Goodson finished with nine tackles, including 3.5 tackles for loss, while Boulware had six tackles, including a stop on Cook on fourth-and-1 from the Clemson 40 with 6:17 left and the Tigers leading by three.
"It's like your quarterback; that's what those guys are," Venables said. "As you saw, when a guy's not in this gap or that gap, a lot of bad things can happen. And sometimes even when they are, bad things happen. But those guys are the glue from a mental standpoint. They really allow us to have flexibility in the things that we do scheme-wise. They're not limited in what they can do or can't do. They can do what we need them to do and then some. They really understand the game. They work hard at understanding the game plan and take a lot of pride in how they go to work every day and bring guys along with them.
"They've been really, really consistent and have answered the bell many times this year. I can't ask enough of them. They just keep responding. There are a lot of pieces to it, and they're two critical pieces to giving us a chance to have success."
The two have been critical to the defense's success in their first seasons as starters, and they are tied for the team lead with 55 tackles.
Goodson, a senior, has nine tackles for loss and four sacks, along with an interception. Boulware, a junior, has 4.5 tackles for loss and one sack with one interception.
"B.J. loves to play. He's a little bit more emotional on game day, but he's still much more calm than Ben," Venables said. "Ben is a very … one of his strongest attributes is he's an emotional, very intense competitor. But they're both very intelligent, very prideful, very tough, love the weight room. They love the work and the grind. So they've got some similarities, and they have tremendous respect and admiration for one another. We've got very good chemistry there."
Daniel Shirley is the sports editor of The Telegraph in Macon, Ga., and co-host of The Morning Show on FoxSports 1670 AM. Follow him on Twitter at @DM_Shirley and read his blog at macon.com/peachsports.