| | |
| --- | --- |
| Getting chippy: Kearse gives straight talk about Fighting Irish | |
---
| | |
| --- | --- |
| Monday, September 28, 2015 1:57 PM | |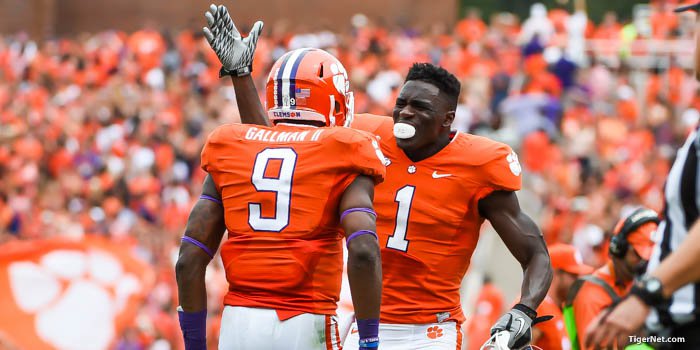 CLEMSON – Safety Jayron Kearse doesn't hold back. Not on the football field. Not in the film room. Not during an interview session.
Clemson's talented junior out of Florida met with the media Monday morning in the WestZone to preview this week's home game against Notre Dame, and he said that he would do a little talking now and a lot of talking on the field later.
No. 11 Clemson hosts No. 6 Notre Dame Saturday in a primetime matchup with kickoff scheduled for 8 p.m. It's an intriguing matchup between Notre Dame's talented receivers and the Tigers' secondary. It's why Kearse came to Clemson, and he said he doesn't have to say anything to his teammates to get them ready for Saturday.
"I haven't said anything to them. There really isn't much to say," Kearse said. "If you aren't ready for this game - GameDay is going to be here and it's a Top 15 matchup - if you aren't ready for this game then I don't know why you are playing college football. I don't know why you came to Clemson. This is the type of thing we came here for - to be that premier school and be on GameDay and play in these big games and have these matchups against the top schools in the nation.
"If you aren't pumped up for this one then I don't know what to tell you. Those are some great receivers they have on their team. They have some big fast receivers, similar to what we face in practice every day. Going out there against what is considered to be one of the playoff contending teams will have me pumped up."
The Tigers' biggest challenge might be receiver Will Fuller, who is 11th nationally with 22 catches for 454 yards (a 20.64 yards per catch average) and six touchdowns. Kearse said he couldn't come up with a comparison for Fuller but is looking forward to the challenge.
"He doesn't remind me of anybody. He is just good," Kearse said. "He is a deep threat - he can get behind anybody. He is a deep threat receiver - he won't kill you with his routes, but if he gets behind you, he is going to go and make a play. I am definitely looking forward to it. We have some good players in our secondary, they have some good players in their receiving corps. It's definitely going to be a great one and will be great for the fans to watch. It will good for us to go out there with our defense against their offense and get out on the field and compete."
Clemson ?????????? promise it's gonna be #savage

— Will Fuller V (@Will_Fuller7) September 26, 2015
Fuller tweeted out this past weekend that the game would be "savage" and Kearse took notice.
"I actually favorited that tweet. It is what it is," he said with a grimace. "We will see when we get out there on Saturday after the kickoff. We will see on Saturday whether he still has that same mindset."
Best believe I'm getting in on this SAVAGE Season ! ??????Giving it all for the team in my Last Ride ! #BeatClemson????? pic.twitter.com/xZFsQkNpNr

— Chris Brown (@C_Breezy2k12) September 27, 2015
Kearse was asked about Notre Dame quarterback Deshone Kizer, and he said it didn't matter who was under center for the Irish.
"No matter who they have at quarterback, we're going to prepare the same way as if the starter was still there. They have some great players," he said. "They're getting a bit chippy. They're talking a lot all through the media. I'll just say that I hope the refs let us play football. Just know that this is going to be a chippy game. I'm definitely going to be chippy, so they can expect that from me. They can expect some trash talking. They can expect all of that. I'm ready to go up against Will Fuller. I'm ready to catch him. I'm just going to give those guys what I've got. They're talking a lot. They obviously don't know what we do down here in Death Valley. I'm looking forward to this. I'm looking forward to meeting the running back (C.J. Prosise) in the hole, catching Will Fuller in the post. Whatever it takes, I'm just ready for it."
He then said he didn't care about Notre Dame's Showtime television show "A Season with Notre Dame Football," chronicling a full season of the Irish through a documentary series.
"I'm not interested in Notre Dame at all," Kearse said. "It really wouldn't matter to me if we did it or not. If we go out there and win a national championship, I could care less about a tv show. They can focus on the tv show, we're going to focus on winning."
During his recruitment, the Irish were in Kearse's top five. Until he visited Clemson.
"They were in my top five coming out. I definitely know a bit about them, and I respect what they do as a program," Kearse said. "Now that I get to go up against them it's an even greater respect seeing what they have done this year. They were in contention all the way until I visited Clemson. When I came up here over the summer, there really wasn't anyone in contention any more because I knew I wanted to come here."
So what will it take for Clemson to beat the higher-ranked Irish?
"Not giving up big plays. They get chunk plays," Kearse said. "If they can get chunk plays, then that's going to take the energy from the defense and take the energy from the fans, so we can't give up those chunk plays and have them get 30 yard passes and 50 yard runs. We've got to eliminate those plays."
He then made it known that he will do the talking. For now.
"I want to be known as that leader on the defense and that guy who the players know is going to give his all every time he steps on the field," Kearse said. "I hope they'll give their all every time they step on the field for me. I like being known as that guy, and I'm going to keep doing what I have to do so my guys respect me in that way. I always knew we could come out and do the things that we're doing this year and that we can mimic what we did last year. We lost some great guys, but we also had some guys backing them up that can play ball.
"That's what we did last year - we went into those hostile environments and played in those big games, and we were able to shut those guys down. I feel like if we can do that this week we'll put a stamp on this as this defense has not slowed down. Many we'll say we haven't played anybody, so going out there and playing against Notre Dame and doing it to them, that will be a big step for us this season."