| | |
| --- | --- |
| Gene Stallings on Dabo: "I think he is the real deal" | |
---
| | |
| --- | --- |
| Thursday, July 2, 2015 8:10 AM | |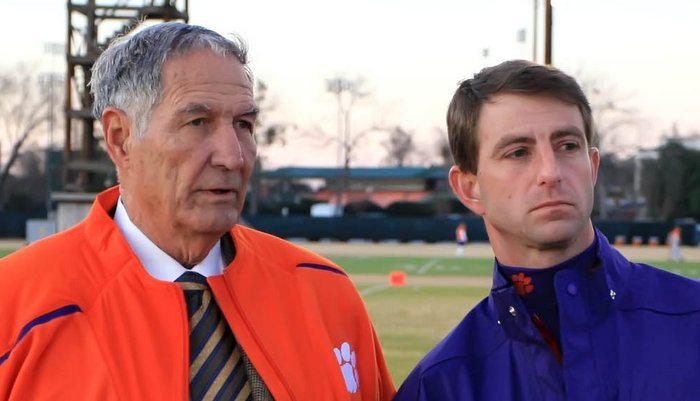 Gene Stallings' resume speaks for itself, and it's evident that the former head coach at Alabama knows football and football coaches. So when Stallings tells you that Clemson head coach Dabo Swinney

Dabo Swinney
Head Coach
View Full Profile is the "real deal" you have to listen.
Stallings' career spanned five decades – he played at Texas A&M from 1954-56 and was one of the original "Junction Boys" in legendary head coach Bear Bryant's first season in 1954; Stallings was an assistant coach under Bryant at Alabama from 1958-64; he then took over as head coach at Texas A&M in 1965 and stayed until 1971; Stallings then joined the staff of another coaching legend – Tom Landry – and was on staff with the Dallas Cowboys from 1972-85 before taking over as head coach of the St. Louis/Phoenix Cardinals, staying until 1989; in 1990 he was the head coach of the Crimson Tide and stayed there until his resignation at the end of the 1996 season.
It was during his time at Alabama when he met a young walk-on wide receiver named Dabo Swinney. In a recent exclusive interview with TigerNet, Stallings said he didn't recognize greatness in the walk-on from Pelham. Not yet.
"I did not. I didn't even think in terms of that," Stallings said. "He was a walk-on that earned a scholarship. That showed me that his persistence was important. He was a scholar of the game and he knew what he was doing. He worked at it extremely hard."
Swinney's persistence and knowledge paid off, however, and Stallings brought Swinney on board as a Graduate Assistant and stayed on staff for 2 ½ years while pursuing his MBA. In February of 1996, Swinney was out looking for full-time employment when Stallings called with another offer – coaching the receivers for the Tide. It was an opportunity that an out-of-work Swinney couldn't pass up, and it didn't take Stallings long to recognize what made Swinney special.
"I hired him as a GA and later on I hired him as a coach. That was sort of the progression I went through with him," Stallings said. "Obviously it turned out right. There is so much more to coaching than the won-loss record. Media people are enamored with the won-loss record, and you fire coaches based on the won-loss record and you give them raises based on the won-loss record.
"But there is so much more to coaching than the won-loss record and he makes a difference in the community and he makes a difference with this players. That is what is so important about Dabo. The results are what is important. I saw results out of Dabo. He was a knowledgeable player and he played as well as he was capable of playing. He was an excellent communicator with the players and that is why I hired him and gave him a job."
Stallings said that during Swinney's tenure as a graduate assistant, he noticed something in the former walk-on that made him think Swinney had the potential to be a good coach. He also says that Swinney has had to work for everything he's received.
"I don't hire them if I don't. Everyone I have hired I thought they had the potential to be an outstanding coach," Stallings said. "You never know what their desire level happens to be and you don't know how long somebody wants to stay in coaching. Whether it is just something to get them a better job or what, you just don't know. He was extremely poor and he earned his scholarship and he earned his GA job and then he earned a job. I didn't give him anything. He earned everything he got."
Swinney stayed on at Alabama and worked under Mike DuBose, who replaced Stallings. Swinney worked for four more years under DuBose but wasn't retained when DuBose was replaced by Dennis Franchione after the 2000 season. Swinney was out of coaching until Clemson head coach Tommy Bowden

Tommy Bowden
Head Coach
View Full Profile called with a job offer in the winter of 2003. Swinney packed his bags and took over as wide receivers coach and recruiting coordinator.
Five years later – during the middle of the 2008 season – Bowden was ousted at Clemson and Athletic Director Terry Don Phillips offered Swinney the interim job. Swinney did well enough to earn the job he has today.
"He was there at the right time. So many people, in order to get a coaching job you have to be in the right place at the right time," Stallings said. "The athletic director realized that he had the potential to be a good coach, and you have to give him credit for hiring him. A lot of other people would have passed him up to get to somebody with more experience, but I think he made a very wise decision.
"His character is important. You can't fake character. You either have it or you don't have it. He has it. You can't fake knowledge, and that is important for a football coach. An athletic director will know if a coach has knowledge or is just tooting a whistle and is depending on other people. Obviously he (Phillips) saw the potential in Dabo and saw he had a good family and gave him an opportunity and gave him a chance. That was just a wise decision on his part."
The relationship between coach and player, coach and assistant and finally mentor and coach came full circle in May when Swinney won the Gene Stallings Award, an award created to honor college head coaches who promote healthy, vibrant communities through charitable and community service efforts.
Stallings said the award was well-deserved.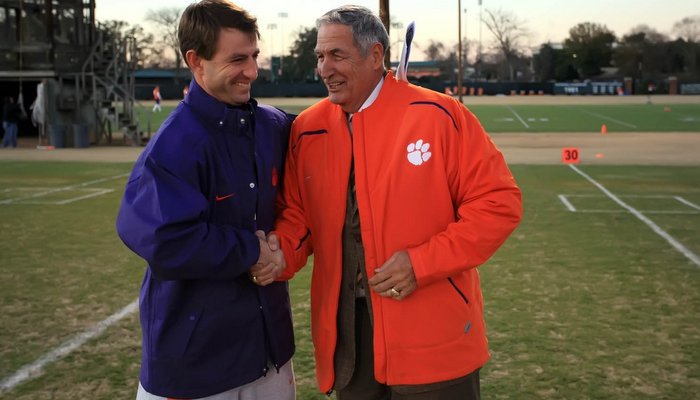 "I think he is the real deal. He is a committed man to his family and he is committed to his players," Stallings said. "He wants what is best for his players. He is not afraid to discipline a player if he feels like he needs it. He isn't afraid to surround himself with a great coaching staff and he just enjoys coaching. He won the Gene Stallings Award which goes to the coach that makes the biggest difference in the community. He has his foundation and has made a big difference in the community. People just gravitate towards him because they see he is the real deal."
Swinney played for Stallings, and now Stallings' own grandson will travel to Clemson next summer to join Swinney's program – J.C. Chalk is a 4-star 2016 tight end prospect out of Texas that committed to Clemson last summer.
Stallings couldn't be happier.
"I thought that he couldn't be playing for a finer man," Stallings said. "He has had the opportunity to visit a lot of places. He is a quality player and the fact that he will be playing for Dabo pleases me. It speaks highly of Dabo as far as I am concerned."
Whenever Swinney meets with reporters, he often tells stories about his time with Stallings or talks about the influence Stallings had not only on his life, but on his coaching career.
That also make Stallings a happy man.
"It makes me feel extremely good because I gave him a chance and he took it and ran with it," Stallings said. "He has done extremely well. I am proud of what he has done as a coach and as a person."