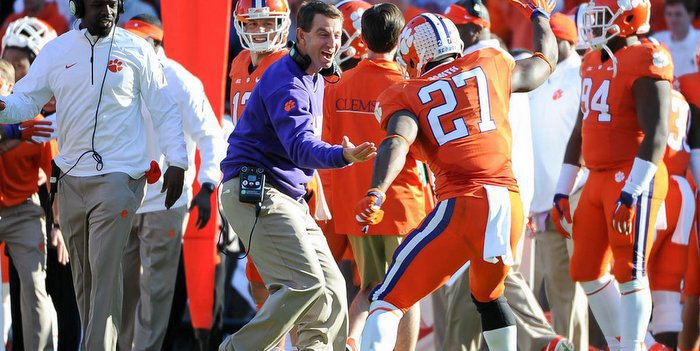 | | |
| --- | --- |
| Gamecocks and Tigers: There's a reason the game isn't played on paper | |
---
| | | |
| --- | --- | --- |
| Tuesday, November 22, 2016, 12:42 PM | | |
CLEMSON – Games aren't played on paper, and that's why Clemson head coach Dabo Swinney says the Tigers can't afford to overlook this weekend's rivalry game with South Carolina.
The Tigers and Gamecocks renew acquaintances Saturday at 7:30 p.m. inside Death Valley with Clemson owning a two-game winning streak in the series. That includes last season's 37-32 victory in Columbia when Clemson was ranked number one in the country, and the Gamecocks were riding a four-game losing streak.
"There is the season and then there's South Carolina and that's why it's a goal listed all by itself on our goal board. This is a fun week," Swinney said during his Tuesday press conference in the WestZone."It's awesome to be a part of rivalry games regardless of where you are –whether you're at Florida-Florida St., Alabama-Auburn, Clemson-South Carolina, Michigan-Ohio St. – this is a special week because it means a lot to a lot of people because it's one that you live with all year. We're looking forward to competing against these guys. It's the next goal for us. We're happy we were able to achieve our second goal which was to win the division, and this is the next goal. We know we've got a good team coming in here.
"I'm very thankful for this team and the season we've had to this point. We've had an excellent season, and these guys have worked incredibly hard. There's a tremendous amount sacrifice, commitment, dedication and work that goes in to having a season like this. I'm really thankful for our staff, our team and everyone here at Clemson."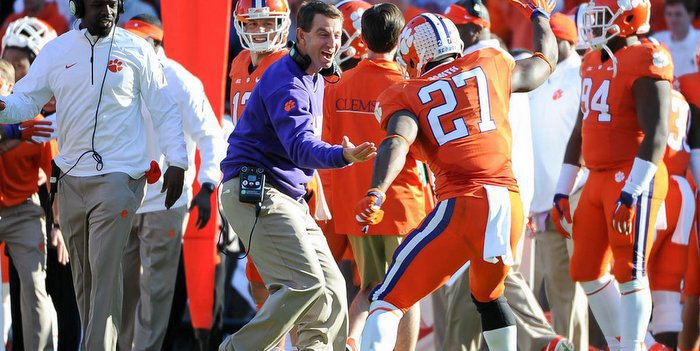 South Carolina head coach Will Muschamp is in his first season at the helm in Columbia, and he has the Gamecocks bowl eligible with a 6-5 record.
"Will has done an excellent job. They're very well coached," Swinney said. "Their staff has done a great job building some positive momentum and coming back from a disappointing season for them last year. To come back and have them bowl eligible, they're playing a lot of young guys. They've done a heck of a job."
On the Gamecocks
"Offensively, since (Jake) Bentley took over, they're 4-1. He is well groomed to be a very successful college quarterback. His dad has coached him forever and he's one of the best coaches we've had in this state, so he's very well prepared. He's a freshman but he's not your typical freshman. He's very knowledgeable. He has a great understanding of what they're doing offensively. It's settled them down and they're playing very well since he took over. They've done a great job in the running game. The Dowdle kid is big and strong. He's a young player but he has the whole package for them. Turner, he's not quite as big but he's fast and has some dynamic ability to him. It starts up front with their offensive line and I think they're good up front. (Zach) Bailey is as good as offensive lineman as we've seen. He's a great football player. He's as good as I've seen all year on tape.
"Big, strong, physical presence inside. I think they're doing a good schematically with what they're doing in the run game and play action with the screen game mixed in and then taking their shots when they present themselves. Very impressed with them. They've got two good tight ends – No. 81 (Hurst) is a big guy, he's an older and more mature kid and you can tell he bring a lot of energy to the team. (Kevin) Crosby is another guy and he's got four touchdowns. They do a good job of mixing in their tight end. No. 1 (Deebo Samuel) is a great player. No. 89 (Bryan Edwards) is going to be a heck of a player. I know Bryan very well – big, strong, one-on-one type of target that they'll go a good job of taking some one-on-one shots and back shoulder throws. He does a good job of high-pointing those type of balls. He's gotten better and better as the year's gone. They've done a really nice job of pulling it together. I think Bentley has helped them pull it all together and have the success they've had.
"Defensively, several guys that we've seen from last year but they do have some new junior college guys mixed in and a couple of young guys mixed in. No. 90 is a load inside. He's a very good player. They've got a lot of depth up front and they play a lot of guys. (Darius) English who we've played against has nine sacks. He's long and athletic. Dante Sawyer is quick twitch and a good athlete. They've got a young guy in No. 18 who comes in there and plays and he's a good athlete. No. 8 is a guy. They've got plenty of guys up front. I'm very impressed with their linebackers. No. 8 is a really good football player. No. 4 is a thumper. Holleman has played quite a bit and he's played all three spots.
"Very good group at linebacker. Secondary, they've got a new kid at corner. He's fast. They're doing a nice job with their two safeties. No. 16 is playing very good, solid corner for them. Nos. 22 and 24 are back there at safety for them. The biggest thing defensively, Will has a background in defense and they're very well coached, they know what they're doing and they've done a nice job of positioning their guys to have a chance to be successful. From a coverage standpoint, they're not just a one trick pony. They're going to present multiple things. They'll do a lot of different things to keep you off balance. Very well coached. We know we're going to have to play well.
"They're good on special teams. Elliott Fry has been around for 10 years it seems like. He's still there. A good kicker, strong leg. They've got good returners.
"For us, our focus is on trying to finish strong and play the best four quarters of the season this week. That's what we're locked in and focused on. We're excited to have another opportunity to play at home. We didn't get the result we wanted the last time we played here so we're excited to have another opportunity. I'm thankful that our seniors get another chance to play at home. This is it. This will be their last opportunity. It's a night game so I know it will be a great crowd. Everybody will have a chance to digest all of that turkey they're going to eat on Thursday."
Clemson opened as a 24-point favorite and have more talent, but Swinney said the game still has to be played on the field.
"That's why we always tell people we don't play the game on paper. Like Coach Stallings always used to teach us, if we played on paper the coaches would just show up, walk to midfield look at x's and o's, the crowd would ooh and ahh and the ref would declare a winner," he said. "Or we'd just listen to the media and we wouldn't play the game. That's why you play them. The game isn't played on paper. Yes you can look at it and say this appears to be the best team but as we all know the best team does not always win. You've got to play well because it's the team that plays the best. That's what makes this game so exciting and fun. Then you throw in that you have a rivalry game and anything can happen. I don't think we learned that last year. Everybody knows that. When you get in games like this, there's a lot that can happen and anybody can beat anybody. We've seen it a million times."
Deshaun Watson's declaration to not lose to South Carolina
"I learned that from Y'all. That's a good goal. There's nothing wrong with having goals and so far he's been able to live up to it. Hopefully, he can live that dream out."
Why winning against South Carolina matters
"It matters. I will say this, even when we lost, the Clemson people were great. They were always happy to see us and kind and respectful. They don't really have to say anything. We all know that it's very disappointing if you don't win this game because we all live with it regardless of whatever else goes on. Those were really good football teams. We also did a lot of great things. I think our fans are educated and they recognized where we were heading as a program. It's not like we were winning five games. We were not getting it done on that particular day but as a program we were headed in the right direction. Our fans have always been great, but there's no question that there's a little different smiles on people's faces when you show up, especially those people who live down in Columbia."
Comparing Clemson-Carolina to Alabama-Auburn
"This is exactly the same. It's no different at all. The only difference is we're not in the same conference and some division. The rivalry, the emotion in the state, the impact, the interest, the scrutiny, it's all the same. Our states are similar - we don't have pro football. We have college football and two main universities in the state that people are passionate about. You've got to choose even if you just move in here. Even if you pull for Wisconsin, you've got to choose. Who are you pulling for because I need to know because it's going to determine whether we're going to talk this week or ever again?"
What the game means to in-state recruiting
I don't think that matters. This state is so similar to what I grew up in and played in. What I've learned over the years is exactly what I learned at Alabama – some places you walk in and even if you won the national championship, they ain't happy to see you. Some places you walk in and you've won five games and they're happy to see you. Because of the state and culture we have here, some of these kids you recruit and you love and they grew up South Carolina, that's just hard to overcome. Or they grew up Clemson and it's hard to overcome. Ultimately, it comes down to the people and they've got a bunch of good people over there. I don't think it matters as much as people think. Kids, if they're going to stay in state. Every now and then we'll have a guy, but we really don't compete with South Carolina as much in state as you would think. The reason is we're just so different. You couldn't have more differences in the program, location, environment, you name it, conference. Usually, if a kid just loves South Carolina, he's not going to love Clemson as much. We're very, very different in that regard. In state, on rare occasion, will you flip a guy. We'll recruit against them more out of state – kids that want to look at both programs. In state, it's not as much as you would think. We have a very small population and then you throw in academics and it narrows that pool even more."
Status of right tackle Jake Fruhmorgen
"I don't. I don't have anything new on him today. He's engaged in what we are asking him to do and what he needs to do. He actually came to practice last week. It was great to see him there so hopefully we will see him at some point this week, but this is a little different week as far as his school time and opportunity to be with his family."
Status of Jalen Williams
"It was his knee. It had a little bit to do with the weather too I think. He is back in practice. They were trying to change out his brace and all that stuff, but we ended up just pulling him out in the game the other night."
Jake Bentley starting in Death Valley
"He's a mature kid. He has been around this state. He's been to Clemson many times. He's not going to be overwhelmed by that. He understands what he is getting into. Lamar Jackson had not been here but shoot he had what I thought was his best performance of the year. We turned it over 5 times and he had 100 plays, but we made one more play than they did."