---
| | |
| --- | --- |
| Saturday, November 7, 2015 8:08 AM | |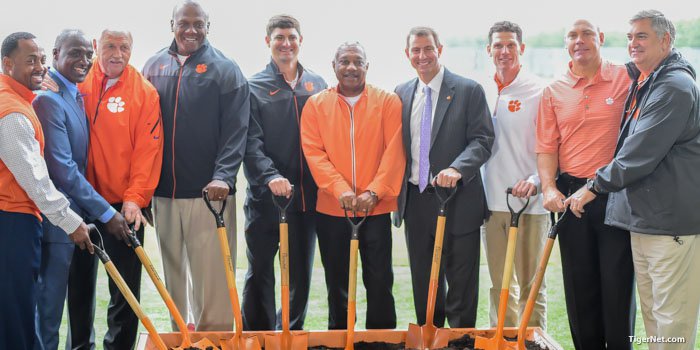 CLEMSON – Dabo Swinney is finally seeing his dream become a reality, and he says it will be a game-changer in college football because Best is Standard at Clemson.
Clemson Athletics, IPTAY and University officials celebrated the groundbreaking of a new football complex on Friday afternoon. Construction of the new complex will begin in December with a targeted opening date of February 2017.
The new 140,000 square-foot facility recently received final approvals from the Clemson Board of Trustees and all government agencies. The $55 million project will be financed completely by the athletic department and IPTAY, including $19.5 million of athletic revenue bonds along with private support.
Swinney said the facility will live up to the program's "Best is Standard."
"We talk about "Best is Standard" all the time," an emotional Swinney said during the ceremony. "I get on our guys all the time after a practice and maybe they don't do quite what we need them to do. And I'll say, 'Ok, we will change (points to Best is Standard banner) that to pretty good is standard. If that's what we are going to be about.' And I think somewhere along the line that was the mentality that kind of creeped into Clemson. But not anymore. Everybody is on board. If you want to know why we have the kind of program we have in football, if you want to know why we are having the success we are having academically, and in all of our sports, it's because best is standard. We are not here to compare ourselves to anybody else."
Swinney said he remembers walking into his first Board of Trustees meeting and members of the BOT telling him they supported athletics and the members telling him they wanted to be like Michigan and Florida – successful both academically and athletically.
"I said to myself that this will be a short job interview, because that is not my vision for Clemson," Swinney said. "My vision is that Florida and Georgia and Michigan are going to want to be like Clemson. I've never been interested in being like somebody else. Let's be the best we can be. That's a great lesson for our players – if you are doing the best you can you live with the results. Our players have bought into that and all of Clemson has come together, and there has never been a better time."
Athletic Director Dan Radakovich said the facility shows what a determined Clemson can accomplish.
"This is a Clemson facility," Radakovich said. "IPTAY has been the backbone for this facility you see here (the indoor practice facility) and the one that will be built next door. We need to thank them for making this happen. When I arrived here three years ago, Coach Swinney had a vision for a football facility near the practice fields, one that included every amenity available to have a top-notch football program. Today we are going to take that first step in construction. These first steps were taken by Coach Swinney and in his desire to be the best. That sign right there – Best Is Standard – is seen by our student-athletes every day and this facility is going to be the best."
University President James Clements said the football program is deserving of the facility.
"They deserve the best because they are literally number one in the country," Clements said to a round of applause. "A facility like the one we will build will allow us to continue to recruit the top players in the country, and it will give the football program a home from which they can succeed. You see Best is Standard everywhere and I hear our coaches say it all the time. It's something our players and coaches live by every single day, and they work hard and give us our best. In return, with your help, we are building for them the very best facility to train, to work, to eat and train together as a family."
Visual Preview with Renderings