| | |
| --- | --- |
| Gallman says Schuessler has already proven he can thrive in pressure situations | |
---
| | |
| --- | --- |
| Monday, November 17, 2014 5:11 PM | |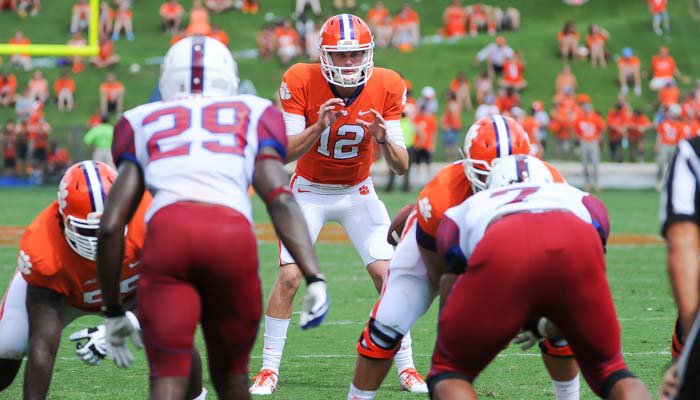 CLEMSON – Does Nick Schuessler

Nick Schuessler
RS So. Quarterback
#12 6-3, 195
Grayson, GA
View Full Profile have what it takes to lead Clemson to victory if he's called on at some point in the next two weeks? Wayne Gallman

Wayne Gallman
RS Fr. Running Back
#9 6-1, 209
Loganville, GA
View Full Profile thinks he does.
Gallman and Schuessler were teammates at Loganville (GA) Grayson before taking slightly different routes to Clemson, and Gallman had a front and center seat for Schuessler's heroics in 2011 when he led the Rams to a last-minute win over Georgia power Colquitt in the Georgia Class AAAAA state semi-final.
Grayson trailed Colquitt 31-28 and the Rams took over at their own 13-yard line with just a few minutes left on the clock. Schuessler drove his team down the field and threw his game winning six-yard score to Marcus Lindquist for a 35-31 lead with 28 seconds left.
Gallman recounted that game for the media Monday in the WestZone.
"My junior year in the semifinals we were playing Colquitt and it was the last drive and we were down by six points. Nick led us down that whole drive," Gallman said. "Everybody was praying. He led us down and we scored on a pass to the endzone. Nick just has that calm, focused attitude in the backfield and I know that he's just going to be prepared."
Gallman said Schuessler was the calmest person on the field.
"While everyone was kind of stressed out, Coach [Mickey] Conn was on the sidelines sweating, you just saw Nick on the field being calm and collected," he said. "He just has that mind process of what he wants to do."
Schuessler said that having poise under pressure is something he takes pride in.
"That's something I've always prided myself on - just trying to be calm and never let the moment be too big for you," Schuessler said in the WestZone. "The Colquitt game back in high school was a crazy game and being able to drive them down in the last seconds and throw the touchdown pass to win the game, especially because our school is a relatively new school and had never been to the state championship. Finally getting over that hump was a great moment. It was great to play with Wayne. Also, having the opportunity to play with him up here has been great.
"My strength is my poise. I enjoy getting to build relationships with the players and they know that I'm a real laid back kind of guy. It's big going out there playing games and the situation or the moment is really tense being out there and being loose. Football is a game that's supposed to be fun and sometimes we lose sight of that. For me going out there and being a big leader and being able to make people feel easy and calm about themselves so they can go out and play 100 miles an hour and not have to worry about whatever happens."
It's isn't known at this point if Schuessler will have a chance to start one of the season's final two games, but Gallman said he is happy seeing his teammate at least get a chance to show what he can do.
"I'm glad that he's finally getting his chance. I don't think he's really had a lot of opportunity yet but I know when he's preparing that he's going to prepare like he's supposed to," Gallman said, "He'll do what he needs to. I think he has all of the qualities of being a good quarterback or a great quarterback, but he hasn't really had that much opportunity here. I think this upcoming week he's going to have to really get in tune with what he's doing. I believe can do it. He can get out of the pocket. You've seen in the spring games what he's been able to do so he's pretty good at running."
Schuessler said if he does get that chance, he's confident he will make something happen.
"I've been here for three years and all under Coach Morris, so I'm extremely confident," Schuessler said. "I don't think there's anything in this offense that I can't go out there and do. I'm confident in myself and I know the coaches have confidence in me if need be for me to go out there and play."