| | |
| --- | --- |
| Fuller turns family of Gamecocks into Tigers | |
---
| | |
| --- | --- |
| Monday, November 30, 2015 7:01 AM | |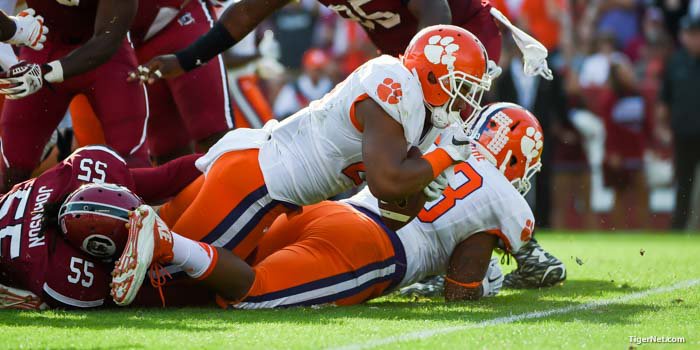 COLUMBIA, SC – C.J. Fuller grew up in a garnet and black household, his parents pulling for the Gamecocks. Fuller's decision to don the Tiger Paw made his family all orange, and they all celebrated Fuller's big day in the rivalry game Saturday.
The redshirt freshman running back has been quietly impressing the coaches each day in practice, and Saturday he got the opportunity to make his mark on the Clemson-South Carolina rivalry in Saturday's 37-32 win over the Gamecocks.
Wayne Gallman, Clemson's starting running back, exited the game in the third quarter because of cramps, and Fuller's number was called to carry the load and try to extend Clemson's lead, which he did on a four-yard plunge into the endzone to put Clemson up 28-10 late in the third quarter.
Fuller said he knew that his number could be called at any time, and he's been preparing for this moment for a long time.
"That drive was a little tough," Fuller said of the scoring drive. "We needed some points, and we found a way to get them. If you've been tracking us all season, you know anytime we need some points as an offense we always find a way to get points."
Scoring his first touchdown is something he's always dreamed of, but he couldn't have drawn it up any better.
"I kind of got stopped, but I kept my feet driving and as I was going down I reached the ball out and got it over the goal line," Fuller said. "It felt great. Maybe in Clemson it would've been a little better, but just scoring in this game is big. It was a great way to get my first touchdown. It means a lot to me, and it feels good because growing up as a little kid I watched this rivalry game. Being able to come to Clemson and score my first touchdown in this rivalry game means a lot."
Fuller finished the day with four carries for 24 yards and could have been scoring touchdowns for South Carolina, but it was Clemson head coach Dabo Swinney and the family atmosphere that led him to TigerTown.
"The family atmosphere really set Clemson apart," he said. "I came down here [to South Carolina], too, but at Clemson everything is a family. Coach Swinney is a good coach, and I knew Clemson had something special coming."
Now that he's a Tiger, Fuller said everyone in his family is all in with Clemson.
"Growing up, my parents were South Carolina fans. When I made the decision to go to Clemson, they followed along with me," he said. "My parents are diehard Clemson fans now. Orange everything. They love it. A lot of my family in Easley are big Clemson fans. They were excited about the game and ready to see the game."