| | |
| --- | --- |
| Fruhmorgen takes on nation's number one, Cain has a night to remember | |
---
| | |
| --- | --- |
| Tuesday, August 26, 2014 8:24 AM | |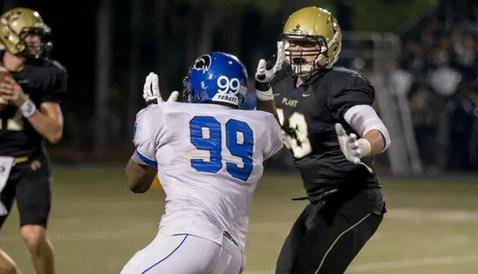 The opening weekend of high school football was a good week for some Clemson commits, and leading the way were a couple of offensive linemen in Jake Fruhmorgen and Mitch Hyatt.
Hyatt was dominant over a talented group of defensive linemen in North Gwinnett's 52-49 win over McEachern in the finale of the Corky Kell Classic late last Saturday, and Furhmorgen went head-to-head against Byron Cowart, the nation's number one defensive end recruit for 2015 when Tampa (FL) Plant hosted Armwood.
Cowart – the nation's number one recruit overall according to Rivals – had just one tackle for loss and zero sacks in going against Fruhmorgen and the Plant offensive line as Plant defeated Armwood 21-17 in the last minute.
Fruhmorgen told TigerNet Monday that he played both tackle spots as Plant tried to run away from Cowart's side of the field.
"It was definitely a great challenge. All week, we were preparing for him pretty hard," Fruhmorgen said. "He is a really good player, so I knew I had to step up my game against him. It was great going up competition like that. Wherever the ball was going – strongside or weakside – I would line up on that side. Our gameplan was to run away from him."
However, Armwood made the adjustment and Fruhmorgen squared off against Cowart, especially during passing situations.
"I did pretty well against him passing," he said. "He got me pretty good one time. But that's about it, that one time. We didn't really get a chance to talk after, he's really competitive and he took it hard. I would have been the same way."
Deon Cain
Deon Cain, have yourself a night.
Cain accounted for a whopping 204 all-purpose yards – in the first quarter – as Tampa Bay Tech defeated Blake 20-6.
Cain, who plays quarterback for Tech, had an 80-yard run touchdown run, a 30-yard touchdown run and a 44-yard pass in the win.
Ray-Ray MCloud
McCloud scored on a 28-yard reception and a 22-yard run as Tampa (FL) Sickles defeated Tampa Catholic 19-6. McCloud also made his mark on the defensive side of the ball – he had an interception that sealed the win.
Tucker Israel
Israel completed 24-of- 41 passes for 288 yards, two first-half touchdown passes and two interceptions in a 62-35 victory against Lake Minneola. He also carried the ball 13 times for 80 yards and scored three times.
Garrett Williams
Williams rushed for three touchdowns in a 37-34 win over Indian Rocks Christian.
Targets
Tavien Feaster
Feaster carried the ball 12 times for 140 yards and two scores and caught five passes for 133 yards and a touchdown as Spartanburg lost a heartbreaker in overtime to Elkton (Md.) Eastern Christian Academy by a score of 58-56.