| | |
| --- | --- |
| Fruhmorgen loves first Clemson game, getting to know Deon Cain | |
---
| | |
| --- | --- |
| Wednesday, October 8, 2014 2:16 PM | |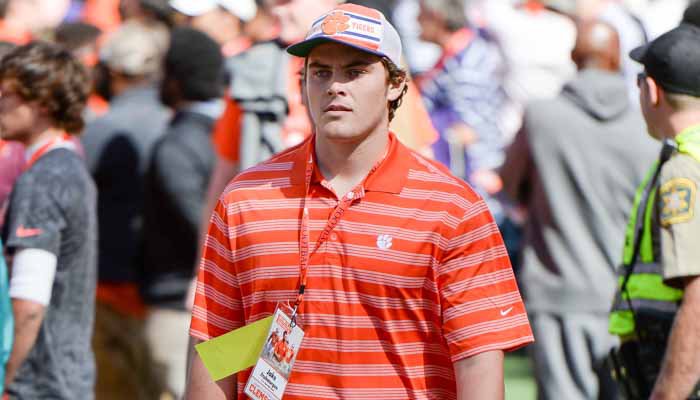 A long weekend traveling from Tampa to Clemson and back to Tampa turned into a confirmation and the beginning of a friendship for one of Clemson's top offensive line commits.
Tampa (FL) Plant commit and 4-star OL Jake Furhmorgen and his dad John left Tampa late in the evening Friday in order to attend their first-ever Clemson game, and picked up a fellow commit along the way in 4-star prospect and Tampa (FL) Tampa Bay Tech wide receiver Deon Cain

Deon Cain
Athlete
6-2, 200
Tampa, FL
ESPN:


View Full Profile .
"We left at six o'clock because I had film and stuff. We actually had a Thursday night game, so our coach made us watch film the next day. It was tiring but it wasn't too bad," Fruhmorgen told TigerNet this week. "Coach [Tony] Elliott told me that Deon really wanted to get up to Clemson but he didn't have a ride, so my dad said we had no problem letting him ride with us. It was a lot of fun getting to know him a little better. He's an awesome kid. I enjoyed it a lot."
Fruhmorgen saw the Tigers defeat N.C. State 41-0, and came away impressed with the crowd.
"It was awesome. Seeing it for the first time was great," he said. "I wouldn't say that it was a small game but for Clemson it wasn't a big time, primetime game, but it was still loud. I was kind of blown away by it and how loud it was. I can't even imagine what it's like for a Georgia or South Carolina. It was awesome to see that."
Watching the Tigers run down the hill for the first time in person was a highlight, but he quickly got down to business watching Clemson's offensive line at work.
"It was crazy. I was talking to Noah Green

Noah Green
Offensive Tackle
6-5, 275
Boiling Springs, SC
ESPN:


View Full Profile and he was telling me, 'Man, if you committed before you saw this then you're really going to love this place.' It definitely reassured my decision," Fruhmorgen said. "The whole game I watched Isaiah Battle. No matter which team I watch, I always watch the left tackle and the right tackle. I wanted to see his technique. I watched Kalon Davis a lot too. I watched the techniques they used so I can try to incorporate it into my game and see what kind of stuff I need to focus on. It was cool watching them."
Clemson's offensive line has battled transfers and injuries so far this season, and Fruhmorgen said the coaches let him know that early playing time might be available when he arrives in January.
"Coach Swinney always tells us that he can't wait for us to get here and he's always joking saying, 'I wished we had you guys tonight.' That's kind of cool to hear him say that and knowing that he thinks that highly of us," he said. "We all know each other really well.
"That's my mindset (playing early). I always know that there's a possibility that I'm going to get redshirted. The coaches have been telling me to be ready and come in like I'm going to be a starter. They try to get that in my mind. I try not to think about it too much because I'm pretty focused on playing right now but it's been in the back of my mind when I workout and just thinking about playing next year even as a back up. There's a lot of things I'm looking forward to. That's one of the reasons I chose Clemson, I knew there was a chance for some early playing time."