| | |
| --- | --- |
| From surgery to surgical precision: Watson a Heisman finalist | |
---
| | |
| --- | --- |
| Monday, December 7, 2015 9:14 PM | |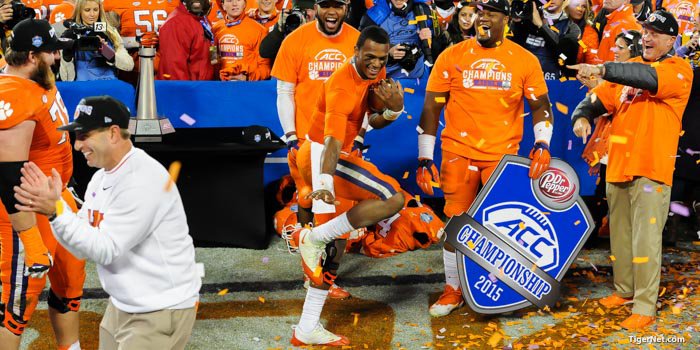 CLEMSON – On December 12th of last year, Deshaun Watson was on the operating table having surgery on his torn ACL. A year later, Watson's surgical precision and his operation of the Clemson offense has landed him an invite to this weekend's Heisman Trophy ceremonies in New York. The trophy will be handed out on…December 12th.
Clemson's sophomore quarterback was named one of three finalists for the 2015 Heisman Trophy. The announcement was made on Monday evening on ESPN. Watson will be joined at Saturday night's ceremony in New York by Derrick Henry of Alabama and Christian McCaffrey of Stanford.
The Heisman Trophy recipient will be announced from the PlayStation Theatre in New York City on Saturday on ESPN during a program that will begin at 8 p.m.
Despite a long list of great players that have donned the Clemson uniform, Watson is Clemson's first Heisman Finalist. Steve Fuller finished sixth in the 1978 voting and C.J. Spiller was sixth in the 2009 voting, but neither received an invitation to New York. Those are the only Clemson players to finish in the top 10 of the Heisman voting since the award began in 1935.
Watson accomplished the feat in his first full season as a starter and on that surgically repaired knee.
"This means a lot because I have come a long way from last year. A year ago on December 12, I was recovering from surgery," Watson said Monday night. "I remember watching a story about Adrian Peterson and how he suffered a torn ACL (December 2011) but came back to become the MVP of the NFL that next year. That inspired me to work hard on my rehab."
Watson has quarterbacked Clemson to a perfect 13-0 record and No. 1 national ranking in the College Football Playoff poll, the AP Poll, and the USA Today rankings. Clemson was ranked No. 1 in all six of the College Football Playoff polls. Clemson has three wins over teams in the top 10 of the College Football Playoff rankings (Notre Dame, Florida State, and North Carolina), the only team in the country that can make that statement.
The native of Gainesville, Ga. has completed 287 of 413 passes for 3,512 yards and 30 touchdowns. Additionally he has 887 yards rushing in 163 attempts and has 11 rushing touchdowns. He is the only player in the nation with at least 800 yards rushing and 3,500 yards passing. In fact, he is the first player to do it since 2012 (Johnny Manziel of Texas A&M).
Manziel won the Heisman and now Watson has his chance and he is taking a special guest to New York with him.
"It has been a dream of mine to bring my mom to New York and be a Heisman finalist. We have never been to New York," Watson said. "I am honored to be the first Heisman finalist from Clemson. I plan to represent our team and Clemson University and the Clemson family this weekend."
Watson has accounted for 41 touchdowns rushing and passing, fifth best in the nation and he ranks ninth in total offense per game and 11thin passing efficiency. He has gained at least 380 yards in each of his last six games and has guided the Clemson offense to a record nine straight games with at least 500 yards total offense.
Clemson head coach Dabo Swinney said Watson is the epitome of what the Heisman represents.
"I am so happy for Deshaun Watson. This is recognition for a great performance on the field and for the hard work he has put in over the last year after suffering a torn ACL," Swinney said. "A year ago Saturday night (December 12, 2014) he was in the hospital having surgery. Exactly a year later he will be in New York as a Heisman finalist. I am so proud of him and the way he has led our team, but it is also a tribute to our offensive line, our running backs, our receivers and the entire team. Deshaun Watson is the epitome of what the Heisman Trophy is all about. He has been the leader of the only undefeated team in college football in every way."
Co-offensive coordinator Tony Elliott says Watson is the best player in the country.
"I believe so. You're talking about the best player on the best team in the country. That's kind of what the Heisman has been about," Elliott said. "He's earned that right. He came back from an ACL last year not just to play but down the stretch I think he has dominated. Running the ball and throwing the ball he can beat you any you want to give him an opportunity to beat you. To me, he represents what the Heisman stands for - character, team guy, very unselfish. So if you're looking for the qualities of the best all-around player on and off the field, I don't think they come any better than Deshaun Watson."
Co-offensive coordinator Jeff Scott says Watson is the reason Clemson has accomplished what it has this season.
"I think if you look at what he's done for this team, he's taken us places that we haven't been in 35 years, and he's a big reason for that," Scott said. "I think he's the best player in the country. You look at all of these other guys who are having big years, but they've led their team to places that others have also done, maybe two or three years ago, but Deshaun is leading this team to a place that we haven't been in 35 years. Seeing him every day, being around him every day, he means so much to this team. He's a major reason we're having the success we're having and without a doubt he's the best player in the country."
Watson is a big reason Clemson has won 16 consecutive games, a school record, and has already established a season mark for victories (13), and ACC wins (nine). Clemson won the ACC Championship last Saturday with a 45-37 win over No. 8 North Carolina. Watson threw for 279 yards and rushed for a career high 131 in the victory.
"This could not have been done without my teammates and our coaches. This is a team award as much as anything. Being undefeated and No. 1 ranked has everything to do with this," Watson said. "I want to give congratulations to the other finalists, and I look forward to seeing them this weekend."