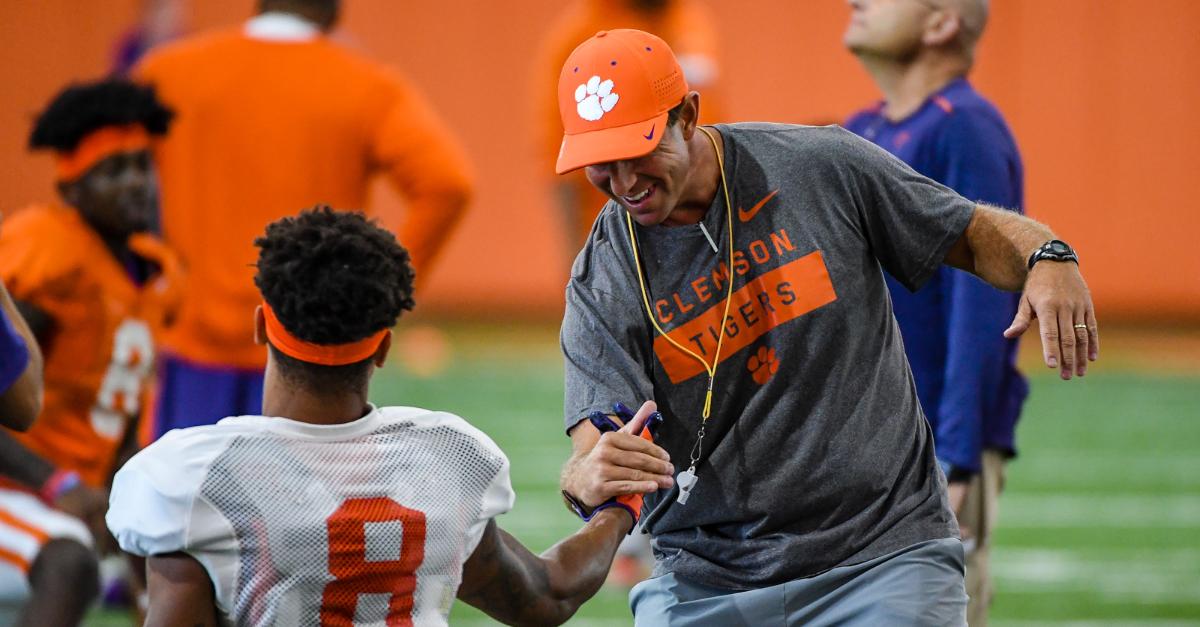 | | |
| --- | --- |
| Friday's Beanie Bowl a "big day" for the Tigers as game prep continues | |
---
CLEMSON – The college football season kicks off Week Zero Saturday, but there is still plenty of important of work to be done for the reigning national champions.
This weekend – and Friday's annual Beanie Bowl – are extremely important as Clemson turns its attention to Thursday night's season opener against Georgia Tech.
With close to 40 new people on Clemson's team, the extra time to prepare for the first game has been well spent.
"We have more time to prepare for this game than any game we play, ever," head coach Dabo Swinney said after Thursday's practice. "You're in summer prep, fall camp, so it's a lot. You've got all of that time but it's the hardest game to get ready for during the year, too. There's just so much newness and you have to reinstall and get the rhythm of the season of going."
All of the preparation will culminate with Friday's Beanie Bowl and the beginning of game week preparations on Sunday.
"This game is always the hardest even though we have more time than any other game. I think we have a good plan," Swinney said. "We're right on schedule as far as prepping the team. It's going to be a big weekend for us. Tomorrow (Friday) is a really big day for us with so many new people because it's a day where we teach a lot - sideline organization, halftime organization, pregame organization, situational stuff, game prep throughout the game. It's a very critical day in our prep process. Saturday will be meetings and jog through type stuff and then we're going to hit our game mode Saturday night."
The Beanie Bowl focuses on teaching the players go through all of the game specifics from travel to pregame, sideline organization, halftime and postgame.
"You've got a lot of people that are like, 'Ok, what do I do when I walk out of the locker room for pre-flex? What do I do post-flex? Where do I go on the sideline?' There are a lot of things for the first game that make it the hardest game," Swinney said. "Once you get through that first game you can start building a rhythm. We can have a normal week and everybody has some experience now as far as how we do things all the way down to how do we handle halftime. At Clemson, we have a lot of stuff - postgame, the Alma Mater at the paw. There is just a lot of stuff that you have to cover - first game reminders. We haven't been to the hotel yet. How do we travel?"

Upgrade Your Account
Unlock premium boards and exclusive features (e.g. ad-free) by upgrading your account today.
Upgrade Now