| | |
| --- | --- |
| Friday night practice news and notes | |
---
| | |
| --- | --- |
| Friday, March 6, 2015 8:32 PM | |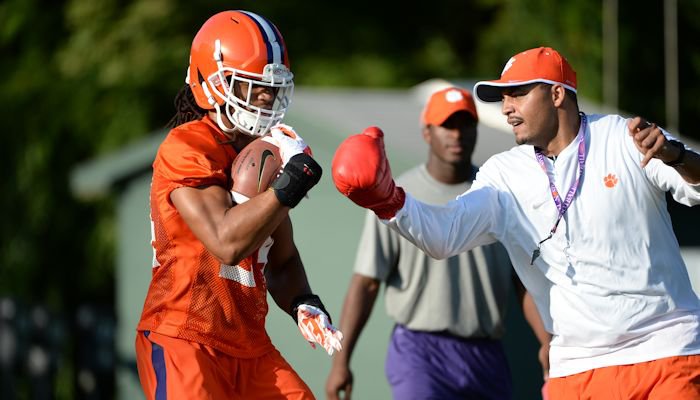 CLEMSON – Practice number three, the first one in pads, is in the books and head coach Dabo Swinney

Dabo Swinney
Head Coach
View Full Profile said that while he liked the effort in the spring's third installment he wasn't pleased with the execution.
The Tigers have just three more practices before breaking for spring break next week, and Swinney said he hopes things will improve when the team has a situational scrimmage Saturday in Death Valley.
"We put the pads on today and that's always interesting - that first day you add the physical element to the mental element," Swinney said after practice. "It's the third day of installation. We weren't quite as crisp. The effort was good. Energy was good. Competition was good but we had some drops, had some snaps. We just had some little things we weren't quite as crisp - the blitz pick up. It's one thing on blitz pick up in shorts and it's another when it's live and in pads. We'll get a little better tomorrow and we'll mix in some live work for the first time tomorrow. Today was a full speed but we were a thud tempo all day. We wanted to stay on our feet but tomorrow we'll do to the ground live work. It was a good start but we've got a long way to go. Quick turnaround tonight because we'll be back over here at 8 o'clock in the morning and we've got a big day tomorrow."
Swinney said the freshmen offensive linemen are learning what it takes to compete on the collegiate level.
"They did okay. They held their own. We had a "Win" drill today and it was good," Swinney said. "It's a great drill because it's football at its purest form - one on one. It's hand placement. It's footwork. It's low pad, leverage, drive and all of that. It's the things we take from our individual drills and now you put it all together and it's first level, second level and third level with a back running the ball - sustaining blocks, getting off blocks, backs cutting off the block. We do that four times throughout spring. It was the first time today. The biggest thing was we have so many young guys, it took us a little longer to get it organized because some of those guys hadn't done it. You saw guys get better. [Jake] Fruhmorgen for example - the first time in there he got his butt jacked up because he didn't use his hands properly. The next time up, he was a lot better. The next time up he was better. The biggest thing is you want to see guys respond to the competition."
However, Swinney said one thing he knows for sure is that Fruhmorgen, Mitch Hyatt

Mitch Hyatt
Fr. Offensive Tackle
#75 6-6, 270
Suwannee, GA
View Full Profile , Zach Giella

Zach Giella
Fr. Offensive Tackle
#77 6-6, 285
Augusta, GA
View Full Profile and Noah Green

Noah Green
Fr. Offensive Tackle
#71 6-5, 275
Boiling Springs, SC
View Full Profile were "hits" by the coaching staff.
"We hit on all of them. Those four linemen, we really hit on them," he said. "We've got a ways to go before I can really evaluate who's ready and who's not ready. It's a long time between now and September. Where we hoped they be right now, it's pleasing to see them."
He then said that the coaches also hit on the other positions as well.
"Shadell (Bell) has great ball skills. He's really raw and we've got a lot of coaching to do with him, kind of like Trevion (Thompson) when he came in here. He has excellent ball skills and he wants to. He cares. (Kaleb) Chalmers is a guy that has really good technique. Van Smith

Van Smith
Fr. Defensive Back
#23 6-0, 170
Charlotte, NC
View Full Profile has great football instincts and IQ. He picks things up quickly. (Albert) Huggins - you can't help but notice him. How many freshmen look like him? He's got a high motor to go with it. None of them are ready to play right now but there's none of them that I'm worried about."
Other notes
Running backs
"We've got an outstanding group of backs. Everybody knows what Gallman can do. He's just going to get better. He's already better. He's 212 pounds. Looks great. He's fast and explosive. Tyshon Dye

Tyshon Dye
RS So. Running Back
#22 5-11, 215
Elberton, GA
View Full Profile looks the best he's looked since he's been here. He's just moving different. Zac Brooks

Zac Brooks
Running Back (2012 - 2015)
#24 6-1, 199
Jonesboro, AR
View Full Profile - it's a shame that we've only seen glimpses of him to this point in his career because he's really, really talented, smart, fast and committed. He's still working his way back into full-speed shape. Adam Choice

Adam Choice
So. Running Back
#26 5-10, 211
Thomasville, GA
View Full Profile isn't even out there. Nobody ever talks about C.J. Fuller

C.J. Fuller
RS Fr. Running Back
#27 5-9, 215
Easley, SC
View Full Profile and I'm telling you, this kid is really good and hasn't played a snap. He's still got some growing up to do. He's a really good football player. C.J. Davidson

C.J. Davidson
RS Sr. Running Back
#21 5-10, 200
Clemson, SC
View Full Profile is limited right now. He had surgery and had a little bit of an infection with that. He should get back to working pretty soon. It's a good group. It's why we didn't sign one this year."