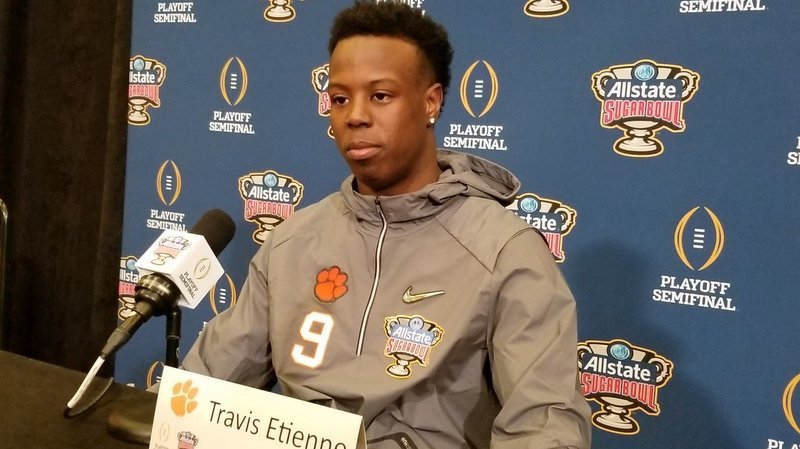 | | |
| --- | --- |
| Friday Bowl Insider: Jeff Scott on his birthday, the tour guide and diesel fuel | |
---
NEW ORLEANS, LA - Jeff Scott throws a little shade at South Carolina, Travis Etienne is an acting tour guide and Kelly Bryant says the Tigers are used to being the underdog. Welcome to Friday's media day at the Sugar Bowl.
Members of Clemson's offense held interview sessions at the Marriott in downtown New Orleans Friday in advance of the Sugar Bowl on New Year's Day, and some of the smaller stories were too good to not share.
We'll start with Etienne, who is having fun as the de facto tour guide for his teammates, but admits he can't answer all of their questions.
"There are some I don't know the answer to, so I have to look at my phone," Etienne said with his trademark smile.
*Offensive lineman Mitch Hyatt thought Clemson was going for a field goal during last year's last-minute drive, but when he looked up and saw Clemson was inside the 10, he thought, "We might as well win it."
Hyatt compared Clemson-Alabama to the Golden St.-Cleveland NBA Finals trilogy in the NBA.
"I guess this is our trilogy. It just feels normal to be playing Alabama," Hyatt said.
Hyatt said on the touchdown pass from Deshaun Watson to Hunter Renfrow, he had to pull and saw everything unfold in slow motion.
"I could see Deshaun roll out and I saw Hunter break open, and I was thinking, 'ok, everything needs to go right here.' It did."
*We have a great story coming later from Renfrow. He said that Swinney's youngest son, Clay, put diesel fuel in older brother Will's car earlier this month. The car, of course, refused to run, and head coach Dabo Swinney showed up. When Swinney showed up, the fireworks were apparently of epic proportions.
"He was hot," Renfrow said.
*Renfrow was asked about being disliked by Auburn and Alabama fans because of his success against both Yellowhammer State teams.
"I used to joke that if I ever got a stopped for speeding in the state of Alabama, I hoped it would be an Auburn police officer, but now I don't think I'd have any luck with either," Renfrow said with a laugh.
*Etienne told us that he has 23 family members and close friends coming to the game that he managed to find tickets for, but there are more than that coming.
*Perhaps there has finally been a passing of the torch. While Hyatt was talking about the final drive last season, he said "Kelly rolled out" before correcting himself to Deshaun. I know, it's a small thing, but Bryant has lived in Watson's shadow long enough and it's great to see the best offensive line admit that Bryant is the guy.
Bryant smiled when he was told that, but said, "That's great, but you can't ever forget guys like Deshaun and Tajh Boyd and Kyle Parker. They set the stage for all of us. We aren't here without those guys."
Bryant was also asked about Clemson's underdog status, and he smiled and said it's business as usual.
"We've been the underdog in every big game we've played this season and really over the last several years," Bryant said. "We are used to it. It's nothing new. We are used to being the underdog."
*Jeff Scott's birthday was Thursday, and of course he spent it practice. He was asked when the last time he was able to spend his birthday at home and not on a bowl trip, and he smiled.
"Pretty much other than the four years I was with my dad at South Carolina, I've been at a bowl game," Scott said with a smile.
*Tony Elliott was once again asked about other coaching opportunities and passing on various head coaching jobs over the last couple of years and he simply said that Clemson is home.
"Clemson made me a man. I wandered onto the Clemson campus in 1999 as a boy and guys like Dabo Swinney, who my position coach, and Jeff Davis mentored me and turned me into a man," Elliott said. "My wife went to Clemson. Both of my sons were born in Clemson. And, after watching Coach Swinney, I have seen how difficult it is to build a program and what it takes to be a head coach. If the right opportunity comes, the Lord will lead me through those doors, but Clemson is home."

Upgrade Your Account
Unlock premium boards and exclusive features (e.g. ad-free) by upgrading your account today.
Upgrade Now