| | |
| --- | --- |
| Freshmen run free in 73-7 rout of Bulldogs | |
---
| | |
| --- | --- |
| Saturday, September 6, 2014 3:54 PM | |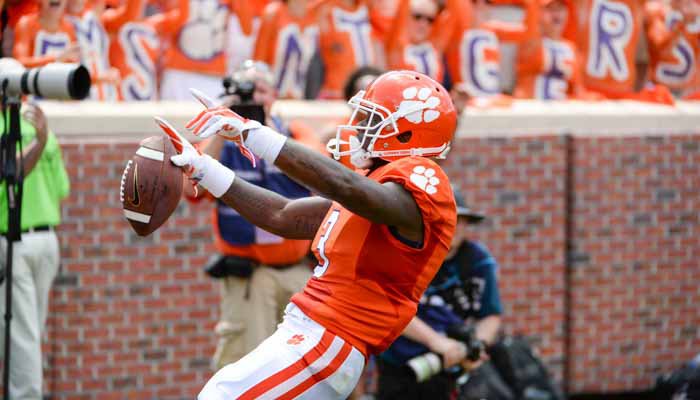 CLEMSON – The freshmen were freed Saturday afternoon in Death Valley.
Several of Clemson's younger players found playing time plentiful as the Tigers raced out to a 34-0 halftime lead and continued to roll in a 73-7 pasting of South Carolina St. The win evens the record of both teams at 1-1, with Clemson facing an off week next week and a trip to Florida St. the week after.
Saturday, however, was all about the youngsters.
Artavis Scott

Artavis Scott
Fr. Wide Receiver
#3 5-11, 190
Oldsmar, FL
View Full Profile set a Clemson freshman record for receiving yards in a game, reeling in six passes for 164 yards and two touchdowns, Wayne Gallman

Wayne Gallman
RS Fr. Running Back
#9 6-1, 209
Loganville, GA
View Full Profile carried the ball 10 times for 77 yards and quarterback Deshaun Watson

Deshaun Watson
Fr. Quarterback
#4 6-3, 204
Gainesville, GA
View Full Profile was sterling in limited time, completing 8-of-9 passes for 154 yards and three touchdowns. Adam Choice

Adam Choice
Fr. Running Back
#26 5-10, 211
Thomasville, GA
View Full Profile added 12 carries for 74 yards.
The stat line was ugly – 12 different Clemson receivers caught at least one pass, and eight different players had at least one carry. Clemson outgained the Bulldogs 735-44, and gained 32 first downs to just five for the Bulldogs. Clemson rushed for 268 yards, while the Bulldogs earned just seven on the ground. Clemson ran 93 plays, 49 more plays than the Bulldogs had yards.
The Tigers made it look easy on the opening drive, going 68 yards in just seven plays with freshman running back Wayne Gallman converting a tough third down at the beginning of the drive. Four plays later, Stoudt flipped to Adam Humphries

Adam Humphries
Sr. Wide Receiver
#13 5-11, 193
Spartanburg, SC
View Full Profile on a pitch and Humphries raced into the endzone untouched from two yards out for a 7-0 lead.
The Clemson defense forced a three-and-out, and the Tigers put together a ragged drive that ended in a 22-yard field goal by Ammon Lakip

Ammon Lakip
RS Jr. Kicker
#36 5-10, 200
Alpharetta, GA
View Full Profile for the 10-0 lead.
On the ensuing Clemson drive, Watson entered to a huge cheer from the crowd, and he didn't disappoint on a drive that saw him complete all three of his passes and lead the Tigers to a touchdown. Watson hit Mike Williams

Mike Williams
So. Wide Receiver
#7 6-5, 208
Vance, SC
View Full Profile on a 39-yard crossing route that set up a beautiful seven-yard toss to Charone Peake

Charone Peake
RS Jr. Wide Receiver
#19 6-3, 204
Moore, SC
View Full Profile in the corner of the endzone for a 17-0 lead.
Stoudt re-entered the game, and his 37-yard pass to a wide open Artavis Scott for a 24-0 lead with 11:17 remaining in the half. Lakip added a 38-yard field goal and C.J. Davidson

C.J. Davidson
RS Jr. Running Back
#32 5-10, 203
Clemson, SC
View Full Profile added a six-yard scoring run as the Tigers bounced out to the 34-0 halftime advantage.
Clemson's defense held to start the second half, and it didn't take the Tigers long to widen the margin as D.J. Howard

D.J. Howard
RS Sr. Running Back
#22 6-0, 205
Lincoln, AL
View Full Profile scampered in from six yards out for the 41-0 lead just over three minutes into the third quarter.
Lakip added a 44-yard field goal – his third of the day – and Watson followed that with a teardrop pass to Jay Jay McCullough

Jay Jay McCullough
RS So. Tight End
#89 6-3, 248
Fort Mill, SC
View Full Profile down the right sideline to complete a 34-yard scoring play and a 51-0 lead. Jadar Johnson

Jadar Johnson
So. Defensive Back
#18 6-1, 207
Orangeburg, SC
View Full Profile then ended South Carolina St.'s next scoring drive with an interception, returning it 60 yards for the touchdown and a 58-0 lead.
Scott continued his strong effort with an 8-yard scoring pass from Watson, and the Bulldog implosion continued on the ensuing possession when a punt attempt went over the punter's head and out of bounds for a safety and a 67-0 lead.
Kurt Fleming

Kurt Fleming
Fr. Running Back
#40 6-0, 233
Louisa, VA
View Full Profile spearheaded the next Clemson drive – he had five carries for 43 yards – and Choice finished the drive with a four-yard run that made it 73-0. The 73 points at that point were the most since scoring 82 in an 82-24 win over Wake Forest in 1981.
The shutout ended when Fleming fumbled on third down late in the fourth quarter, and Dominique Mitchell returned it 35 yards for a touchdown.

Score by Quarters     1  2  3  4   Score

-----------------    -- -- -- --   -----

SC State............  0  0  0  7  -  7       Record: (1-1)

Clemson............. 10 24 24 15  - 73       Record: (1-1)

Scoring Summary:

1st 12:35 CU - Adam Humphries 2 yd run (Ammon Lakip kick), 7-68 2:25, SCSU 0 - CU 7

    06:51 CU - Ammon Lakip 22 yd field goal, 11-39 4:07, SCSU 0 - CU 10

2nd 14:54 CU - Charone Peake 7 yd pass from Deshaun Watson (Ammon Lakip kick), 8-79 2:57, SCSU 0 - CU 17

    11:17 CU - Artavis Scott 37 yd pass from Cole Stoudt (Ammon Lakip kick), 7-64 2:27, SCSU 0 - CU 24

    07:10 CU - Ammon Lakip 38 yd field goal, 6-31 2:08, SCSU 0 - CU 27

    03:46 CU - C.J. Davidson 6 yd run (Ammon Lakip kick), 6-78 1:53, SCSU 0 - CU 34

3rd 11:30 CU - D.J. Howard 6 yd run (Ammon Lakip kick), 7-53 1:29, SCSU 0 - CU 41

    07:50 CU - Ammon Lakip 24 yd field goal, 5-65 2:17, SCSU 0 - CU 44

    05:31 CU - Jay Jay McCullough 34 yd pass from Deshaun Watson (Ammon Lakip kick), 4-65 0:57, SCSU 0 - CU 51

    02:26 CU - Jadar Johnson 60 yd interception return (Bradley Pinion kick), , SCSU 0 - CU 58

4th 13:34 CU - Artavis Scott 8 yd pass from Deshaun Watson (Bradley Pinion kick), 6-51 1:34, SCSU 0 - CU 65

    12:00 CU - TEAM safety, , SCSU 0 - CU 67

    08:36 CU - Adam Choice 4 yd run (Corbin Jenkins kick failed), 7-52 3:19, SCSU 0 - CU 73

    04:05 SCSU - MITCHELL,Dominique 35 yd fumble recovery (SCANDRETT,Tyler kick), , SCSU 7 - CU 73

                                   SCSU       CU

FIRST DOWNS...................        5       32

RUSHES-YARDS (NET)............     28-7   51-268

PASSING YDS (NET).............       37      467

Passes Att-Comp-Int...........  25-12-1  42-32-0

TOTAL OFFENSE PLAYS-YARDS.....    53-44   93-735

Fumble Returns-Yards..........     1-35      0-0

Punt Returns-Yards............      0-0      2-2

Kickoff Returns-Yards.........    7-100     3-37

Interception Returns-Yards....      0-0     1-60

Punts (Number-Avg)............  12-36.9    0-0.0

Fumbles-Lost..................      2-0      2-1

Penalties-Yards...............     5-30      1-5

Possession Time...............    26:04    33:56

Third-Down Conversions........  2 of 15 10 of 17

Fourth-Down Conversions.......   0 of 1   1 of 2

Red-Zone Scores-Chances.......      0-0      8-8

Sacks By: Number-Yards........     1-10     4-38



RUSHING: SC State-LEWIS-FREEMAN,Dondre 7-50; SAMUEL,Trey 1-12;

SIMMONS,Jalen 5-7; MOODY,Mykal 1-3; TAYLOR,Justin 5-2; KOLLOCK JR,Adri 4-minus

17; WILEY,TeDarrius 3-minus 22; TEAM 2-minus 28. Clemson-Wayne Gallman 10-77;

Adam Choice 12-74; Kurt Fleming 9-49; D.J. Howard 5-43; Deshaun Watson 5-20;

Nick Schuessler 1-12; C.J. Davidson 3-4; Adam Humphries 1-2; TEAM 2-minus 5;

Cole Stoudt 3-minus 8.

PASSING: SC State-WILEY,TeDarrius 9-15-1-25; KOLLOCK JR,Adri 3-10-0-12.

Clemson-Cole Stoudt 22-31-0-302; Deshaun Watson 8-9-0-154; Nick Schuessler

2-2-0-11.

RECEIVING: SC State-WEST,Taquan 3-18; HEMINGWAY,Temarrick 2-17;

SAMUEL,Trey 2-0; MOODY,Mykal 2-minus 5; FREEMAN,Jordan 1-10; TAYLOR,Justin

1-minus 1; SMITH,Austin 1-minus 2. Clemson-Artavis Scott 6-164; Mike Williams

4-83; Charone Peake 4-22; Jay Jay McCullough 3-61; Adam Humphries 3-34; Jordan

Leggett 2-25; D.J. Howard 2-15; Adam Choice 2-15; Germone Hopper 2-14; Adrien

Dunn 2-11; Demarre Kitt 1-16; Wayne Gallman 1-7.

INTERCEPTIONS: SC State-None. Clemson-Jadar Johnson 1-60.

FUMBLES: SC State-TEAM 2-0. Clemson-Kurt Fleming 2-1.

Stadium: Memorial Stadium      Attendance: 78000

Kickoff time: 12:31 PM  End of Game: 3:43 PM   Total elapsed time: 3:12

Officials: Referee: Tom McCreesh; Umpire: Donald Yates; Linesman: George Geiss;

Line judge: Joe Gercie; Back judge: Doug Smith; Field judge: Milton Britton;

Side judge: Glenn Street;

Temperature: 90 deg    Wind: Calm      Weather: Sunny

Tags:
D.J. Howard
,
Adam Humphries
,
Charone Peake
,
Ammon Lakip
,
Jay Jay McCullough
,
Mike Williams
,
Wayne Gallman
,
Jadar Johnson
,
C.J. Davidson
,
Deshaun Watson
,
Artavis Scott
,
Adam Choice
,
Kurt Fleming