---
| | |
| --- | --- |
| Thursday, November 21, 2013 10:48 AM | |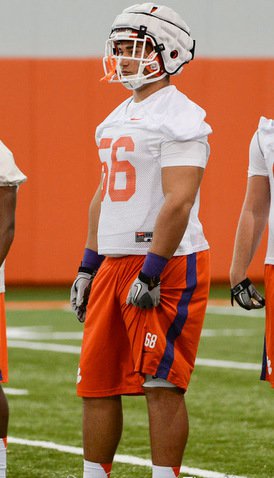 CLEMSON – From time to time, a post pops up on the board of TigerNet where people want to know about certain players who had redshirted this season.
The post typically starts with, "Whatever happened to" or "has anyone heard anything about" a certain player.
With that in mind, TigerNet spoke with defensive coordinator Brent Venables

Brent Venables
Defensive Coordinator / Linebackers
View Full Profile this week about the eight defensive players who redshirted this season, just to get his quick take on what he has seen out of them during fall camp and on the scout team.
He will get a better idea of what he has once bowl practice begins, and we will catch up with him at that later date, but he did give us a quick rundown on each of those players.
Corner MacKensie Alexander

MacKensie Alexander
Fr. Defensive Back
#2 5-11, 185
Immokalee, FL
View Full Profile would have likely played this season, but he injured his groin during the summer and had October surgery. He is still making his way back into playing shape. Defensive tackle Scott Pagano

Scott Pagano
Fr. Defensive Tackle
#56 6-4, 280
Honolulu, HI
View Full Profile might have also had a shot at playing time, but an ankle injury in fall camp made it an easy decision for the coaches to redshirt him.
LB Dorian O'Daniel
"Raw, fast, explosive and athletic. Intelligent, and his best football is ahead of him. He has a good frame. He is a former running back, and I love that about him because he knows how to play in space. He is a little lean right now, but he's getting bigger. Now he has to take that and learn how to play linebacker. He will work at it, and he will learn."
DB Adrian Baker

Adrian Baker
Fr. Cornerback
#21 6-1, 170
Hollywood, FL
View Full Profile
"Long and good speed. He has gained weight and strength and he has done well. He has good coverage skills."
DB Mackensie Alexander
"I really haven't seen a lot out of him since surgery. I wish I had. He is still doing rehab work, and working some with the scout team. We all know what he can do when he is healthy."
DB Marcus Edmond

Marcus Edmond
Fr. Defensive Back
#29 6-1, 180
Hopkins, SC
View Full Profile
"Very instinctive. Long, good speed and good ball skills. He has a good natural skill set."
DB Ryan Carter

Ryan Carter
Fr. Defensive Back
#31 5-10, 175
Grayson, GA
View Full Profile
"Instinctive, competitive and tough. He has good speed."
DE Ebenezer Ogunkdeko
"He is physical. Quick twitch. Tough. Good speed. Very prideful. He was very close to playing, but we had numbers there at that position. He is going to be a very good player."
DT Scott Pagano
"You know, him and Ogundeko were both close. You know, we had a little bit of depth there, so we didn't have to play either. But Scott's quickness really surprised us. He has mobility. He exceeded our expectations, and we had high expectations. Good strength. Toughness. Low maintenance. Going to be a good player."
DE Dane Rogers

Dane Rogers
Fr. Defensive End
#85 6-3, 245
Shelby, NC
View Full Profile
"Quiet. Good size. Good athletic ability. Good intelligence. He will stay at defensive end."
I asked Venables how he felt about being able to redshirt those eight players, and he called it a great foundation heading into next season.
"That is a great foundation," he said. "You named a bunch of defensive linemen and cover guys and that if what you want. You have to be able to play in space and terrorize a quarterback, and I think we have a good, solid nucleus of guys there that will do just that. Add them to the guys we have and I like our future."