| | |
| --- | --- |
| Freedom Isn't Free: A Clemson Memorial Day | |
---
| | |
| --- | --- |
| Sunday, May 25, 2014 8:17 PM | |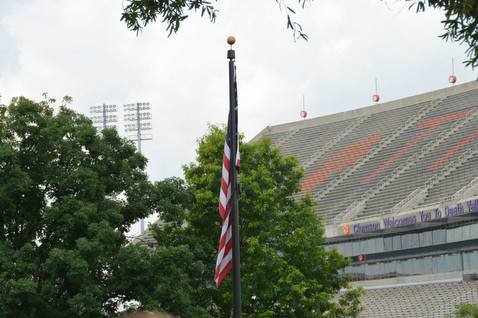 The cannons stood silent, lonely sentinels keeping guard over the very ground where they once belched sheets of flame and death across a killing field that would go down in the annals of United States history. They keep a largely lonely vigil over the spots where men died to protect the integrity of a nation with a novel idea – freedom for all – but to also grant freedom to a race of people enslaved for far too long.
Prior to last season's Clemson game at Maryland, we (Nikki Steele and my son Koty) flew into the area a day early, rented a car and drove up to Gettysburg, Pennsylvania, to take in that historic ground and to walk in the footsteps of those men, many of whom died for an ideal. They died so that others – all men – might have liberty. As Abraham Lincoln would eloquently tell a stunned crowd five months later at the dedication of the national cemetery on that spot, mere words cannot do justice to their sacrifice.
But, in a larger sense, we can not dedicate, we can not consecrate, we can not hallow this ground. The brave men, living and dead, who struggled here, have consecrated it, far above our poor power to add or detract. The world will little note, nor long remember what we say here, but it can never forget what they did here. It is for us the living, rather, to be dedicated here to the unfinished work which they who fought here have thus far so nobly advanced. It is rather for us to be here dedicated to the great task remaining before us—that from these honored dead we take increased devotion to that cause for which they gave the last full measure of devotion—that we here highly resolve that these dead shall not have died in vain—that this nation, under God, shall have a new birth of freedom—and that government of the people, by the people, for the people, shall not perish from the earth.
I wanted to stand on those spots where those men – our ancestors on both sides – clashed, fought, bled and died for an ideal called freedom. Leaving the others in the rental car, I went out to the scene of the last act of that battle. I stood at the High Water Mark, the place in the Union line where a few survivors of Pickett's Charge managed to reach, and tried my best to say a silent thank you to those brave souls who courageously faced fire and shot for me and for my child. I then walked over to the stone marker commemorating the spot where a 22-year old named Alonzo Cushing drew his last breath in defense of his beloved Union, and wondered at the courage it takes to die for something you love so dearly. If you don't know who he is, look him up.
Why am I writing this? Why not a story about the next big recruit or how Clemson's defensive line will look this season? Why not write about the players and coaches that many people consider to be heroes? Because it's Memorial Day, and maybe more than any other school in this area, Clemson faithful should take the time to not only appreciate Clemson's military tradition, but to thank the 484 people– Clemson alumni –who have given the ultimate sacrifice. In other words, the true heroes of this university.
Clemson's own Scroll of Honor is right across the street from Howard's Rock, and people let their children run through the area without taking the time to teach and educate on WHY those names should be important to all of us. Every time I go by there, I like to stop. Unlike most people, however, I am not drawn to the spectacle of Death Valley or Howard's Rock. I go by the Scroll of Honor, and each time I pick out a name and try and learn a little about the person and the families who are represented by that name.
One name that I picked out recently had an athletic connection – Aubrey Rion. Rion (Class of 41) was a quarterback on Clemson's 1940 Cotton Bowl team, a team that defeated Boston College 6-3. It was on that day that a small, then-military school in the South Carolina foothills made its football debut on a national stage. That was the Tigers' first bowl appearance and the start of the state's college football tradition.
Rion, a Columbia native and teammate of Banks McFadden, volunteered for the Army six months after Pearl Harbor and was shipped overseas in October of 1944. Rion would be killed in action while serving with the 501st Parachute Infantry Regt, 101st Airborne Division, the famous regiment of the "Band of Brothers." Rion was killed in action defending Bastogne, Belgium, during the Battle of the Bulge, the pre-Christmas German breakthrough in the Ardennes. The actions of the 501st in stopping the German assault at Bastogne were critical in holding that part of the line until George S. Patton's troops achieved a breakthrough of their own in relief of that sector.
For me, however, there is another heartbreaking turn to this story. The next time you attend a Clemson game or you're on campus, remember those who never came home. Indeed, Rion rests in the Luxembourg American Cemetery in Luxembourg. Rion never came home, back to his beloved Clemson, either in life or in death.
Overall, around 125,000 American servicemen are at rest in other countries. Go to the Normandy American Cemetery in France, and row upon row of white crosses represent the 9,387 American servicemen who gave the ultimate sacrifice for us. Each white cross represents an American – one of us – who never came home.
Yes, Memorial Day is all about having a day off from work. It's about the cookouts and a day at the lake or the beach. It's the unofficial start to the summer. It's for picnics and for families and for grilling out and generally doing the things that we as Americans like to do. But that freedom came with a price, a price that was paid by those war dead we honor on this day, including many Clemson alums.
In Lincoln's famous "Bixby Letter" he wrote to a grieving mother that, "I feel how weak and fruitless must be any word of mine which should attempt to beguile you from the grief of a loss so overwhelming. But I cannot refrain from tendering you the consolation that may be found in the thanks of the Republic they died to save. I pray that our Heavenly Father may assuage the anguish of your bereavement, and leave you only the cherished memory of the loved and lost, and the solemn pride that must be yours to have laid so costly a sacrifice upon the altar of freedom."
The altar of freedom has seen many sacrifices. We will get back to football and baseball soon, but at some point on this hallowed day do more than just change a Facebook profile pic or pay lip service to those who gave their all. Thank them in your own small way, and the next time you're in Clemson take the time to find the Scroll of Honor and pick out two or three names and learn about the sacrifices these Clemson people made for our freedom. We are able to cheer for our favorite college team and enjoy this holiday because of them.
Clemson is proud and thankful of their sacrifice, as we all should be. Happy Memorial Day, Clemson style.
For more information on the scroll of Honor, click here. https://cualumni.clemson.edu/scrollofhonor