| | |
| --- | --- |
| Four-star linebacker to visit this weekend | |
---
| | |
| --- | --- |
| Thursday, October 8, 2015 1:04 PM | |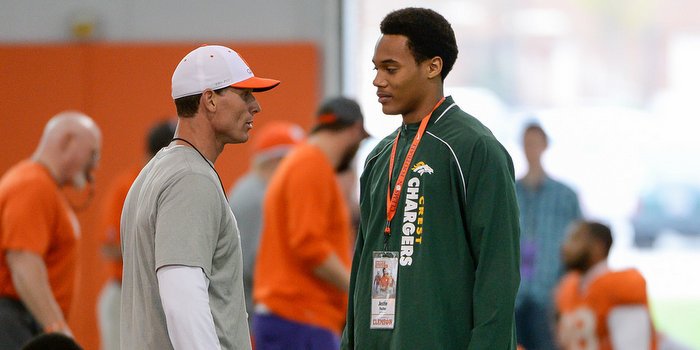 Justin Foster

Justin Foster
Linebacker
6-4, 205
Shelby, NC
View Full Profile has been to Clemson more than the average recruit, but will once again make the trip from North Carolina this weekend to see the Tigers take on Georgia Tech.
The 4-star Shelby (NC) Crest linebacker has 16 offers from across the country, but it's Clemson that he returns to time and time again.
The 2017 recruit was in Clemson twice over the summer and for Clemson's season opening win over Wofford, and while he may want to visit his sister who is a student at Clemson, he told TigerNet he wants to continue building a relationship with the Clemson coaching staff.
"This weekend I'm coming down for the Georgia Tech game," Foster told TigerNet Wednesday evening. "I've pretty much done all you can do when it comes to recruiting at Clemson because I've been there so many times. I really want to get down there to just speak with the coaches again and show my face."
The No. 1 recruit in the state of North Carolina according to Rivals was initially supposed to come to town for the Notre Dame game last weekend, but inclement weather canceled his trip.
"I wasn't able to come down, but I watched it. It was a great game. They came out pretty strong and went up," Foster said. "They held them down the whole game even though Notre Dame was able to score. In the end, they did their thing. It's good to beat a team that high in the rankings in the rain. It was really a good game."
Even on television, Foster could see how well Clemson's linebackers played.
"They're all over the field. They can make plays inside and outside," he said. "They can cover, too, if you want them to. He (Venables) has them playing almost everywhere, but when it comes to the running game they really shut it down, plus all of the defensive lineman are good up front."
When does Foster expect to make a decision, and where does Clemson stand?
"I'll probably cut down my list at the end of this season, and I'll probably start trimming my list down slowly after that. I'll make my final decision at the Army All-American Game," he said. "I would say that they're (Clemson) one of the teams that when I get ready to make a decision, they will be pretty high. Clemson will probably make it onto my final list."
What sets the Tigers apart from the other schools?
"They're one of the schools that will let me major in mechanical engineering, and that's a really big thing with me," he said. "I want to balance my schedule with classes and football. You can come in as a freshman and get on the field because they play freshmen. I really like the environment down there. Me and the coaches have a really good relationship. I really think they'll be there for a while. That's a big thing for me if a coach is going to stay there. It's a nice place and a good environment. I feel comfortable down there."
His relationship with defensive coordinator Brent Venables

Brent Venables
Def. Coordinator / Linebackers
View Full Profile is also a big selling point.
"We get along well. We talk a lot back and forth through Twitter," Foster said. "We talk on the phone every couple of weeks. When I come down, we talk a lot. We're pretty cool. It's kind of like just talking to one of your friends, that's how cool he is."