| | |
| --- | --- |
| Four-star DE ready to dive into recruiting process | |
---
| | |
| --- | --- |
| Thursday, December 5, 2013 5:37 PM | |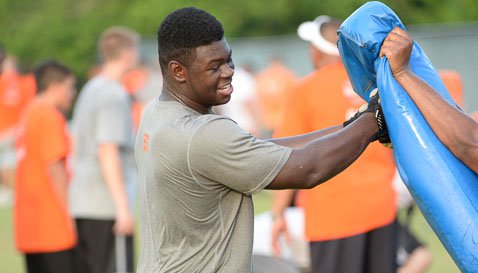 One of South Carolina's most prized recruits is a little behind with the recruiting process, but hopes to play catch-up now that football season is over.
Four-star defensive end Albert Huggins

Albert Huggins
Defensive Tackle
6-3, 280
Orangeburg, SC
ESPN:


View Full Profile from Orangeburg (SC) Orangeburg-Wilkinson only took two unofficial visits during the season – to Clemson and South Carolina – but hopes to travel to a few other schools over the next couple of months.
The 2015 prospect holds offers from Alabama, Florida, Florida St., Georgia, Louisville, North Carolina, N.C. State, South Carolina and Tennessee.
He told TigerNet Wednesday night that with his father now healthy, he hopes to hit the road and see some of the schools that have offered him a scholarship.
"I really can't say where all I'm going to go right now because I'm just going with the flow," Huggins said. "I'm a little behind with recruiting because my dad had surgery. I've already been to Clemson and South Carolina, but I want to get to some other schools like North Carolina, N.C. State, Georgia and Alabama. I need to see other places so that I can see how they are compared to where I've been. I'm going to be going to some of these college basketball games to check out some of the other programs and things like that."
Huggins' first unofficial visit was to Clemson for the Florida State game and despite the Tigers loss, he came away impressed.
"I was at the Florida State game and the atmosphere was great," Huggins said. "The fans were there until the very end. It was just an overall a good experience. Even though Clemson got beat, I was really there to see how Clemson's defensive line matched up with Florida State's big offensive line."
Huggins was also in Columbia for the rivalry game against Clemson and said that he enjoyed the game up until Clemson started having turnover issues in the fourth quarter.
"It was a good game until the end when Clemson started turning the ball over," Huggins said. "It was a good game. The atmosphere was great. Their fans were really into it and were waving their towels the entire game. It probably wasn't the loudest game I've ever been to, so that was good."
Despite having offers from across the southeast, most recruiting "experts" claim that it is an in-state battle for the 6-2, 279-pound prospect's services, but Huggins said that the assumption couldn't be further from the truth.
"Not really. I still have an open mind about all of my scholarships and stuff like that," Huggins said. "A lot of people say that it's down to South Carolina and Clemson, but that's not true. I've been to both of those schools a lot so people think I'm favoring them."
Clemson will have an opportunity to get a head start on the competition as defensive line coach Marion Hobby

Marion Hobby
Assistant Coach / Defensive Ends
View Full Profile will be in Orangeburg on Friday.
"If I'm correct, Coach Hobby is supposed to come up Friday and see me," Huggins said. "We talk on Twitter a lot and talk about life and what's going on."
In between school and travel, Huggins said that he has already made a list of what he wants to work on for next season.
"I have several things to work on – my footwork and my hands," Huggins said. "I want to try to get my speed up a little bit."