| | |
| --- | --- |
| Four former NFL and college stars break down Vic Beasley | |
---
| | |
| --- | --- |
| Sunday, April 26, 2015 11:37 PM | |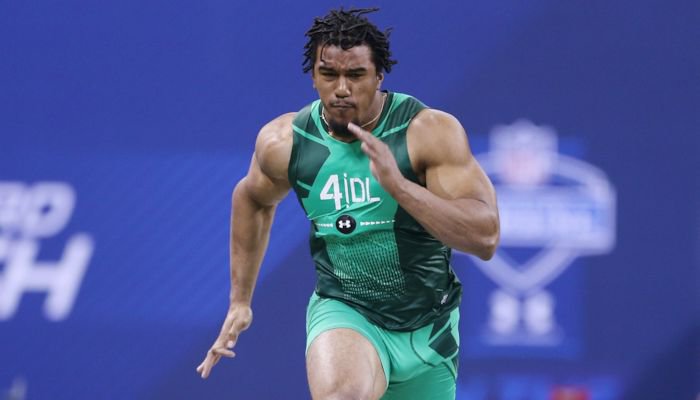 Thursday evening in Chicago former Clemson defensive end Vic Beasley

Vic Beasley
Defensive End (2010 - 2014)
#3 6-2, 236
Adairsville, GA
View Full Profile will likely have his name called as a first round selection in the NFL Draft, becoming the Tigers' third consecutive first round selection and the fourth since 2010.
Last month, the Adairsville (GA) native sat down with four former NFL Players on Fox Sports' show The Panel, where he answered and asked questions and broke down game film with the former players.
The Panel is made up of Dre Bly, Tim Couch, Marcus Stroud and Clinton Portis, and the panelists analyze each player's skills and preparedness for the NFL, as well as mentor them on finding success both on and off the playing field.
TigerNet transcribed portions of the show for those who haven't see it. Why? Because Beasley's answers show the kind of player and person Beasley has become as well as the current culture at Clemson University.
A former Miami Hurricane, Portis started the show by wondering about Beasley's motivation, saying, "For me, this guy was a late bloomer. I am curious to know what ignited the flame under him."
Former UNC star Bly took it a step further, saying, "I am looking to see what has been his biggest motivation since the season has been over. A guy that was slated to be a late or mid first round guy has bloomed into a possible top five pick. I am curious to know what his motivation was."
A former Georgia Bulldog, Stroud said he wanted to know how Beasley's college production will translate into the NFL, saying, "This guy put up numbers at Clemson. I am curious to see how he will take that production he had in college over to the NFL."
Stroud recites Beasley's numbers in 2013, and then says that "most guys would bolt for the NFL. What made you come back to Clemson?"
"My momma always pushed education," Beasley said. "Education was our first priority and I just wanted to go back to Clemson and get my degree. I feel like I set a standard for my nephews and the other kids coming through Clemson. I felt like I would get my degree and then take my game to another level."
Stroud then asks Beasley how he feels Clemson has helped him get ready for the NFL.
"I feel like Coach (Dabo) Swinney, he always pushes education and pushes us to do the right thing," Beasley said. "I think that is going to take me way further in life than the game of football. I feel like he gave us tools for the game of life for the most part."
Bly then asked if Beasley is aware of the hoopla and conversations surrounding Beasley's "ridiculous" combine numbers, and Beasley said it all starts with Clemson strength coach Joey Batson and his staff.
"I have to give the glory to the strength and conditioning program at Clemson. It definitely paid off," Beasley said. "We have a great strength and conditioning program. A lot of scouts were surprised. They didn't see me as a guy who could run that fast and lift that much weight. It changed a lot of the perception about me."
Couch, a former quarterback at Kentucky, asked Beasley if he has been in contact with Clemson's other first round picks.
"I keep in touch with Sammy (Watkins) and guys like DeAndre Hopkins

DeAndre Hopkins
Wide Receiver (2010 - 2012)
#6 6-2, 205
Central, SC
View Full Profile ," Beasley said. "Those guys have done well in the league, and I've asked them what it takes to be great at that level. I have gotten feedback and I am going to take that to the next level when I get there."
Stroud: Do you prefer a traditional 4-3 with your hand on the ground, or what do you prefer?
Beasley: "At Clemson I played in the 4-3, and getting to the quarterback is my best asset. I am versatile and can play linebacker. Whatever teams ask of me. I am willing to bring versatility to a team, and stand up and run s-stunts or tech stunts."
Bly: Is there anybody in the NFL right now you try to pattern your game after?
Beasley: "I look at guys like Von Miller and Bruce Irvin. Those guys, we share the same types of abilities as pass rushers and I just try and model my game after those guys."
Stroud: Growing up in Adairsville and going to Clemson, they are both small towns. How would you adapt to a New York or an Atlanta and some of these other big city teams that are looking at you?
Beasley: "I think the whole Combine process and being in Indy and being in Atlanta for different events has helped me adapt to that experience. I know it will be a big city. But I have been able to maintain and I think it will be a good experience for me when I get to that level."
Bly: Will you be at the draft?
Beasley: "I definitely plan to be there. It is a once in a lifetime experience and I know that it will be one time I get to do this, and I want to enjoy it and live it up."
Bly: What will be the color of the suit?
Beasley: "Probably purple and orange, just to represent Clemson."
Stroud: Every player has something they need to work on to get better. What is that for you?
Beasley: "At the combine, I tried to showcase my ability to drop in coverage and play in space. I think that is something I need to work on."
Bly: What is your ideal rookie season? What are your expectations?
Beasley: "Planning to be the NFL Rookie Defensive Player of the Year. I know that is high hopes, but going to that next level I want to be the best I can be."
Portis: .You managed to have three great years at Clemson, have a great Combine, you never got in trouble, how do you feel like that will translate into the NFL? A guy that doesn't have flaws and will be the perfect teammate and the perfect guy to bring into my organization.
Beasley: "I've always been able to do my thing, but Coach Swinney always says that best is the standard. It will pay great dividends going to the next level."
The panelists then ended the show by giving their assessment of Beasley.
Portis: "I take it this guy is probably the most mature guy in the draft."
Bly: "With his combine times and his workouts, I see why this kid has jumped up everybody's draft boards. This kid is motivated."
Stroud: "He has all that talent and he had all of that production, yet he is still humble and stays grounded."
Couch: "He is a small town kid and he will be in the bright lights of the NFL. You question whether a small town kid can handle that. I think he can."