| | |
| --- | --- |
| Former Super Bowl MVP loves Watson's Heisman chances | |
---
| | |
| --- | --- |
| Tuesday, December 8, 2015 2:20 PM | |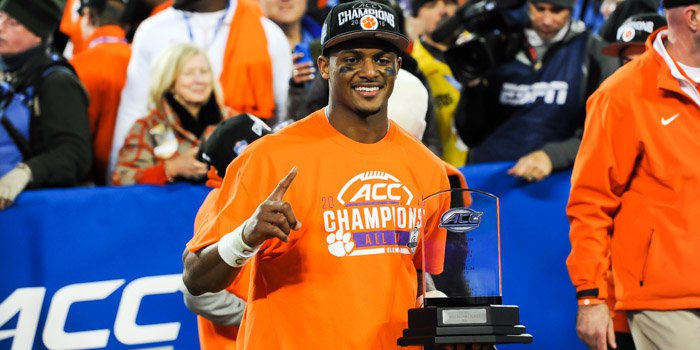 Two former quarterbacks love Deshaun Watson's Heisman chances and think that Clemson's standout sophomore has a chance to lead Clemson to a national title.
Watson was named one of three finalists for the 2015 Heisman Trophy during an announcement Monday evening on ESPN. Watson will be joined at Saturday night's ceremony in New York by Derrick Henry of Alabama and Christian McCaffrey of Stanford.
The Heisman Trophy recipient will be announced from the PlayStation Theatre in New York City on ESPN on Saturday on ESPN during a program that will begin at 8 p.m.
Despite a long list of great players that have donned the Clemson uniform, Watson is Clemson's first Heisman Finalist. Steve Fuller finished sixth in the 1978 voting and C.J. Spiller was sixth in the 2009 voting, but neither received an invitation to New York. Those are the only Clemson players to finish in the top 10 of the Heisman voting since the award began in 1935.
Mark Rypien, the MVP of Super Bowl XXVI for the Washington Redskins (1992, Washington 37, Buffalo 24) told TigerNet Monday that he thinks Clemson has a chance to run the table and win its first national championship since 1981.
"Clemson has one of the best quarterbacks in the country in Deshaun Watson, and both Oklahoma and Clemson will be playing against some pretty stout defenses. I think they go as far as Watson goes, even though their running back (Wayne Gallman) is a pretty good player. I think their ability to control the ball against the defenses they play against will be a major factor."
Rypien also thinks Watson has a great shot at taking home some hardware Saturday night in New York.
"As far as the Heisman, he has to be one of the frontrunners if not the frontrunner. He makes the players around him better, and he makes plays that bails them out of situations. He has been doing this his whole career, and he's overcome the knee injury he suffered last year and has done some pretty wonderful things. I just enjoy listening to him after games – he's pretty humble and gives a lot of credit to a lot of different players. And he makes plays.
"That's what college football is all about – making plays when it matters most. I think he has a great chance of leading his team as far as they want to go. They've played three Top 10 opponents, and they've beaten all of them. They are justified, and I think they are the favorite because of him (Watson) and I think they have a good all-around football team."
Rypien said he thinks Clemson's Orange Bowl matchup against Oklahoma could come down to special teams.
"Clemson and Oklahoma are tremendously skilled on the offensive side of the ball and will give you trouble on the defensive side of the ball. A lot of it boils down to special teams play, and I think that will be a big factor," he said.
ESPN college football analyst and former Florida St. quarterback Danny Kanell told TigerNet he likes Clemson in the Orange Bowl – because of Watson.
"It's a re-match from last year's bowl game where Clemson absolutely crushed Oklahoma. So, Oklahoma will be a little salty, but I actually like Clemson in this one," Kanell said. "I just feel like their quarterback, Deshaun Watson - he's cool and composed, and he can get it done."