| | |
| --- | --- |
| Ford, not Morris, called famous 4th-and-16 play | |
---
| | | |
| --- | --- | --- |
| Friday, July 19, 2013, 10:38 AM | | |
The famous 4th-and-16 play, a play that helped lead to a game-winning field goal over LSU and a landmark win for the Clemson program, wasn't called by offensive coordinator Chad Morris
Chad Morris
Offensive Coordinator / QBs
View Full Profile .
It was called by senior tight end Brandon Ford
Brandon Ford
Tight End
#80 6-4, 240
Wando, SC
View Full Profile .
The Tigers trailed LSU 24-22 when quarterback Tajh Boyd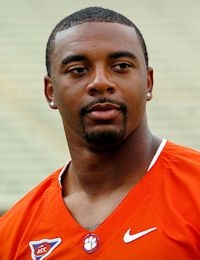 Tajh Boyd
RS Sr. Quarterback
#10 6-1, 225
Hampton, VA
View Full Profile was sacked by LSU's Sam Montgomery for a six-yard loss on 3rd-and-10, setting up a 4th-and-16 with 1:22 left on the clock. Clemson quickly called a timeout, and that is when Ford told Morris the play he needed to run.
Morris recounted those anxious moments to the media this past week at head coach Dabo Swinney
Dabo Swinney
Head Coach
View Full Profile 's golf outing, calling the play "Switch."
"Brandon Ford comes over to the sideline, and we are in a huddle," Morris said. "And Brandon says, 'Coach, look, if you will call 'Switch" right here, I am telling you it will work. The play that just happened, the safety came over the top and was with me. If we run "switch" I guarantee you that safety will go wide a little bit and we can get underneath him. I am telling you coach.' I said, 'You know what, you are playing the game and I'm not.' So Brandon Ford actually called the play. We called it and it happened like it was supposed to."
As Clemson fans well know, Boyd eluded the rush and threw a sinking line drive to a sliding Nuk Hopkins for a 26-yard gain to the Clemson 40-yard line and a Clemson first down.
"I was actually thinking Tajh was going to throw it to Adam Humphries
Adam Humphries
Jr. Wide Receiver
#13 5-11, 190
Spartanburg, SC
View Full Profile at the field side," Morris said. "Adam was wide open. But I also knew and there wasn't a doubt in my mind that the ball was going to Nuk Hopkins. There wasn't a doubt in my mind."
A few plays later, kicker Chandler Catanzaro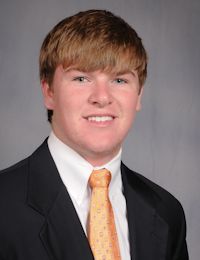 Chandler Catanzaro
RS Sr. Punter / Kicker
#39 6-2, 195
Greenville, SC
View Full Profile booted the game-winning 37-yard field goal for a 25-24 win, a victory that Morris called a "landmark" moment for the Clemson program.
"It was a moment in a program's history where you hit a landmark," he said. "That team had won more games in 10 years than anybody in college football. "
Morris was reminded that wide receiver Sammy Watkins
Sammy Watkins
Jr. Wide Receiver
#2 6-1, 205
Fort Myers, FL
View Full Profile called a play against Florida St. two years ago in Clemson's 35-30 win when the Florida St. coaches noticed that the Tigers were running slants on third down and started calling, 'slant, slant, slant' before every third down paly.
Watkins walked up to offensive coordinator Chad Morris, and told him what he'd heard.
"I said, 'Coach, you don't have to do it now, but if it comes to a tough situation where we need it, we can call a sluggo,'" Watkins said at the time.
Early in the fourth quarter, Morris put the information to work. With Clemson clinging to a 28-23 lead and facing a third and four at its own 38, Morris called a sluggo.
Watkins and Boyd hooked up for a 62 yard catch-and-run touchdown that sealed the Tigers' 35-30 win over the Noles.
Morris said that Ford's play was different because he called for the ball to go to someone else.
"Usually when they call them - unlike Brandon because when Brandon called the play he knew it was going to Nuk – usually when they call the play it is because they want the ball to come to themselves," Morris said. "I think the biggest thing is that it shows our players that their opinion matters. They are playing and they see it. They feel it and that is credit to us getting those guys prepared."
Morris said he doesn't remember what play he was going to call on fourth down, but it wasn't the one that eventually worked.
"It wasn't that one, I can tell you that," he said. "But it was going to Nuk whatever it was. It was going to him. I went up to him and gave him a big old hug and told him it was a great call. He had the vision to see it, and why did he see it? Because he had been repped and repped and that is what you ask for from your players. That is what you want – you want them to be able to see it."