| | |
| --- | --- |
| For Stoudt, no pressure heading into season opener | |
---
| | |
| --- | --- |
| Thursday, July 3, 2014 11:37 PM | |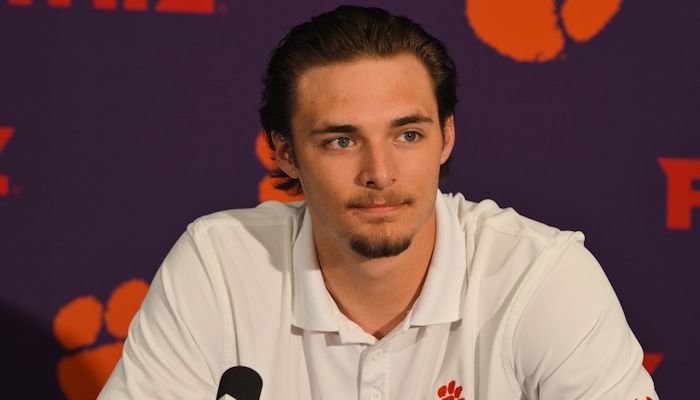 The season opener against Georgia is at 58 days and counting, and you might think that Clemson's new starting quarterback is feeling the pressure or beginning to get antsy about the first start of his college career.
For Cole Stoudt

Cole Stoudt
Sr. Quarterback
#18 6-4, 205
Dublin, OH
View Full Profile , however, it's business as usual with his laid-back and unflappable personality. TigerNet spoke with Cole's father, former NFL quarterback Cliff Stoudt, and he said that his son is preparing in the same manner he has prepared each of the last three seasons.
"He is approaching just like he has in the past. He has always gone into camp thinking that he is competing for the job and preparing like he is the guy that is going to play," Stoudt told TigerNet this week. "That has worked for him in the past. Cole is just trying to approach it like it's any other season and not put any more emphasis or stress on it. Just keeping going about being who you are and doing what you do. "
He then said that Cole makes sure that his family and his teammates stay grounded as the team goes through the summer workouts.
"I'm very excited for him to get this opportunity. But I think I do a lot of good things that are good for Cole, but he does a lot of things that are good for me," Stoudt said. "He has a very calm personality, and a very quiet confidence about him. When he and I get together, he has a way of saying, 'this is going to be good. Everybody is coming together.' But you really want to look at this game as just the next game. Yes, it's Georgia, but if you start thinking too much about that and all of the hype that goes on around the team it can hurt. I think Cole and his teammates are just looking at this as business as usual and this is just the next game on our schedule. We will worry about Florida St. the week after we play South Carolina St."
Stoudt said that while he doesn't want to take over the role of coach for Cole, there are things they can work on together.
"We are doing the same things I've done with him since he first started playing football. Just work on his mechanics and if anything goes bad - which he has it pretty much nailed down and has great mechanics - just little things I would tweak," he said. "It's like a pitching coach who sees the little things with a pitcher. But right now he is pretty good and when we go out right now we are going out just to throw and have a little conversation and try not to sit around and talk about starting at tough places like Georgia and Florida St. and what a rough start that is. So we take it like he has always done - which is take it one play at a time and one game at a time and just go about doing his job. If there is any emphasis, it is just on if he is getting the guys out there to throw and that doesn't seem to be a problem. Everybody seems to be very eager and they are working hard, and it seems like everybody sees this as a great opportunity with all of the new players playing different roles this year. "
The coaches aren't allowed to work with the players until just before the start of fall camp, but that doesn't keep the players from calling their own workouts.
"They throw a few times a week, and with no coaches being allowed on the field, Cole pretty much runs the offense and the defensive captains run the defense and they are having a great response," Stoudt said. "They are all working all together - they have a lot of seniors on this team and they are all doing a good job of showing the younger guys, 'this is how we do things at Clemson and this is what is expected' and encouraging and helping each other. As long as they know the offense and are on the same page, that's all they need to do. With everything we do with this offense, it's just a matter of everybody being on the same page because somebody is going to be open."
Cole Stoudt has to follow in the footsteps of the highly-decorated Tajh Boyd

Tajh Boyd
Quarterback (2009 - 2013)
#10 6-1, 225
Hampton, VA
View Full Profile , but it's a role he has played before.
"He went to the same high school as Brady Quinn, and during his senior year my oldest son broke all of the single-season records and we had an unbelievable team and Cole had to follow that," Stoudt said. "His first start was in the Herbstreit Classic at Ohio St. Stadium on national television. And he just went about his business like you've seen him do the last three years here. He was very calm and he has a quiet confidence about him. He is not a rah-rah guy that is going to jump around in the huddle and slap everybody on the helmet. I think he not only calms me down, he calms the guys around him down. That is just who he is and that is who he has to continue to be. That's why I say you don't have to put any more stress on yourself because it's Georgia. Clemson has played some pretty good teams the last two or three years and they have done pretty well. They are building a program where you don't have to rebuild but just restock the shelves with the guys who have been in waiting and ready to go."