| | |
| --- | --- |
| For Clemson, early enrollees is better option than JUCO players | |
---
| | |
| --- | --- |
| Thursday, December 18, 2014 2:15 PM | |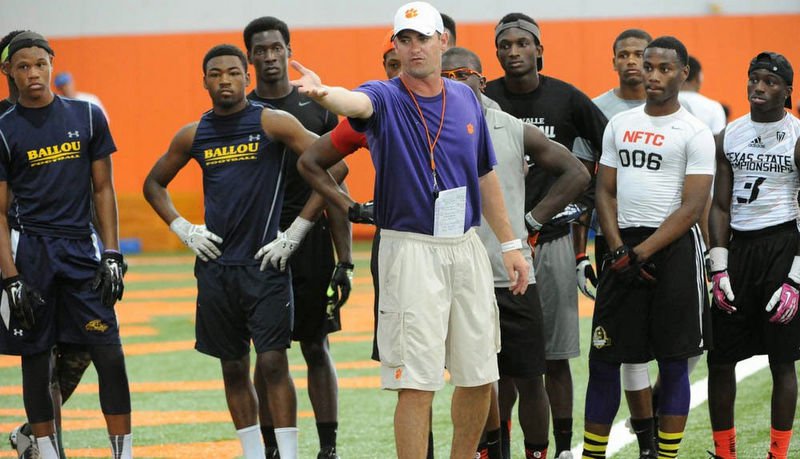 CLEMSON – Wednesday was the first day that junior college players could sign with four-year schools, and Clemson has never been one of the schools that delves into the JUCO ranks to sign players. Could that change at some point in the near future?
Jeff Scott

Jeff Scott
Asst. Coach (WR) / Recruiting Coord.
View Full Profile is Clemson's newly minted co-offensive coordinator, but the first questions he faced had more to deal with his old job as recruiting coordinator than preparing for Oklahoma and the Russell Athletic Bowl.
One of those questions concerned signing JUCO players, and Scott said that head coach Dabo Swinney

Dabo Swinney
Head Coach
View Full Profile 's philosophy is still to build through the high schools.
"I think Coach Swinney's philosophy on junior college is that if there is a great need out there - sometimes you may go through the spring and have a lot of injuries or something happens and you really have to go get a guy at the last second - that's really the only time that we would be interested in a junior college," Scott said after Wednesday's practice. "Even with that, everything has to line up the right way. Or if we have a young man that doesn't qualify that has to go that route, we could be on the front end and kind of work with him. Overall the philosophy is that we want to build our team through bringing high school guys in. It's something we don't try to do but if there's a need then we definitely have the ability to do that."
While the Tigers don't make a push for JUCO players to help fill the ranks in the spring, the program has had a strong push of early enrollees in recent seasons. This year, the coaches are counting on 17 players to enroll in January.
However, Scott said that kind of decision is left up to the players and not their future coaches.
"That's not something we push them to do. That's something that if they bring it up and they want to do and they've already scheduled it to graduate early, then obviously we'd love for them to come in," Scott said. "There's something special about the spring of your senior year, too, so the last thing we want to do is talk them into something they don't want to do. For a lot of these guys, they are planning ahead and already looking forward to that next chapter.
"I think it's really good that they have an opportunity to come in and really get a chance with time management, weight lifting and all of the different things that freshmen have to go through. They kind of get an eight month head start on all of the other freshmen that show up in July. Someone who is focused and obviously has their academics in order is really what it takes. We're excited. We're going to have a lot of new guys that will make spring practice a lot more fun and I know those guys are excited about getting here."
Those kinds of numbers are not possible every year, however.
"It's not something that you can do every year. It really just has to match up because you can only bring in as many freshmen as you have seniors graduating and leaving your program," Scott said. "We're really fortunate that we have a lot of graduates that already have their degree that will be leaving as soon as they finish the bowl game. It's definitely a growing trend that I think will continue through the next few years."