| | |
| --- | --- |
| Football parking, construction and facilities update for 2019 football season | |
---
CLEMSON – A top three Clemson team will kick off the 2019 football season in 69 days against ACC foe Georgia Tech, and a quick drive around the athletic facilities shows that work is being done in and around Death Valley.
The most noticeable project on the east side of the stadium is happening at Gate 1, which already has a new look.
"There was a ticket office there, and in preparation for all of the gate things, that ticket office is now gone and that will be all gates now" Clemson Athletics spokesman Jeff Kallin told TigerNet, "We are turning all of that area into gates to offer more access points and make there more availability to get into the stadium. That can tend to be a little bit congested at times with that being a student gate as well. We are trying to kind of offer the opportunity for people to get through there with things ramping up on the security side this year."
On the WestZone side of the stadium, the new IPTAY building is on schedule to be finished at some point this fall.
"That building will not be done before the season as of right now," Kallin said. "But that building is coming along great. I had the opportunity to walk through there Thursday and it's amazing how far it's come."
The school will add the 2018 National Championship signage to the stadium in a few weeks.
Another noticeable project is on the Avenue of Champions. The parking spaces along Clemson's Avenue of Champions have been prime real estate for Tiger tailgaters for years, but those parking spaces will no longer be available for home football games due to the increased use of metal detectors.
The use of 140 parking spaces will be impacted, according to Associate Athletic Director Jon Allen
"As everybody is aware we instituted a 'pilot program' with metal detectors last season," Allen told TigerNet. "We set up metal detectors at different gates and rotated them around from game to game. We are planning on using walk-thru metal detectors at every gate next season. The benefit of the pilot program is that we learned a lot – some positive and some very negative. Memorial Stadium was not constructed with metal detectors in mind so implementation requires a bit of retrofitting to occur."
Lines along that side of the stadium were long, especially during the Syracuse game, as fans fought traffic and the lines for the metal detectors.
"We learned that the set-up on the north side gates of the stadium along the Avenue of Champions corridor is very challenging and requires a different strategy," Allen said. "We have been fortunate enough as a program the past several years to play at several premier NFL stadiums and have witnessed very effective security perimeters that are set-up away from the actual entry gates."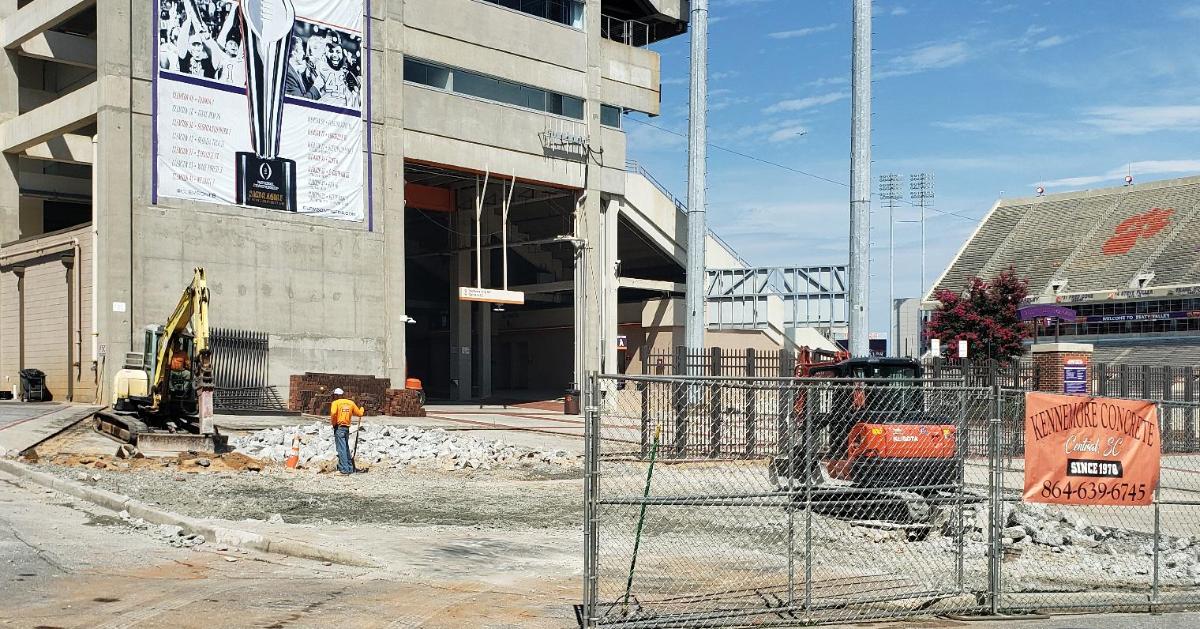 The pine trees at the top of the hill along Avenue of Champions have been removed and the side of the hill is being dug out and graded, but Kallin said the project will add 120 spaces around Lot 5.
"They are currently digging out Lot 5 and adding 120 new parking spots there," Kallin said. "We are constantly doing little things that we hope turn into big things. But that is the one noticeable thing by the stadium that will impact some of the things around the stadium."
The softball stadium is still on pace to be finished later this year, but the space issues contributed to the loss of 500 parking spots in the Jervey Meadows area. However, Kallin said the school has been working with the Athletic Department to find parking spaces around campus and the net loss for this year's football games isn't as drastic as people would think.
"Right now, we are looking at a net loss of 100 spaces," Kallin said. "We had 18,200 spaces last year and we are looking at around 18,100 for this season. That is about normal considering all of the projects and construction. The school has been very good about working with us to find the spaces we need."

Upgrade Your Account
Unlock premium boards and exclusive features (e.g. ad-free) by upgrading your account today.
Upgrade Now