| | |
| --- | --- |
| Florida Pipeline: Miami game big for recruiting | |
---
| | |
| --- | --- |
| Tuesday, October 20, 2015 7:01 AM | |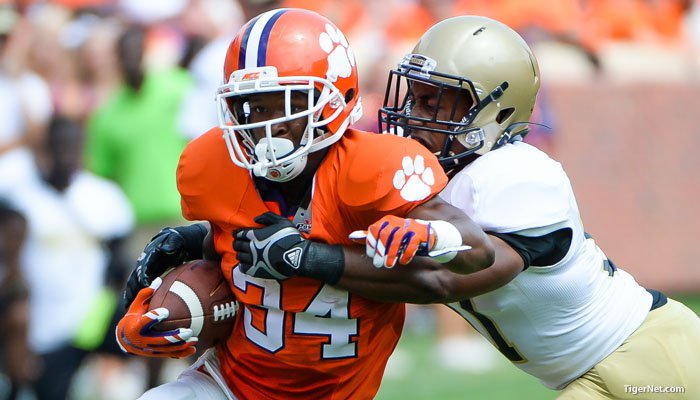 CLEMSON – The Clemson Tigers travel to south Florida for a noon matchup against the 4-2 Miami Hurricanes Saturday, but the game will be about more than wins and losses for the Clemson coaching staff. It's about continuing to add to the Tigers' recruiting footprint in the region.
Several Clemson players will be making the trip and playing in their home state – Mackensie Alexander

Mackensie Alexander
RS So. Cornerback
#2 5-10, 189
Immokalee, FL
View Full Profile , Jayron Kearse

Jayron Kearse
Jr. Safety
#1 6-4, 224
Fort Myers, FL
View Full Profile , Artavis Scott

Artavis Scott
So. Wide Receiver
#3 5-10, 191
Oldsmar, FL
View Full Profile , Deon Cain

Deon Cain
Fr. Wide Receiver
#8 6-1, 197
Tampa, FL
View Full Profile , Ray-Ray McCloud

Ray-Ray McCloud
Fr. Wide Receiver
#34 5-9, 181
Land O' Lakes, FL
View Full Profile and Jake Fruhmorgen

Jake Fruhmorgen
Fr. Offensive Line
#63 6-5, 282
Tampa, FL
View Full Profile all hail from the Sunshine State.
That makes Saturday's game special for those players, but even more special considering it gives the coaches a chance to play a game in front of recruits that might not have made the trip to Clemson.
"Florida has been great to Clemson and we obviously have had a nice pipeline to Florida," co-offensive coordinator Jeff Scott

Jeff Scott
Co-Offensive Coordinator / WR
View Full Profile said Monday. "It's gone back a long ways in Clemson's history and then obviously in the last 10 years with a lot of skill guys. It has really helped Clemson as we've been climbing the ladder, we've done it with a lot of guys out of that state, so it's outside of our instate territory and then Georgia and North Carolina – Florda is really that next state where we spend a lot of time and resources.
"Every other year we get to go play in Tallahassee, but to be able to go down and play Miami leaves a great opportunity for the guys that we recruited to be able to go back and play at home. I know they'll have a lot of their friends and family there. It's also a great opportunity for those recruits who are in that local area - Central to South Florida - to be able to see us and they have a chance to come watch us play live if they haven't had an opportunity to come up to Clemson. We definitely enjoy going down there and we had a lot of fun the last time we were there - winning in overtime - with a big pass and touchdown to Jacoby Ford

Jacoby Ford
Wide Receiver (2006 - 2009)
#6 5-9, 175
Royal Palm Beach, FL
View Full Profile , who's from Florida. Hopefully, we'll be able to have the same results this year."
Clemson can trace its recent run of skill players from Florida to C.J. Spiller

C.J. Spiller
Pro Running Back
#28 5-11, 195
Lake Butler, FL
View Full Profile , and Scott said having playmakers from Florida continues to be a big part of the draw of playing for Clemson.
"Clemson attracts a certain type of player and certain types of people and it just seems like the guys out of Florida that we attract are guys that are very focused and they know what they want and they can come up here and have a lot of success," Scott said. "And because of that success, you see us continue to go down there and get some of the top players every year. Artavis Scott is here probably because he watched Sammy Watkins

Sammy Watkins
Wide Receiver (2011 - 2013)
#2 6-1, 205
Fort Myers, FL
View Full Profile for two or three years play up at Clemson and getting an opportunity to make a lot of plays and then all of a sudden Ray-Ray and Deon, it was a big deal to them last year that one of their buddies that they knew, Artavis Scott, comes up here and has close to a 1,000 yards as a true freshman. I think we've just really honed in on some of the guys down there that fit what we do on offense or defense and really fit our culture and our program. I think that is a big part of the recruiting process, not just evaluating talent, but also evaluating the right fit for your program and so far we've been able to do that."
The addition of Fruhmorgen – one of the state's top offensive linemen – is also helping the coaches recruit more than just skill players. They want some of the big uglies out of Florida as well.
"We've had a few guys that have come up and guys we are recruiting that are out there in the 2017 and 2018 class offensive lineman from that state and that has been our message to them," Scott said. "The message is, 'Hey, we've gone down to get some skills guys, but also, there are some really good lineman down there and they can come up here and have a nice transition.' Obviously, Jake, being the most recent guy, coming from a great program there in Tampa Plant, one of the best programs in Florida. We feel like Jake is going to be a great player for us as he continues to grow and get his opportunities. We're not the defense we are without Jayron and Mackensie and those guys. You have to give Tony Elliott

Tony Elliott
Co-OC / Running Backs
View Full Profile a lot of credit. He's recruited a lot of those guys down in that area and he's got a great name and I think Clemson has a great name for the way that we treated the guys from Florida."

Tags:
Jacoby Ford
,
C.J. Spiller
,
Sammy Watkins
,
Mackensie Alexander
,
Jayron Kearse
,
Artavis Scott
,
Ray-Ray McCloud
,
Deon Cain
,
Jake Fruhmorgen
,
Tony Elliott
,
Jeff Scott