| | |
| --- | --- |
| Fisher says Seminoles still have the talent to make a run | |
---
| | |
| --- | --- |
| Friday, May 15, 2015 8:10 AM | |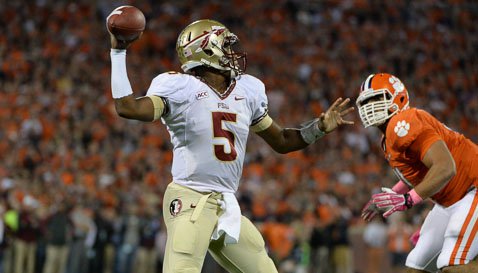 The Florida St. Seminoles enter the 2015 season without precocious and oftentimes troubled playmaker Jameis Winston, but will also miss standout playmakers such as Karlos Williams, Rashad Greene, Cameron Erving, Ronald Darby and P.J. Williams.
The Seminoles ended the 2014 season with a loss to Oregon in the national semifinals in Pasadena, a loss that ended a 29-game winning streak that is tied for the 13th longest in NCAA history.
Last year the top-ranked Seminoles came back to beat No. 22 Clemson 23-17 in overtime, but this year's party is in Death Valley. The Tigers host the Seminoles on the first weekend of November – going away from the early-season battles of the last few years – and on the line might be a division title and an appearance in the ACC Championship Game.
How will the Seminoles replace Winston and all of that talent? Will former Notre Dame quarterback Everett Golson wind up in Tallahassee and take over the reins for his final season? Can Sean Maguire – who started in place of Winston against Clemson – hold onto the job? If Golson transfers to Florida State, redshirt freshman J.J. Cosentino and true freshman Deondre Francois and De'Andre Johnson, who enrolled in January, will join the competition to be the starter even though it's likely it would come down to Golson and Maguire.
Head coach Jimbo Fisher told the media recently that while he knows his team may be in a bit of a rebuilding year, the goal is always the same.
"No doubt," Fisher told ESPN. "That's why I want to be at Florida State. But the educated fan understands there are going to be times when you're not 13-0."
Fisher said that while he loses several experienced and talented players, the scary part for the rest of the league is that he feels like there are even more talented players waiting for a chance to play.
"I mean, I don't think we could be more talented. Now, what we have to do, we're a talented young group, but at the same time what we have to do is make them football players," Fisher said. "Like I said, Nick O'Leary, Rashad Greene, Jameis Winston, all those guys, they were all great football players. They were athletes that converted into great football players, and I think we're just as talented or maybe more talented, but the way those young guys development into consistent football players is going to be the key."
Perhaps the biggest question behind the quarterback spot is the offensive line, where Fisher has to replace four starters. The lone returnee is left tackle Rod Johnson, who moved to that position when Erving moved to center.
"The offensive line is much farther along than I thought it would be. I really like our group up front," Fisher said. "Our receiver group is a very talented group, have to be -- the consistency level which comes with all young players. Our running backs I was extremely pleased with. Thought our quarterbacks showed great promise in the spring. And our tight ends are big, strong, athletic guys, so I think in that regards, I think we're headed in the right direction. I think this summer is going to be very critical in their individual development and the things they work on and how they get things done and then going into fall camp. But I've said this, I like our football team. I think we have a chance to have another very successful football team."
FLORIDA ST. 2015 SCHEDULE
Sept. 5: vs. Texas State, TIME TBA
Sept. 12: vs. USF, 11:30 a.m.
Sept. 18: at Boston College (Friday), TIME TBA
Sept. 26: BYE
Oct. 3: at Wake Forest, TIME TBA
Oct. 10: vs. Miami, TIME TBA
Oct. 17: vs. Louisville, TIME TBA
Oct. 24: at Georgia Tech, TIME TBA
Oct. 31: vs. Syracuse, TIME TBA
Nov. 7: at Clemson, TIME TBA
Nov. 14: vs. N.C. State, TIME TBA
Nov. 21: vs. Tennessee-Chattanooga, TIME TBA
Nov. 28: at Florida, TIME TBA