| | |
| --- | --- |
| First practice observations: Watson, Dye and business as usual | |
---
| | |
| --- | --- |
| Friday, August 1, 2014 7:59 PM | |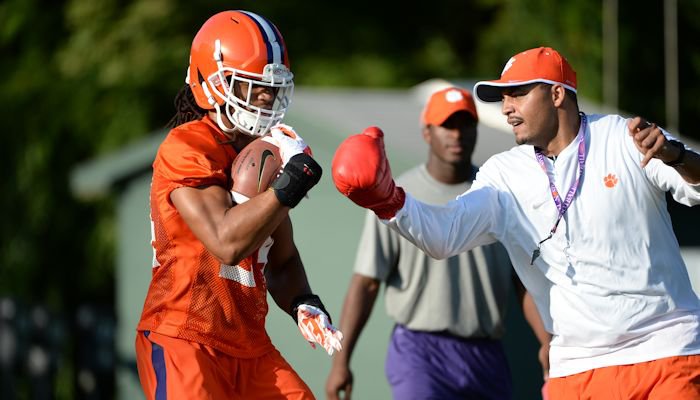 CLEMSON – The Clemson football team stretched to the lyrics of "The Boys Are Back in Town" and then headed out onto the practice fields beside the indoor practice facility for the first practice of 2014 fall camp Friday afternoon.
We've got a lot to cover, so we'll get right into it.
The first observation I had was that there was a different feel to that first practice than we've had over the past few years. In the past, there's been excitement and a youthful exuberance that was palpable. This year, I didn't get that feeling, and another media member came over to me and mentioned the same thing.
With that in mind, I watched a little more closely and came to the realization that for the first time in a long time, this team is led by a fairly large group of seniors and juniors. There wasn't excitement because these guys have been through all of this before, and it was more like "business as usual" rather than trying to force the emotion.
Visitors
Clemson 2015 quarterback commit Kelly Bryant of Wren was on hand to watch the proceedings, and the parents of corner Cordrea Tankersley

Cordrea Tankersley
So. Defensive Back
#25 6-1, 190
Beech Island, SC
View Full Profile also took in the first practice. The Davis twins – Judah and J.D. – also took in the practice. Missing was tight ends coach Danny Pearman

Danny Pearman
Assistant Head Coach / Tight Ends
View Full Profile , who is still dealing with the death of his father.
Quarterbacks
Nothing new to report on Cole Stoudt

Cole Stoudt
Sr. Quarterback
#18 6-4, 205
Dublin, OH
View Full Profile , who was as good as you would expect. He just looks the part of a quarterback ready to take over as the starter.
This is obviously the first time we've seen Deshaun Watson

Deshaun Watson
Fr. Quarterback
#4 6-3, 190
Gainesville, GA
View Full Profile in action since he injured his collarbone, and he looked way better than I thought he would. You can tell he has added muscle, but his size wasn't what stood out – he was accurate on almost all of his throws, and one observer told me after one bullet pass and said "freak show." Freak show is right – Watson has all the tools to be a good one, and he showed absolutely no ill effects from the collarbone.
He was also very accurate when rolling out of the pocket to throw, and it surprised me how much velocity he was able to put on his throws while on the move.
Stanford transfer David Olson worked out with Watson, Stoudt, Nick Scheussler (who also looked good) and was a lot more accurate than I thought he would be. Morris was calling the different plays, and Olson looks like he already has a fairly good grasp on the system.
Linebackers
Kellen Jones

Kellen Jones
RS Jr. Linebacker
#52 6-1, 215
Houston, TX
View Full Profile wore a bulky knee brace, but he appeared to move with very little difficulty. Defensive coordinator Brent Venables

Brent Venables
Def. Coordinator / Linebackers
View Full Profile was coaching this group hard, and there were more than a few standouts. Out of the veterans, Tony Steward

Tony Steward
Sr. Linebacker
#7 6-0, 235
Hastings, FL
View Full Profile was smooth. That's the only way to describe it – for the first time in a long time he moved with a surefooted fluidity.
Another linebacker that caught my eye was freshman Korie Rogers

Korie Rogers
Fr. Outside Linebacker
#43 6-2, 220
Buford, GA
View Full Profile , who has unbelievable speed for a man his size. Venables kept a close eye on him as well, and it was evident he has the tools to be a good one at this level. However, with so many experienced backers already on campus, will he get a chance at playing time or be forced to redshirt?
Cornerbacks
MacKensie Alexander

MacKensie Alexander
RS Fr. Defensive Back
#2 5-11, 185
Immokalee, FL
View Full Profile was as good as I remembered, even though it was just drills. He dropped back to return punts at the beginning, and his speed and burst were evident. Another one that stands out was Cordrea Tankersly, who looks like he has grown an inch or two since the end of the spring.
Korrin Wiggins

Korrin Wiggins
So. Defensive Back
#12 6-1, 185
Durham, NC
View Full Profile is another one that looks like he has added size – the muscle kind. There is no doubt that Mike Reed

Mike Reed
Defensive Backs Coach
View Full Profile has a lot of athletes to work with back in the defensive backfield.
Tight ends
Holy weightlifters, Batman. Jay Jay McCullough

Jay Jay McCullough
RS So. Tight End
#89 6-3, 230
Fort Mill, SC
View Full Profile , Jordan Leggett

Jordan Leggett
So. Tight End
#16 6-6, 235
Navarre, FL
View Full Profile and the rest of the tight ends look like they should be able to take on defensive ends and linebackers in the blocking game this season. I know fans like to see these guys catch the ball, but there is no doubt that this group at least looks like they can block. If they can remains to be seen. However, freshman Milan Richard

Milan Richard
Fr. Tight End
#80 6-3, 235
Savannah, GA
View Full Profile quickly caught my eye – he has good hands and even though he looked a little lost at times, you can tell he has all the tools.
Wide receivers
I looked out on the field and saw a big receiver wearing No. 1 blow down the sideline, and my first thought was, 'nice route, Martavis.' Of course, Bryant is now with the Steelers, and the new number one is Trevion Thompson

Trevion Thompson
Fr. Wide Receiver
#1 6-3, 185
Durham, NC
View Full Profile . Thompson and Artavis Scott

Artavis Scott
Fr. Wide Receiver
#3 5-11, 185
Oldsmar, FL
View Full Profile are the two that I kept watching.
Filling the leadership void
At the end of the stretching period, it was evident who was stepping into the leadership role that was left vacant by Tajh Boyd

Tajh Boyd
Quarterback (2009 - 2013)
#10 6-1, 225
Hampton, VA
View Full Profile last season. Grady Jarrett

Grady Jarrett
Sr. Defensive Tackle
#50 6-1, 290
Conyers, GA
View Full Profile was quick to jump in the middle of the both the offense and defense to enthusiastically lead the Tiger Jacks as well as lead the team huddle before the players broke down into positions.
Offensive line
The first stop I made was at the offensive line workouts to see who line coach Robbie Caldwell

Robbie Caldwell
Assistant Coach / Offensive Line
View Full Profile had working with the first team. From right to left were Joe Gore

Joe Gore
RS Jr. Offensive Tackle
#73 6-4, 275
Lake Waccamaw, NC
View Full Profile , Kalon Davis

Kalon Davis
RS Sr. Offensive Guard
#67 6-5, 330
Chester, SC
View Full Profile , Ryan Norton

Ryan Norton
RS Jr. Offensive Line
#58 6-3, 270
Simpsonville, SC
View Full Profile , Eric Mac Lain

Eric Mac Lain
RS Jr. Offensive Line
#78 6-3, 260
Hope Mills, NC
View Full Profile , and Isaiah Battle

Isaiah Battle
Jr. Offensive Tackle
#79 6-6, 280
Brooklyn, NY
View Full Profile . This was the first time that I've really watched Gore and he was extremely explosive out of his stance. Davis looked like he stayed in good shape despite spending most of the summer studying in Japan. Mac Lain is definitely a roadgrader and will pave the way for the running backs.
Charone Peake

Charone Peake
RS Jr. Wide Receiver
#19 6-3, 200
Moore, SC
View Full Profile
Wide receiver Charone Peake – who had minor knee surgery a week ago – spent the first part of practice walking laps around the practice fields and on the working out on the exercise bike.
Tempo
During the "tempo" period – that begins with all of the offensive coaches running around yelling "tempo" and the players methodically getting into their groups – Artavis Scott, Adam Humphries

Adam Humphries
Sr. Wide Receiver
#13 5-11, 190
Spartanburg, SC
View Full Profile , D.J. Howard

D.J. Howard
RS Sr. Running Back
#22 5-11, 195
Lincoln, AL
View Full Profile , Sam Cooper

Sam Cooper
RS Sr. Tight End
#86 6-5, 250
Brentwood, TN
View Full Profile and Mike Williams

Mike Williams
So. Wide Receiver
#7 6-5, 205
Vance, SC
View Full Profile worked with the first team.
Running backs
I spent a good bit of time watching the running backs go through ball security and change of direction drills. C.J. Davidson

C.J. Davidson
RS Jr. Running Back
#32 5-11, 185
Clemson, SC
View Full Profile is probably the first person that caught my attention as he effortlessly went through the drills and showed good burst off the line. Late enrollee C.J. Fuller

C.J. Fuller
Fr. Running Back
# 5-11, 200
Easley, SC
View Full Profile is a speed demon and was probably the quickest in 10-yard sets of all of the running backs. Tyshon Dye

Tyshon Dye
RS Fr. Running Back
#23 6-1, 205
Elberton, GA
View Full Profile went through individual workouts and looked like he was moving fairly well. He was very tentative – as should be expected – maneuvering around the cones, but overall looked ahead of schedule. Wayne Gallman

Wayne Gallman
RS Fr. Running Back
#9 6-1, 195
Loganville, GA
View Full Profile caught the ball extremely well and showed good use of his hips to turn up field quickly.